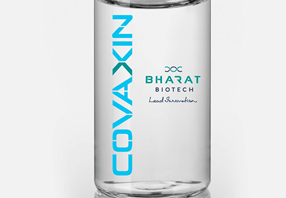 Several people have recently asked me about the Covaxin vaccine. Before I share my opinion and review of the research, I want to emphasize the utmost faith I have in botanical and nutritional medicine as the foundation for health and for supporting our innate capacity to live in harmony with our ever-evolving environment. This includes the viruses and other microbes we come into contact with.
In my opinion, the most important aspect of maintaining health is to support our innate immune function. Vaccines can potentially provide additional support, but we should not rely solely on vaccines for protection.
The Emergence of Concerning COVID Variants
In the last several months, several SARS-CoV-2 variants have emerged worldwide. The variants of concern are Alpha (B.1.1.7 ), Beta (B.1.351), Gamma (B.1.1.28.1) and Delta (B.1.617.2). These are potentially serious public health threats because of their association with higher transmissibility and the potential of immune escape. Various reports have been published on the immune escape of the Beta variant, and this has caused serious concern for the COVID-19 vaccination program.[1],[2]
Another focus of global concern is the recent emergence of the highly transmissible Delta variant from India and various other countries. An inactivated SARS-CoV-2 vaccine, BBV152 (now called the Covaxin vaccine), was rolled out under the national COVID-19 vaccination program in India. The neutralization potential of the BBV152 has been already studied with the B.1, Alpha, Zeta, and Kappa variants and was found to be effective.[3]
The Covaxin Vaccine Offers Promise Against Variants

The Covaxin vaccine contains an inactive (dead) form of the virus. Like the other current Covid vaccines, it is given as an injection into the muscle of the upper arm. Once injected, it provokes an immune response that can block or kill the virus's future infections/invasions, without actually causing the disease. The Covaxin vaccine is given in two doses. The second dose of the vaccine can be taken four to six weeks after the first dose.[4]
A phase II clinical trial (two months after the second dose of vaccine) evaluated 42 participants immunized with the Covaxin vaccine. Neutralizing antibody titers of all the serum specimens were evaluated against the B.1.1.28.2 variant using plaque reduction neutralization test. The neutralizaton activity of B.1.1.28.2 was compared to the prototype D614G variant, as the Covaxin vaccine was developed using that variant. The study showed that the two-dose Covaxin regimen significantly boosted the IgG titer and the neutralizing efficacy against both the variants compared to that seen with natural infection.[5]
The Covaxin vaccine phase-3 clinical trials enrolled approximately 26,175 people, making it the largest clinical trial in India. Covaxin vaccine results have shown an efficacy of 81%. However, it is still unclear how long the vaccine provides protection from the virus.
Here is what we know so far:
Covaxin is 93% effective in preventing serious disease.
Compared to other publicly available data, it shows the best neutralization titers against variants of concern, Delta and Beta, and even outperforms on those measures compared with people previously infected with the original COVID-19 strain.
Covaxin also has an unsurpassed safety profile.
With nearly 7,000,000 patients dosed to date, there is no evidence of the rare side effects or complications associated with other currently used Covid vaccines, including facial paralysis, blood clots and heart inflammation. In the phase 3 study, in addition to showing no sign of serious adverse events, Covaxin did not cause recipients to feel sick or miss work after being dosed. More specifically, Covaxin's adverse events were NO GREATER THAN the placebo group. Finally, Covaxin is the easiest vaccine for transport and storage.[6]
I believe that currently Covaxin is a reasonable choice for a safe and effective vaccine. It is based on the same platform historically used to manufacture childhood vaccines. Covaxin may prove to be a safe and effective vaccine for younger children and those that do not want to get an mRNA or DNA vaccine.

Long Awaited Medscape Review on Ivermectin
In other news on Covid prevention and treatments, the mainstream medical establishment has decided to hesitantly admit Ivermectin is an effective medicine against Covid-19. According to a commentary in Medscape: "These (ivermectin) results were finally published this week in Open Forum Infectious Diseases, and they're positive — but they haven't escaped criticism, and most researchers still want results from a randomized controlled trial." Evidently, the mainstream establishment is downplaying the results and stating that we don't need this effective, inexpensive, and safe drug—because now we have vaccines.
The study reported and assessed 24 randomized trials totaling 3,328 patients that involved some type of control, whether it was standard of care or another therapy. Eight of the studies have been published, nine were preprints, six were unpublished results shared for the analysis, and one was reported on a trial registry website. In the 11 trials (totaling 2,127 patients) that focused on moderate or severe infection, there was a 56% reduction in mortality. The bottom-line statement in Medscape was this, "Of course, rolling out vaccination as quickly and widespread as possible would negate the need to use ivermectin as a treatment. So big picture, vaccines are the better solution."[7],[8]
An earlier published meta-analysis study in Diabetes Metabolic Syndrome Journal that reviewed 9 randomized controlled trials comprised of 1788 patients found that Ivermectin was associated with decreased mortality in COVID-19. The benefit of Ivermectin and mortality was reduced by hypertension, but was not influenced by age, sex, or diabetes.[9]
Consider this: A 56% reduction in mortality offered by Ivermectin means about 350,000 lives could have been saved from COVID-related deaths, and perhaps many more.
The Dangers of Scientific Bias Against Herbal Medicine for COVID 19
On May 15, 2020, the Lancet published an article titled "Use of Herbal Drugs to Treat COVID-19 Should be with Caution." While this is true of anything, herbal and otherwise, this fear directed toward herbal medicine is biased and deserves a scientific response. These types of reports will unfairly and negatively impact the field of herbal medicine as a whole, and must be answered with facts and statistics that more accurately represent the truth.[10] In referencing the potential danger of herbal medicine, the author cites a study from the 1990s of an ephedra weight loss product (not an herb, but an herb isolate) that caused injury to nine women who participated in the study,[11] and offers nothing else to support his claims.
The truth of the matter is that scientifically speaking and based on all of the statistics we have to date, herbal medicine and herbs are infinitely safer than pharmaceuticals. Just to give one example, nonsteroidal anti-inflammatory drugs like aspirin, ibuprofen and acetaminophen cause over 7,600 deaths per year in the United States alone, and their use results in internal bleeding in many more cases.[12]
The author of the Lancet article argues that "thousands of years of usage and faith cannot be taken as evidence for efficacy of traditional herbs." Apparently, the author believes that even if an herb has been safely and successfully used for a disease for hundreds of years, tested on billions of people, and written about in historical medical textbooks, if it is not "scientifically proven" that it should be completely disregarded.
Unfortunately, many people see headlines or hear news bites and assume that there are major risks and safety issues with herbal remedies. This is clearly not the case.
To date, I have written over 30 blogs on Covid-19 and in many of those blogs I have highlighted the beneficial effects of herbal and nutritional medicine to support healthy immunity, while providing a large body of research that suggests herbal and nutritional approaches useful for Covid-19. One recent example of this is Chinese skullcap.
Chinese Skullcap (Scutellaria baicalensis) and Covid-19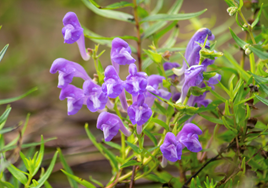 Chinese skullcap (Scutellaria baicalensis) is an herb I frequently use that has been widely used in Traditional Chinese Medicine for heat clearing, fire purging, detoxification, and hemostasis. Chinese skullcap (Huangqin) is officially recorded in the Chinese Pharmacopoeia and European Pharmacopoeia, where it is noted for anti-tumor, antiviral, anti-microbial, and anti-inflammatory activities. Extracts of Chinese skullcap have exhibited broad spectrum anti-viral activities against viruses including ZIKA, H1N1, HIV, and DENV.[13]
Chinese skullcap, whose major component is baicalein, exerts a marked anti-SARS-CoV-2 effect.[14]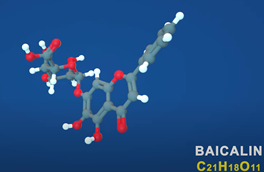 Both the ethanol extract of Chinese skullcap and baicalein effectively inhibit the replication of SARS-CoV-2 in cell assay. All the active compounds and the Chinese skullcap extract also inhibit the SARS-CoV 3CLpro, demonstrating their potential as broad-spectrum anti-coronavirus agents.[15]
Another component of Scutellariae Radix, wogonin, also has an antiviral effect against the influenza virus39 and HBV.[16]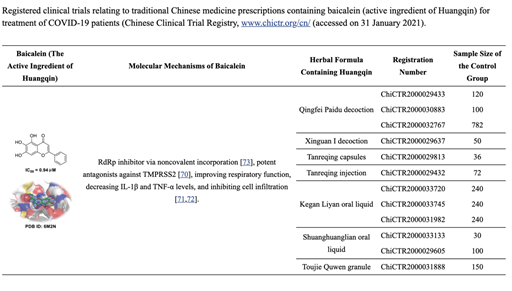 Since ancient times, herbal medicines have been extensively applied in the treatment and prevention of various infectious diseases in different traditional systems. Various antiviral mechanisms shown by crude plant extracts and plant-derived bioactive compounds can help in the fight against viral diseases. But even more important is that using herbal medicine to build healthy immunity offers an ideal approach for resisting COVID-19, regardless of pharmaceuticals or vaccines.[18]
New systematic review and meta-analysis study confirms benefits across the board on Vitamin D supplementation and clinical outcomes in COVID-19
13 studies (10 observational, 3 RCTs) pooling data retrieved from 2933 COVID-19 patients.
Pooled analysis of unadjusted data showed that vitamin D use in COVID-19 was significantly associated with reduced ICU admission/mortality,
Vitamin D was also found to reduce the risk of adverse outcomes.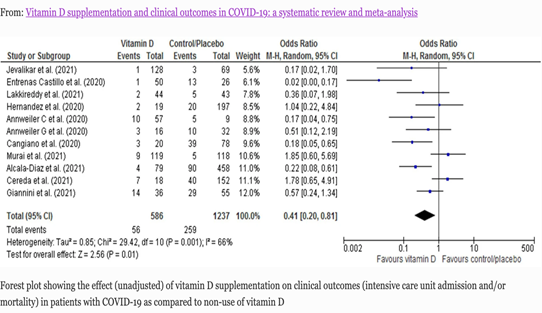 There is striking differences in vitamin D status among people who had asymptomatic COVID-19 and those who became severely ill and required intensive care unit care. Vitamin D is not a treatment for Covid-19 but it is extremely important to how our body responds to viruses and to how effective our immune system works. For more on vitamin D and Covid-19 I recommend you read my blog entitled "There's No Substitute for Sunlight: The Essential Influence of Nature's Sunshine Vitamin on Health",@ https://www.donnieyance.com/theres-no-substitute-for-sunlight-the-essential-influence-of-natures-sunshine-vitamin-on-health/.[19]
References
---
[1] Abdool Karim SS, de Oliveira T. New SARS-CoV-2 variants—clinical, public health, and vaccine implications. N Engl J Med. 2021.
[2] Planas D, Veyer D, Baidaliuk A, et al. Reduced sensitivity of infectious SARS-CoV-2 variant B. 1.617.2 to monoclonal antibodies and sera from convalescent and vaccinated individuals. bioRxiv. 2021
[3] Yadav PD, Sapkal GN, Ella R, Sahay RR, Nyayanit DA, Patil DY, Deshpande G, Shete AM, Gupta N, Mohan VK, Abraham P, Panda S, Bhargava B. Neutralization of Beta and Delta variant with sera of COVID-19 recovered cases and vaccinees of inactivated COVID-19 vaccine BBV152/Covaxin. J Travel Med. 2021 Jul 6:taab104. doi: 10.1093/jtm/taab104. Epub ahead of print. PMID: 34230972
[4] https://www.1mg.com/drugs/covaxin-vaccine-645593, retrieved July 12, 2021
[5] Sapkal G, Yadav PD, Ella R, Abraham P, Patil DY, Gupta N, Panda S, Mohan VK, Bhargava B. Neutralization of B.1.1.28 P2 variant with sera of natural SARS-CoV-2 infection and recipients of inactivated COVID-19 vaccine Covaxin. J Travel Med. 2021 May 17:taab077. doi: 10.1093/jtm/taab077. Epub ahead of print. PMID: 34002240; PMCID: PMC8194512.
[6] https://www.americanbazaaronline.com/2021/07/05/covaxin-the-best-vaccine-you-cant-get-446210/, retrieved July 12, 2021
[7] Andrew Hill, Anna Garratt, Jacob Levi, Jonathan Falconer, Leah Ellis, Kaitlyn McCann, Victoria Pilkington, Ambar Qavi, Junzheng Wang, Hannah Wentzel, Meta-analysis of randomized trials of ivermectin to treat SARS-CoV-2 infection, Open Forum Infectious Diseases, 2021;, ofab358, https://doi.org/10.1093/ofid/ofab358
[8] https://www.medpagetoday.com/special-reports/exclusives/93485
[9] Zein AFMZ, Sulistiyana CS, Raffaelo WM, Pranata R. Ivermectin and mortality in patients with COVID-19: A systematic review, meta-analysis, and meta-regression of randomized controlled trials. Diabetes Metab Syndr. 2021 Jun 27;15(4):102186. doi: 10.1016/j.dsx.2021.102186. Epub ahead of print. PMID: 34237554; PMCID: PMC8236126.
[10] Jonathan M. Fields, Dangers of scientific bias against herbal drugs for coronavirus disease 2019,
Journal of Integrative Medicine, Volume 18, Issue 6, 2020, Pages 459-461, ISSN 2095-4964,
[11] Vanherweghem J.L., Depierreux M., Tielemans C., Abramowicz D., Dratwa M., Jadoul C. Rapidly progressive interstitial renal fibrosis in young women: association with slimming regimen including Chinese herbs. Lancet. 1993;341(8842):387–391.
[12] Tamblyn R., Berkson L., Dauphinee D., Gayton D., Grad R., Huang A. Unnecessary prescribing of NSAIDs and the management of NSAID-related gastropathy in medical practice. Ann Intern Med. 1997;127(6):429–438.
[13] Zandi K, Lim TH, Rahim NA, et al. Extract of Scutellaria baicalensis inhibits dengue virus replication. BMC Complement Altern Med 2013;13:91.
[14] Liu, H.; Ye, F.; Sun, Q.; Liang, H.; Li, C.; Li, S.; Lu, R.; Huang, B.; Tan, W.; Lai, L. Scutellaria baicalensis extract and baicalein inhibit replication of SARS-CoV-2 and its 3C-like protease in vitro. J. Enzym. Inhib. Med. Chemother. 2021, 36, 497–503.
[15] Liu H, Ye F, Sun Q, Liang H, Li C, Li S, Lu R, Huang B, Tan W, Lai L. Scutellaria baicalensis extract and baicalein inhibit replication of SARS-CoV-2 and its 3C-like protease in vitro. J Enzyme Inhib Med Chem. 2021 Dec;36(1):497-503. doi: 10.1080/14756366.2021.1873977. PMID: 33491508; PMCID: PMC7850424.
[16] Zhou W, Chen Z, Sun X, Zhong N, Liu Z. Application of Traditional Chinese Medicine and Systems Pharmacology in Drug Prevention and Treatment against COVID-19. Am J Chin Med. 2021;49(5):1045-1061. doi: 10.1142/S0192415X21500506. PMID: 34225580.
[17] Yang L, Wang Z. Natural Products, Alone or in Combination with FDA-Approved Drugs, to Treat COVID-19 and Lung Cancer. Biomedicines. 2021 Jun 18;9(6):689. doi: 10.3390/biomedicines9060689. PMID: 34207313; PMCID: PMC8234041.
[18] Bhattacharya S, Paul SMN. Efficacy of phytochemicals as immunomodulators in managing COVID-19: a comprehensive view. Virusdisease. 2021 Jun 24:1-11. doi: 10.1007/s13337-021-00706-2. Epub ahead of print. PMID: 34189187; PMCID: PMC8224255.
[19] Pal, R., Banerjee, M., Bhadada, S.K. et al. Vitamin D supplementation and clinical outcomes in COVID-19: a systematic review and meta-analysis. J Endocrinol Invest (2021). https://doi.org/10.1007/s40618-021-01614-4