Founded by Donnie and Jennifer Yance, Mederi Center is a non-profit charitable organization serving clients, practitioners, and communities nationwide. Our mission is to optimize health, promote longevity, and improve the quality of life of those facing chronic diseases, especially cancer.
Our Programs
Patient Care: We provide integrative care for those facing cancer, chronic illness, or anyone seeking to maintain lifelong wellness.
Education: Through Mederi Academy we train healthcare providers in our wholistic approach to patient care using the Mederi Care/ETMS model developed by Donnie Yance.
Research: We compile case studies and coordinate clinical research programs to validate our Mederi Care methodology.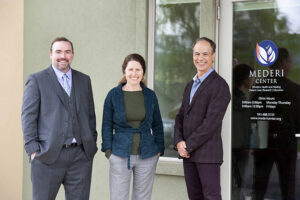 Mederi Center practitioners offer a personalized approach to patients ranging in age from pediatrics to geriatrics, with successful results covering a broad range of cancers and other chronic or acute conditions. Donnie and our naturopathic physicians collaborate with primary healthcare providers and oncologists to prescribe research-backed botanical and nutritional medicines that safely complement or enhance other treatments. Lifestyle, diet, and spiritual care are other components of our approach to patient care.
We serve our patients virtually, via telephone or videoconference, as well as in person at our Ashland, Oregon clinic.
Why Support Mederi Center?
Your support helps us train practitioners worldwide, thus making it possible for more patients to receive the life-enhancing benefits of Mederi Care. Your donation also supports our research initiatives, which will change the way cancer and chronic illness are approached in mainstream medical care.
Donate Today
Have questions? Need advice? Get in touch with us!
Mederi Center Clinic Patient Information:
541-488-3133
www.medericenter.org
Learn more about the clinic: