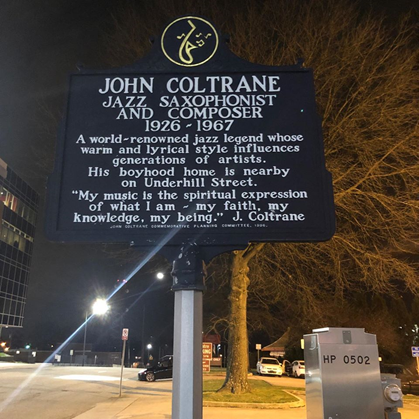 Let the godly sing for joy to the Lord;
it is fitting for the pure to praise him.
Praise the Lord with melodies on the lyre;
make music for him on the ten-stringed harp.
Sing a new song of praise to him;
play skillfully on the harp, and sing with joy. Psalm 33: 1-3
Jazz as a Path to the Creator
John Coltrane's commitment to experimentation and exploration, his cross-cultural interests, and his spirituality as much as his musicianship have made him a hero to me and many others. His work inspires the understanding that jazz music, at its core, is spiritual, even to those that don't realize it. Consider, for a moment, the unifying power of jazz. Every culture embraces jazz and gives it its own spin. Musicians of all colors, races, religions, ages, and backgrounds, play music together and make it as ONE; just as the universe is ONE, and we are all part of that ONE.
Coltrane was like a visitor to this planet. He came in peace and he left in peace; but during his time here, he kept trying to reach new levels of awareness, of peace, of spirituality. That's why I regard the music he played as spiritual music. Jazz was John's way of drawing increasingly closer to the Creator.[1]
There is no doubt that jazz music can be difficult for most to listen to because of its "otherworldliness." It is too much, unless we surrender, close our eyes, clear our minds, and listen deeply.
What really makes a jazz musician great is that after they have honed their skills to the point of mastery, and developed their own unique sound, is simply their ability to let go (and let the GOD within BE). The ultimate for a jazz musician is to let go of all thought patterns, to what notes are safe and fit into the chord progressions laid down by the rhythm section, to reach the innermost place of being, and to express that experience. Music and art allow us to lose ourselves and then find ourselves all at the same time. For Coltrane, music was a prayer, and that prayer is healing.
Lush Life
by Armand Brint
I'm reminded that the world
Is still in love with itself
despite the fire and drought
and intractable heat.
Even the plants
in their little parched pots
stand defiantly in the blue flame
of August
like children asserting themselves
in the face of their mother's
angry weather.
John Coltrane wraps his horn
around the distant lightning
and all the other calamities
without sacrificing a single note.
His music is filled
with a premonition of rain.
He reminds me that life is lush
even when it's not.
He reminds me that
even when the birds refuse
to leave their dark trees,
and the air tastes like smoke,
the piano plays out
a green archipelago,
and the brush
washes over the snare's sand
like the sea,
and the trumpet is a grove
of lemon trees.
Coltrane blows without remorse
as the great bell of his sax
rings through
its allotment of broken leaves,
And when the music stops,
it smells as luscious as life
after rain.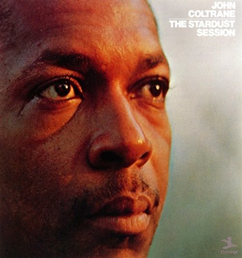 The Music and Social Bonding Hypothesis
"While language splits the world into detailed, distinct pieces, music unifies the world into a whole," writes Leonid Perlovsky, a visiting scholar at Harvard University. Perlovsky believes music serves a profound evolutionary purpose. In a piece for the Conversation, he dissects years of his research to argue that "music is an evolutionary adaptation, one that helps us navigate a world rife with contradictions."
Theories of the evolution of musicality have focused mainly on the value of music for specific adaptive contexts such as mate selection, parental care, coalition signaling, and group cohesion. Researchers believe social bonding is an overarching function that unifies all of these theories, and that musicality enabled social bonding at larger scales than grooming and other bonding mechanisms available in ancestral primate societies.
The evolution of musicality involves gene-culture coevolution, through which proto-musical behaviors that initially arose and spread as cultural inventions had feedback effects on biological evolution due to their impact on social bonding. The music and social bonding hypothesis provides the most comprehensive theory to date of the biological and cultural evolution of music.[2]
Music and Herbal Medicine in Ancient Healing Traditions
Music and music therapy is an effective means of alleviating stress and maintaining emotional wellness. Since ancient times, music has been used in traditional medicine to improve mental health. In ancient Greece, herbalists and musicians both played important roles in healing, and were housed in holy healing shrines. Early ancient Egyptian medical papyrus texts describe chant-like incantations for healing the sick. And within Chinese medicine, five different musical tones correspond to the five different organ and meridian systems, and are used to promote healing.[3]
The fascinating similarity of the Chinese characters for 'music' and 'medicine' is a vivid expression of the ancient Chinese understanding of the relationship between music and medicine.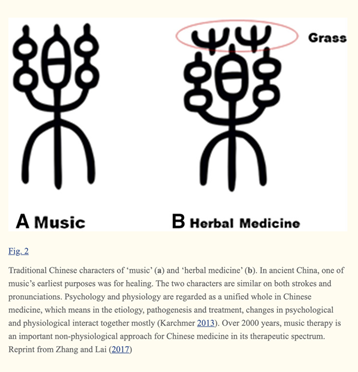 John Coltrane Draws a Picture Illustrating the Mathematics of Music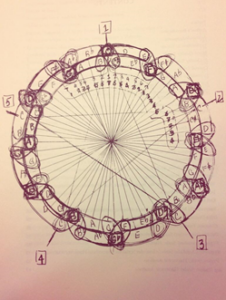 The therapeutic effects of music in alleviating depression, anxiety, and stress have been well-established. Music therapy has been shown to reduce self-reported stress levels, as well as stress related arousal measured by physical parameters including heart rate, blood pressure, muscle tension, respiratory rate, and perceived pain levels.[5],[6],[7],[8],[9],[10]
Music has Positive Benefits on Anxiety and Pain
A recent Cochrane review publication that included fourteen studies evaluated the effectiveness of music on anxiety and pain among patients following cardiac surgery. The meta-analysis revealed that there was a significant reduction in anxiety and pain among patients who received musical intervention compared with those who did not.[11]
Music as a Therapy for Healthy Aging
Mounting evidence supports training-induced brain changes from extended musical practice that can translate into cognitive and neural reserve as we age. This offers the potential to reduce reduce cognitive decline. Models of environmental enrichment that can enhance neuroplasticity through multisensory stimulation are critical for the development of compensatory neural networks that allow for adaptation of age-related cognitive declines.[12]
Hearing abilities are often better in both older and younger musicians, and recent evidence suggests that music training may improve hearing abilities in older non-musicians.[13]
A recent study found that musical training improves hearing abilities in older adults. Six months of musical training improved the ability to understand speech-in-noise in older adults compared with control groups.
Improvement in the ability to understand speech in noise was related to an increase in positive-going electrical brain activity from 200 to 1000 ms at fronto-left electrodes. The enhanced activity at fronto-left electrodes in the group that received musical training may be related to an enhanced ability to "sound-out" incoming speech or to direct attention to salient acoustic features.
The researchers concluded that musical training may be an effective form of auditory rehabilitation for older adults experiencing difficulties with hearing.[14]
The effects of short-term musical training on the neural processing of speech-in-noise in older adults
Highlights
Piano training in older adults increases responses to speech-in-noise (SPIN) in left frontal/parietal brain regions.
Increases correlated with performance changes on a SPIN task.
Music training in older adults may benefit speech perception.
Experienced musicians outperform non-musicians in understanding speech-in-noise (SPIN). The benefits of lifelong musicianship endure into older age, where musicians experience smaller declines in their ability to understand speech in noisy environments.
A recent study recruited older adult non-musicians and assigned them to receive a short course of piano or videogame training, or no training. Participants completed two sessions of functional Magnetic Resonance Imaging where they performed a SPIN task prior to and following training. While we found no direct benefit of musical training upon SPIN perception, an exploratory Region of Interest analysis revealed increased cortical responses to speech which correlated with changes in SPIN task performance in the group which received music training. These results suggest that short-term musical training in older adults may enhance neural encoding of speech, with the potential to reduce age-related decline in speech perception.[15]
Choral Singing Has Positive Effects in Older Adults
Recent research has recognized the value of participatory arts, including choirs, as a strategy to engage older adults in the community. Less is known about the participation of minority older adults of low socioeconomic status (SES) in choirs. The purpose of this qualitative descriptive study was to explore the perceived benefits of choral singing among older adults from Program of All-Inclusive Care for the Elderly (PACE) day centers.
The researchers elicited perceptions from 19 choir participants from three focus groups, the majority of whom were Black or African American (N =17/19), each held at a different PACE center. One main theme emerged, "Something for us to do that we love," with two sub themes, "Joyful time together" and "Uplifting experience performing for others." These study findings have implications for promoting choir singing in older adults to serve as a place for engagement in social interactions in a lifelong activity they love.[16]
In my personal experience, I've found that the more music I create, play, and listen to, the more skillful I am in medicine. Since I have released my CD "Heaven Awaits" I have continued to compose and record new music. Hopefully, I will be putting out another CD in the not-too-distant future.
In Genesis 1:1 it says, "In the beginning God created the heaven and the earth." It is possible that our life, both as a single life, and our life as a unified ONE has but one purpose and that is to unite heaven and earth – to bring the glory of heaven to earth. For me, music provides the path of uniting the two.
---
[1] Albert Ayler (quoted in Valerie Wilmer, _As Serious As Your Life_, p31)
[2] Savage PE, Loui P, Tarr B, Schachner A, Glowacki L, Mithen S, W Fitch T. 2020. Music as a coevolved system for social bonding.. Behav Brain Sci. :1-42.
[3] Thaut MH. Music as therapy in early history. Prog Brain Res 2015;217:143-158
[4] Dai H, Han J, Lichtfouse E. Smarter cures to combat COVID-19 and future pathogens: a review. Environ Chem Lett. 2021 Apr 2:1-13. doi: 10.1007/s10311-021-01224-9. Epub ahead of print. PMID: 33824633; PMCID: PMC8017513.
[5] Maratos AS, Gold C, Wang X, Crawford MJ. Music therapy for depression. Cochrane Database Syst Rev. 2008 Jan 23;(1):CD004517. doi:10.1002/14651858.CD004517.pub2. Review. PubMed PMID: 18254052.
[6] Thoma MV, La Marca R, Brönnimann R, Finkel L, Ehlert U, Nater UM. The effect of music on the human stress response. PLoS One. 2013 Aug 5;8(8):e70156. doi:10.1371/journal.pone.0070156. PubMed PMID: 23940541; PubMed Central PMCID:PMC3734071.
[7] Nilsson U. The anxiety- and pain-reducing effects of music interventions: a systematic review. AORN J. 2008 Apr;87(4):780-807. doi:10.1016/j.aorn.2007.09.013. Review. PubMed PMID: 18395022.
[8] Hanser SB. Music therapy and stress reduction research. J Music Ther. 1985;22(4):193-206. doi:10.1093/jmt/22/4/193.
[9] Pelletier CL. The effect of music on decreasing arousal due to stress: a meta-analysis. J Music Ther. 2004 Fall;41(3):192-214. PubMed PMID: 15327345.
[10] Knight WE, Rickard PhD NS. Relaxing music prevents stress-induced increases in subjective anxiety, systolic blood pressure, and heart rate in healthy males and females. J Music Ther. 2001 Winter;38(4):254-72. PubMed PMID: 11796077
[11] Chandrababu R, Ramesh J, Sanatombi Devi E, Nayak BS, George A. Effectiveness of music on anxiety and pain among cardiac surgery patients: A quantitative systematic review and meta-analysis of randomized controlled trials. Int J Nurs Pract. 2021 Mar 23:e12928. doi: 10.1111/ijn.12928. Epub ahead of print. PMID: 33759286.
[12] Brenda Hanna-Pladdy, Miriam Menken, Chapter 8 – Training-induced cognitive and neural changes in musicians: implications for healthy aging, Editor(s): Lola L. Cuddy, Sylvie Belleville, Aline Moussard, Music and the Aging Brain, Academic Press, 2020, Pages 221-243, ISBN 9780128174227, https://doi.org/10.1016/B978-0-12-817422-7.00008.
[13] Benjamin Rich Zendel, Sarah Sauvé, Chapter 11 – Toward music-based auditory rehabilitation for older adults, Editor(s): Lola L. Cuddy, Sylvie Belleville, Aline Moussard, Music and the Aging Brain, Academic Press, 2020, Pages 293-313, ISBN 9780128174227, https://doi.org/10.1016/B978-0-12-817422-7.00011-0.
[14] Benjamin Rich Zendel, Greg L.West, Sylvie Belleville, Isabelle Peretz, Musical training improves the ability to understand speech-in-noise in older adults, Neurobiology of Aging Volume 81, September 2019, Pages 102-115
[15] David Fleming, Sylvie Belleville, Isabelle Peretz, Greg West, Benjamin Rich Zendel, The effects of short-term musical training on the neural processing of speech-in-noise in older adults, Brain and Cognition, Volume 136, 2019, 103592, ISSN 0278-2626, https://doi.org/10.1016/j.bandc.2019.103592.
( (https://www.sciencedirect.com/science/article/pii/S0278262618302641 )
[16] Petrovsky DV, Sefcik JS, Cacchione PZ. A Qualitative Exploration of Choral Singing in Community-dwelling Older Adults. West J Nurs Res Vol. 42, Issue 5, May 2020, ISSN1552-8456, DOI 10.1177/0193945919861380.