Having effective therapeutics is going to be increasingly important when it comes to confronting Covid-19 and the evolution of new variants. First detected in Japan, the R1 variant is the newest strain of COVID-19 that contains "multiple spike protein mutations", that could enable it to bypass the antibody protection present in those who are fully vaccinated. Despite the low number of infections, former Harvard Medical School professor William A. Haseltine believes the new mutations found in the R.1 variant could allow it to spread more easily. The professor said the five variations found in R.1 can lead to "increased resistance to antibodies," in an article written in Forbes earlier this week.
This means it could make the variant better at evading those antibodies that are created by having the vaccine and in those who have already been infected. R.1 contains the W152L mutation in a region of the spike protein that is the target of antibodies that could reduce the current vaccines effectiveness, according to the Centers for Disease Control and Prevention (CDC).[1]
The current mRNA vaccines cause the immune system to be focused not just on the spike protein but one particular part of the spike protein, the "receptor binding domain."[2] So, vaccines can and will exert "selective pressure" on viruses to mutate against them. For example, studies have shown that the Delta variant replicates more rapidly than other Sars-Cov-2 variants (for reasons scientists still do not completely understand).[3]
A brand-new study (D. W. Eyre et al. Preprint at medRxiv; 2021)[4] looked directly at how well vaccines prevent the spread of the Delta variant of SARS-CoV-2. It showed that people infected with Delta are less likely to pass on the virus if they have already had a COVID-19 vaccine than if they haven't. However, the protective effect of the vaccine is small, and dwindles dramatically over time. In this study, researchers analyzed testing data from 139,164 close contacts of 95,716 people infected with SARS-CoV-2 between January and August 2021 in the United Kingdom, when the Alpha and Delta variants were competing for dominance. Although vaccines did offer some protection against infection and transmission, Delta dampened that effect. A vaccinated person who had a 'breakthrough' Delta infection was almost twice as likely to pass on the virus as was someone who was infected with Alpha. And vaccines' effect on Delta transmission waned to almost negligible levels over time. The results "possibly explain why we've seen so much onward transmission of Delta despite widespread vaccination", says co-author David Eyre, an epidemiologist at the University of Oxford, UK.[5]
Even if close to 100% vaccination were remotely possible, the mRNA vaccines will continue to lose efficacy within just a few months. We need more options for combatting this virus. Based on clinical trial data thus far, I believe several vaccines in development (non-mRNA and DNA) will be much more effective, especially Novavax. The Novavax shot is a protein-based vaccine, and was shown to be more than 90% effective, including against a variety of concerning variants of the coronavirus in a large, late-stage U.S.-based clinical trial. Early studies suggest Novavax is effective at protecting against the contagious Delta variant of COVID-19, which has become dominant in many countries.[6] Novavax, Inc. and its partner Serum Institute of India have applied to the World Health Organization for an emergency use listing of Novavax's COVID-19 vaccine, potentially clearing the way for the shot to ship to many poorer countries, but there are no agreements yet to distribute in the USA, although the company is based in Maryland and it is being produced in multiple labs in the US.
Obviously, we are in uncharted territory as we navigate the terrain of a previously unknown virus. It seems prudent that we consider all available options for preventing and treating this disease, especially those with a long history of use and the apparent safety profile of treatments such as Ivermectin.
As a generic, the prescription drug Ivermectin is cheap and widely available, which means there would be a lot less money to be made by Big Pharma if it became the go-to early-stage treatment against COVID-19. To put it in perspective, Pfizer is expected to generate $9.6 billion in sales of the vaccine in the third quarter and $11.4 billion in sales in the fourth quarter, for a total of $32.8 billion in COVID-19 vaccine sales in 2021, according to a FactSet consensus.[7]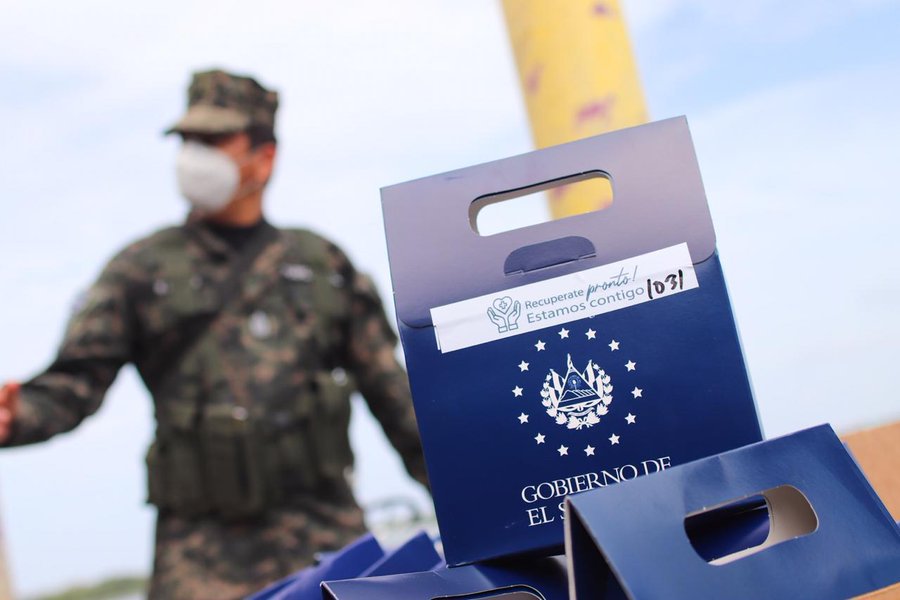 Meanwhile, the government of El Salvador issues free 'Covid Treatment Packages' including ivermectin, along with Vitamin D, Zinc, Vitamin C, Aspirin, and Acetaminophen.[8]
Did you know that the discoverers of ivermectin won a Nobel Prize in medicine in 2015? The prize was awarded not because the drug is a horse de-wormer, but because it killed the parasites that caused river blindness and elephantiasis that plagued parts of Africa. Thanks to William C. Campbell and Satoshi Omura, the scientists who developed ivermectin, the transmission of parasitic tropical diseases has been greatly reduced. And yes, like many drugs, ivermectin has multiple modes of action and happens to be an effective anti-viral against Covid-19! However, Ivermectin available at farm stores used to treat heartworm and parasites in animals is different than the form approved by the FDA for humans and should not be ingested by people.
Discovered in the late1970s, ivermectin, a dihydro derivative of avermectin originating solely from a single microorganism isolated at the Kitasato Institute in Tokyo from Japanese soil, has had an immeasurably beneficial impact in improving the lives and welfare of billions of people throughout the world.[9] Ivermectin has proved to be a 'wonder drug', improving the general health of billions of people worldwide in the treatment of a variety of nematode infections since it was first used in humans in 1988. It has proven to be safe and well tolerated, and is easily administered.[10] Throughout the next decade, well over 200 million people will likely be taking the drug annually or semi-annually to rid the poor and disadvantaged populations throughout the tropics from two of its most devastating diseases. The discovery, development and deployment of ivermectin has been recognized as one of the greatest medical accomplishments of the 20th century.[11]
Ivermectin and RNA Viruses
Starting in 2012, ivermectin's antiviral properties towards a number of RNA viruses have been documented, including human immunodeficiency virus (HIV)-1, influenza, flaviruses such as dengue and zika, and most notably, SARS-CoV-2 (COVID-19).[12]
"Given the significant upsurge in cases of SARS-CoV-2 infection that has occurred in recent months, the use of ivermectin could reduce transmission rates, as well as decrease short term morbidity and mortality in mild, moderate and even severe phases of the disease. In this regard, it has been shown that treatment with ivermectin could produce IgG titers for SARS-CoV-2 around 5 to 10 times higher as compared to the titrations of untreated patients in 85% of people who had come into contact with the virus asymptomatically."[13]
The Prophylactic Use of Ivermectin
A real-time meta-analysis of 14 studies demonstrated high effectiveness for the prophylactic use of ivermectin, reporting an 85% reduction in the risk of acquiring the disease on 8,789 patients (RR 0.15 (0.09 to 0.25)).[14]
The meta-analysis included 4 randomized controlled trials (RCTs) and 10 observational studies. The results regarding prophylaxis remain very similar when only the three RCTs included in the meta-analysis were taken into consideration, showing an 83% reduction in the risk of a COVID-19 case (RR 0.17 (0.05 to 0.61)).
Two of the studies included in the meta-analysis also investigated the risk of death as the main outcome measure, reporting a 96% improvement (RR 0.04 (0.00 to 0.58)).[15]
The prophylactic administration of ivermectin at a weekly single dose of 200 mg/kg up to 8 weeks in 74 people (residents and workers in nursing homes) produced IgG titers for SARS-CoV-2 of 5 to 10 times higher than the standard titers in 85% of cases. Workers included in the study would had been in contact with the virus asymptomatically, but their immune system was able to produce antibodies against SARS-CoV-2.[16]
More studies point to the benefits of using ivermectin prophylactically. The routine prophylactic administration of ivermectin in Peru starting from May 2020 was associated with a reduction in mortality due to SARS-CoV-2.[17] And in a randomized controlled study conducted on 70 COVID-19 patients, ivermectin plus doxycycline reduced recovery time as well as mortality in patients with severe disease.[18]
A meta-analysis based on 18 randomized controlled treatment trials of ivermectin in COVID-19 patients have found large, statistically significant reductions in mortality, time to clinical recovery, and time to viral clearance. Furthermore, results from numerous controlled prophylaxis trials report significantly reduced risks of contracting Covid-19 with regular use of ivermectin. Finally, the many examples of ivermectin distribution campaigns leading to rapid population-wide decreases in morbidity and mortality indicate that an oral agent effective in all phases of COVID-19 have been identified.[19]
Based on promising results of in vitro studies of oral ivermectin, a recently published prospective study was conducted with the aim to demonstrate the prophylactic role of oral ivermectin in preventing SARS-CoV-2 infection among healthcare workers at the All India Institute of Medical Sciences (AIIMS) Bhubaneswar, which has been providing both COVID and non-COVID care since March 2020.
Of 3,892 employees, 3,532 (90.8%) participated in the study. The ivermectin uptake was 62.5% and 5.3% for two doses and single dose, respectively. Participants who took ivermectin prophylaxis had a lower risk of getting symptoms suggestive of SARS-CoV-2 infection (6% vs 15%). Healthcare workers who had taken two doses of oral ivermectin had a significantly lower risk of contracting COVID-19 infection – Two doses of oral ivermectin (300 μg/kg/dose given 72 hours apart) as chemoprophylaxis among healthcare workers reduced the risk of COVID-19 infection by 83% in the following month. The study concluded that safe, effective, and low-cost chemoprophylaxis has relevance in the containment of the pandemic alongside vaccines.[20]
Treating COVID-19 with Ivermectin
As has already happened in over 20 countries where ivermectin has been used — from Mexico, the Dominican Republic and Peru, to Slovakia, the Czech Republic and Bangladesh — case numbers, hospitalizations and fatalities have fallen in almost vertical fashion.
In India's capital, Delhi, the number of people testing positive for Covid-19 daily has fallen 97% from a peak of 24,000 on April 24, 2021. The number of deaths is down by around 85%. Only 17% of the total beds earmarked for Covid-19 treatment in Delhi and around 40% of the ICU beds were occupied late last week, according to the government's Delhi Corona app. At the peak, there were days when no ICU beds were available in the city.[21]
A significant body of emerging research supports the use of ivermectin for COVID-19:
The Safety Profile of Ivermectin
Generally, ivermectin is well tolerated, causing mainly dizziness, nausea, headache, and skin rash. These effects appear to be dose-dependent.[32] Since the approval of the drug in the 1980s, the drug has been distributed for the treatment of river blindness (onchocerciasis) through the Mectizan program, which has administered more than 3 billion treatments over the last 30 years with an excellent safety profile.[33]
In view of the available evidence, the Frontline COVID-19 Critical Care Alliance (FLCCC) recommends the use of oral ivermectin for both prophylaxis and early-treatment of COVID-19.[34]
Despite evidence to the contrary, the World Health Organization still said: "We recommend not to use ivermectin in patients with COVID-19 except in the context of a clinical trial," citing "very low certainty evidence" about the drug.[35]
As an herbalist and nutritionist, I don't prescribe ivermectin, but I am disheartened by the opposition and lack of consideration given to the scientific validity of this widely available and effective medicine as a viable option in the face of the current pandemic.
References:
---
[1] https://panatimes.com/dangerously-mutated-r-1-covid-variant-detected-in-35-countries, retrieved 09/28/2021
[2] Greaney AJ, Loes AN, Gentles LE, Crawford KHD, Starr TN, Malone KD, Chu HY, Bloom JD. Antibodies elicited by mRNA-1273 vaccination bind more broadly to the receptor binding domain than do those from SARS-CoV-2 infection. Sci Transl Med. 2021 Jun 30;13(600):eabi9915. doi: 10.1126/scitranslmed.abi9915. Epub 2021 Jun 8. PMID: 34103407; PMCID: PMC8369496.
[3]Baisheng Li, Aiping Deng, Kuibiao Li, Yao Hu, Zhencui Li, Qianling Xiong, Zhe Liu, Qianfang Guo, Lirong Zou, Huan Zhang, Meng Zhang, Fangzhu Ouyang, Juan Su, Wenzhe Su, Jing Xu, Huifang Lin, Jing Sun, Jinju Peng, Huiming Jiang, Pingping Zhou, Ting Hu, Min Luo, Yingtao Zhang, Huanying Zheng, Jianpeng Xiao, Tao Liu, Rongfei Che, Hanri Zeng, Zhonghua Zheng, Yushi Huang, Jianxiang Yu, Lina Yi, Jie Wu, Jingdiao Chen, Haojie Zhong, Xiaoling Deng, Min Kang, Oliver G. Pybus, Matthew Hall, Katrina A. Lythgoe, Yan Li, Jun Yuan, Jianfeng He, Jing Lu, Viral infection and transmission in a large, well-traced outbreak caused by the SARS-CoV-2 Delta variant med Rxiv 2021.07.07.21260122; doi: https://doi.org/10.1101/2021.07.07.21260122
[4] David W Eyre, Donald Taylor, Mark Purver, David Chapman, Tom Fowler, Koen B Pouwels, A Sarah Walker, Tim EA Peto. The impact of SARS-CoV-2 vaccination on Alpha & Delta variant transmission, doi: https://doi.org/10.1101/2021.09.28.21264260
[5] Nature, https://www.nature.com/articles/d41586-021-02759-1?WT.ec_id=NATURE-20211014&utm_source=nature_etoc&utm_medium=email&utm_campaign=20211014&sap-outbound-id=C45F96E14F855E90076BC7A0A2589E9DC8299B74, 10/13/2021
[6] https://news.yahoo.com/novavax-applies-emergency-listing-covid-133544933.html, retrieved 09/28/2021
[7] Covid vaccine profits mint 9 new pharma billionaires, Hanna Ziady,May 21, 2021,https://www.cnn.com/2021/05/21/business/covid-vaccine-billionaires/index.html, retrieved 09/24/2021
[8] https://ussanews.com/News1/2021/09/23/el-salvador-issues-free-covid-treatment-package-including-ivermectin/, retrieved 09/24/2021
[9] Crump A, Ōmura S. Ivermectin, 'wonder drug' from Japan: the human use perspective. Proc Jpn Acad Ser B Phys Biol Sci. 2011;87(2):13-28. doi:10.2183/pjab.87.13
[10] Ottesen E., Campbell W. (1994) Ivermectin in human medicine. J. Antimicrob. Chemother. 34, 195–203
[11] Eckholm E. (1989) Conquering an ancient scourge; river blindness. N.Y. Times Mag., 20–27 (Jan 8, 1989).
[12] Jans DA, Wagstaff KM. The broad spectrum host-directed agent ivermectin as an antiviral for SARS-CoV-2 ? Biochem Biophys Res Commun. 2021 Jan 29;538:163-172. doi: 10.1016/j.bbrc.2020.10.042. Epub 2020 Oct 21. PMID: 33341233; PMCID: PMC7577703.
[13] Cobos-Campos R, Apiñaniz A, Parraza N, Cordero J, García S, Orruño E. Potential use of ivermectin for the treatment and prophylaxis of SARS-CoV-2 infection [published online ahead of print, 2021 Aug 11]. Curr Res Transl Med. 2021;69(4):103309. doi:10.1016/j.retram.2021.103309
[14] Babaloa et al. Ivermectin shows clinical benefits in mild to moderate COVID19: a randomized controlled double blind dose response study in Lagos. [Internet] available at https://doi.org/10.1186/ISRCTN40302986
[15] Bernigaud C, Guillemot D, Ahmed-Belkacem A, Grimaldi-Bensouda L, Lespine A, Berry F, et al. Ivermectin benefit: from scabies to COVID-19, an example of serendipity. Annals of Dermatology and Venereology, doi:10.1016/j. annder.2020.09.231. https://www.sciencedirect.com/science/article/pii/ S015196382030627X
[16] Hirsch-Roberto R, Carvallo-Hector E. Covid 19 and ivermectin prevention and treatment update. J Inf Dis Trav Med 2020;4(S1) 000S1-007
[17] Chamie, Juan. Real-world evidence: the case of Peru. Causality between ivermectin and COVID-19 infection fatality rate.
[18] Hashim Hashim A, Maulood Mohammed F, Rasheed Anwar M, Fatak Dhurgham F, Kabah Khulood K, Abdulamir Ahmed S. Controlled randomized clinical trial on using Ivermectin with Doxycycline for treating COVID-19 patients in Baghdad, Iraq (preprint). MedRxiv 2020;doi 10.26.20219345. doi: 10.1101/2020.10.26.20219345.
[19] Kory, Pierre MD1,*; Meduri, Gianfranco Umberto MD2; Varon, Joseph MD3; Iglesias, Jose DO4; Marik, Paul E. MD5 Review of the Emerging Evidence Demonstrating the Efficacy of Ivermectin in the Prophylaxis and Treatment of COVID-19, American Journal of Therapeutics: May/June 2021 – Volume 28 – Issue 3 – p e299-e318
doi: 10.1097/MJT.0000000000001377
[20] Behera P, Patro BK, Padhy BM, Mohapatra PR, Bal SK, Chandanshive PD, Mohanty RR, Ravikumar SR, Singh A, Singh SR, Pentapati SSK, Nair J, Batmanbane G. Prophylactic Role of Ivermectin in Severe Acute Respiratory Syndrome Coronavirus 2 Infection Among Healthcare Workers. Cureus. 2021 Aug 5;13(8):e16897. doi: 10.7759/cureus.16897. PMID: 34513470; PMCID: PMC8417612.
[21] https://www.hindustantimes.com/cities/delhi-news/delhis-covid-19-positivity-rate-below-1-after-74-days-101622495200267.html, retrieved 09/20/2021
[22] R. Cobos-Campos, A. Apinaniz, N. Parraza et al. ~ Current Research in Translational Medicine 69 (2021) 103309
[23] Karale S, Bansal V, Makadia J, Tayyeb M, Khan H, Spandana-Ghanta S, et al. A Meta-analysis of mortality, need for ICU admission, use of mechanical ventilation and adverse effects with ivermectin use in COVID-19 patients. medRxiv 2021;doi 04.30.21256415. doi: 10.1101/2021.04.30.21256415.
[24] Aguirre-Chang G, Saavedra G, Manuel Y, Trujillo-Figueredo Aurora, Cordova- Masías JA. Post-acute or prolonged covid-19: ivermectin treatment for patients with persistent symptoms or post-acute. https://www.researchgate.net/publication/344318845_POST-ACUTE_OR_PROLONGED_COVID-19_IVERMECTIN_TREATMENT_FOR_PATIENTS_WITH_PERSISTENT_SYMPTOMS_OR_POST-ACUTE (preprint) 2020.
[25] Chaudhry MW, Zubair SM, Zubairi ABS, Irfan M. Role of ivermectin in patients hospitalized with COVID-19: a systematic review of literature. Adv Respir Med. 2021;89(4):413-418. doi: 10.5603/ARM.a2021.0088. PMID: 34494244.
[26] Zein AFMZ, Sulistiyana CS, Raffaelo WM, Pranata R. Ivermectin and mortality in patients with COVID-19: A systematic review, meta-analysis, and meta-regression of randomized controlled trials. Diabetes Metab Syndr. 2021 Jun 27;15(4):102186. doi: 10.1016/j.dsx.2021.102186. Epub ahead of print. PMID: 34237554; PMCID: PMC8236126.
[27] Shahbaznejad L, Davoudi A, Eslami G, Markowitz JS, Navaeifar MR, Hosseinzadeh F, Movahedi FS, Rezai MS. Effects of Ivermectin in Patients With COVID-19: A Multicenter, Double-Blind, Randomized, Controlled Clinical Trial. Clin Ther. 2021 May 6:S0149-2918(21)00201-0. doi: 10.1016/j.clinthera.2021.04.007. Epub ahead of print. PMID: 34052007; PMCID: PMC8101859.
[28] Aguirre-Chang G, Saavedra G, Manuel Y, Trujillo-Figueredo Aurora, Cordova- Masías JA. Post-acute or prolonged covid-19: ivermectin treatment for patients with persistent symptoms or post-acute. https://www.researchgate.net/publication/344318845_POST-ACUTE_OR_PROLONGED_COVID-19_IVERMECTIN_TREATMENT_FOR_PATIENTS_WITH_PERSISTENT_SYMPTOMS_OR_POST-ACUTE (preprint) 2020
[29] Niaee MS, Gheibi N, Namdar P, et al. Ivermectin as an adjunct treatment for hospitalized adult COVID-19 patients: a randomized multi-center clinical trial. Research Square. 2020;Preprint. Available at: https://www.researchsquare.com/article/rs-109670/v1.
[30] Andrew Hill, Anna Garratt, Jacob Levi, Jonathan Falconer, Leah Ellis, Kaitlyn McCann, Victoria Pilkington, Ambar Qavi, Junzheng Wang, Hannah Wentzel, Meta-analysis of randomized trials of ivermectin to treat SARS-CoV-2 infection, Open Forum Infectious Diseases, 2021;, ofab358, https://doi.org/10.1093/ofid/ofab358
[31] López-Medina E, López P, Hurtado IC, Dávalos DM, Ramirez O, Martínez E, Díazgranados JA, Oñate JM, Chavarriaga H, Herrera S, Parra B, Libreros G, Jaramillo R, Avendaño AC, Toro DF, Torres M, Lesmes MC, Rios CA, Caicedo I. Effect of Ivermectin on Time to Resolution of Symptoms Among Adults With Mild COVID-19: A Randomized Clinical Trial. JAMA. 2021 Apr 13;325(14):1426-1435. doi: 10.1001/jama.2021.3071. PMID: 33662102; PMCID: PMC7934083.
[32] Ottesen EA, Campbell WC. Ivermectin in human medicine. J Antimicrob Chemother 1994;34:195–203.
[33] Duthaler U, Suenderhauf C, Karlsson MO, Hussner J, Meyer Zu Schwabedissen H, et al. Population pharmacokinetics of oral ivermectin in venous plasma and dried blood spots in healthy volunteers. Br J Clin Pharmacol 2019;85(3):626–33. doi:10.1111/bcp.13840.
[34] Cobos-Campos R, Apiñaniz A, Parraza N, Cordero J, García S, Orruño E. Potential use of ivermectin for the treatment and prophylaxis of SARS-CoV-2 infection [published online ahead of print, 2021 Aug 11]. Curr Res Transl Med. 2021;69(4):103309. doi:10.1016/j.retram.2021.103309
[35] https://www.who.int/publications/i/item/WHO-2019-nCoV-therapeutics-2021.2, retrieved 09/20/2021