I recently watched a delightful movie called "The Green Book" that one writer described as "a love letter to the endurance of the embattled human spirit." I found the movie to be down to earth and heavenly at the same time. More than anything, it gave me renewed faith and hope in us.
We all experience suffering and injustice, but we also experience how the Divine provides help and hope every day, sometimes in the most unexpected ways. At Easter, Passover, and spring, we celebrate the season of renewal and hope. My prayer is that we grow, together, in faith, hope, love, and understanding.
"Hope is always loving and faith is always loving and hopeful.  Faith does not need to push the river because faith is able to trust that there is a river. The river is flowing. We are in it." ~Richard Rohr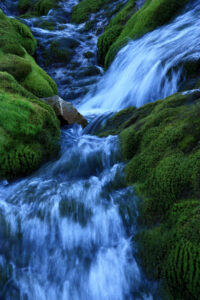 Thoughts on Humility
Humility is the guardian and the ornament of all virtues. To be "humble" does not mean being diffident, timid, bashful, demure or lacking in self-confidence. It means honoring others and regarding them as important, no less important than you are. It does not mean holding yourself low; it means holding other people high. True humility comes from a place of strength.
David, famously known for being the Old Testament giant-slayer, is one of the men of God from whom we can learn humility. He came from obscurity; rose up to defeat a terrifying enemy named Goliath, and eventually sat on the throne as Israel's king. While pondering God's creation, he mused:
"When I consider Your heavens, the work of Your fingers, the moon and the stars, which You have ordained, what is man that You are mindful of him, and the son of man that You visit him?" ~Psalm 8:3-4
Jesus didn't adopt humility to simply accomplish his task on earth.
"Take my yoke upon you and learn from me, for I am gentle and humble in heart, and you will find rest for your souls." ~Matt 11:29
Humility is part of God's eternal nature.
"Humble yourselves in the sight of the Lord, and He will lift you up." ~James 4:10
As we better understand humility, it should produce admiration, inspiration, and confidence in us.
Pope Francis Demonstrated Strength, Courage and Humility
During Pope Francis' first communication to the world as pope, I was struck by his remarkable request and gesture. "Before the bishop (referring to himself as the Bishop of Rome) blesses the people, I ask that you would pray to the Lord to bless me."
Pope Francis begins every morning at 4:00 a.m. in prayer, reflection, and inquiry. Francis often poses a question that's on his mind, usually of a pastoral nature, and listens with his heart for God's guidance. This practice of Lectio Divina is one that I also use in my daily prayers and reflection.
The Holy Father said humility is necessary to come down from the pedestals of our presumptions and to see ourselves as we really are: "creatures with strengths and weaknesses, sinners in need of forgiveness."
Herbs as the Humble Face of the Divine
Herbs have taught me a lot about humility. I first fell in love with herbs and their humble healing medicine in 1976, after reading the classic Back to Eden by Jethro Kloss. This book opened my eyes and heart to the Divine through the face of Nature. I realized that our misunderstanding of the humble healing plants, calling them weeds and killing them with poisons, ultimately contributes to our disease.
Throughout the Torah and Bible, plants often serve as illustrations for spiritual teaching. Plants depend on water, sun and food, just as we do, and both plants and people thrive under a Master Gardener.