In my blog on proton pump inhibitors (PPIs) a couple of weeks ago, I discussed the dangers of these drugs that are commonly prescribed for treating GERD and indigestion. Patients often ask me if there are natural alternatives to PPIs.
I recommend complete digestive support that focuses on safely alleviating symptoms and restoring digestive tract health. The goals should be to:
Neutralize stomach acid to relieve heartburn, acid indigestion, bloating, GERD, and upset stomach.
Support digestion and normal gastrointestinal (GI) health and response.
Support normal GI immune and inflammatory response.
Support normal GI tract healing, provide support and protection to the mucosal lining, enhance GI permeability health, and address leaky gut syndrome and immune dis-regulation.
Provide optimal support for the epithelial lining of the GI tract, esophagus, throat and mouth.
Support nervous system/digestive system connection and assist the gut, nervous system, and brain network.
Support gum and oral tissue health.
The vagus nerve is central to healthy digestion, and it is often referred to as the trigger for 'rest and digest.' It connects the gut-to-brain as well as the brain-to-gut communication network.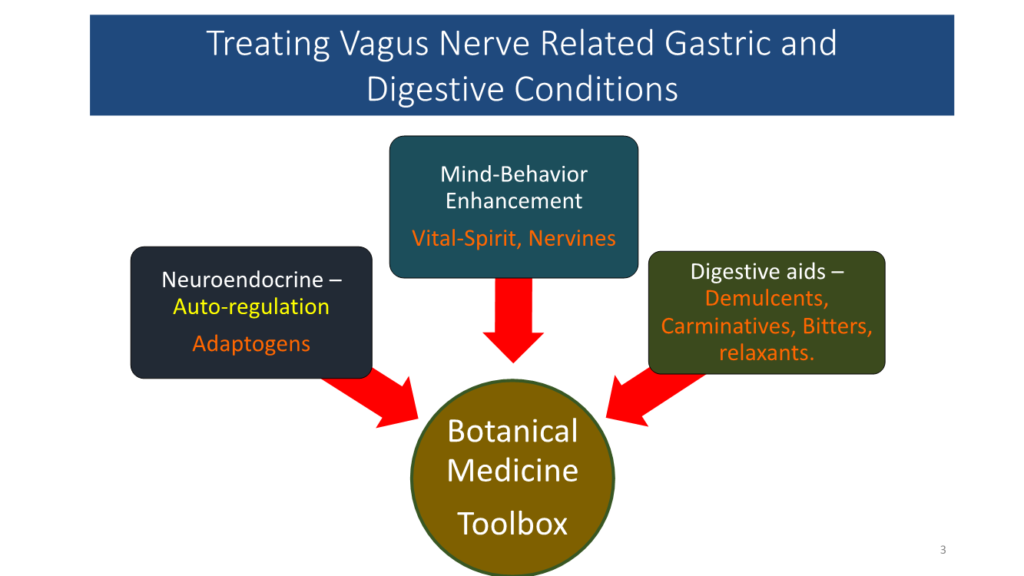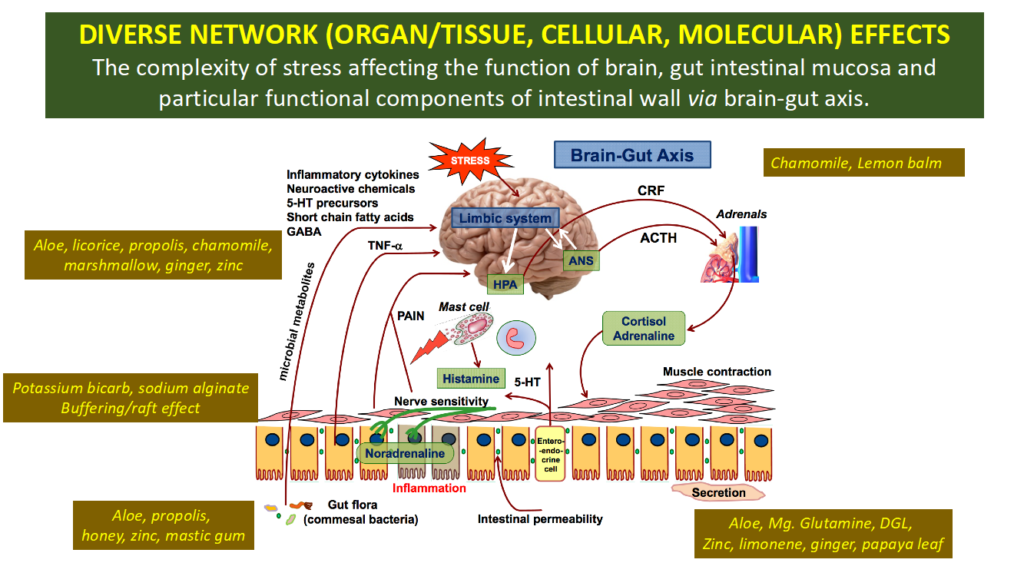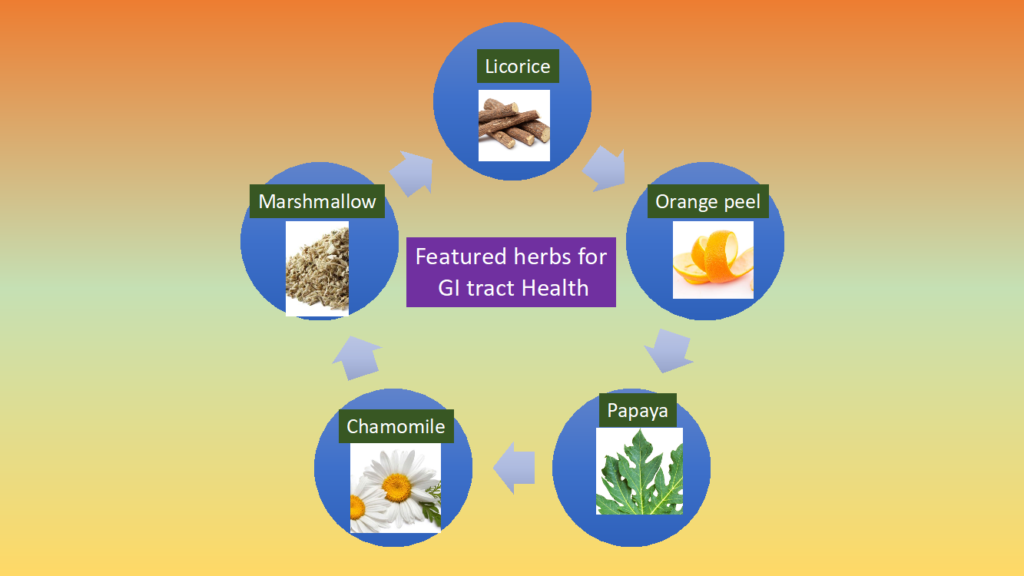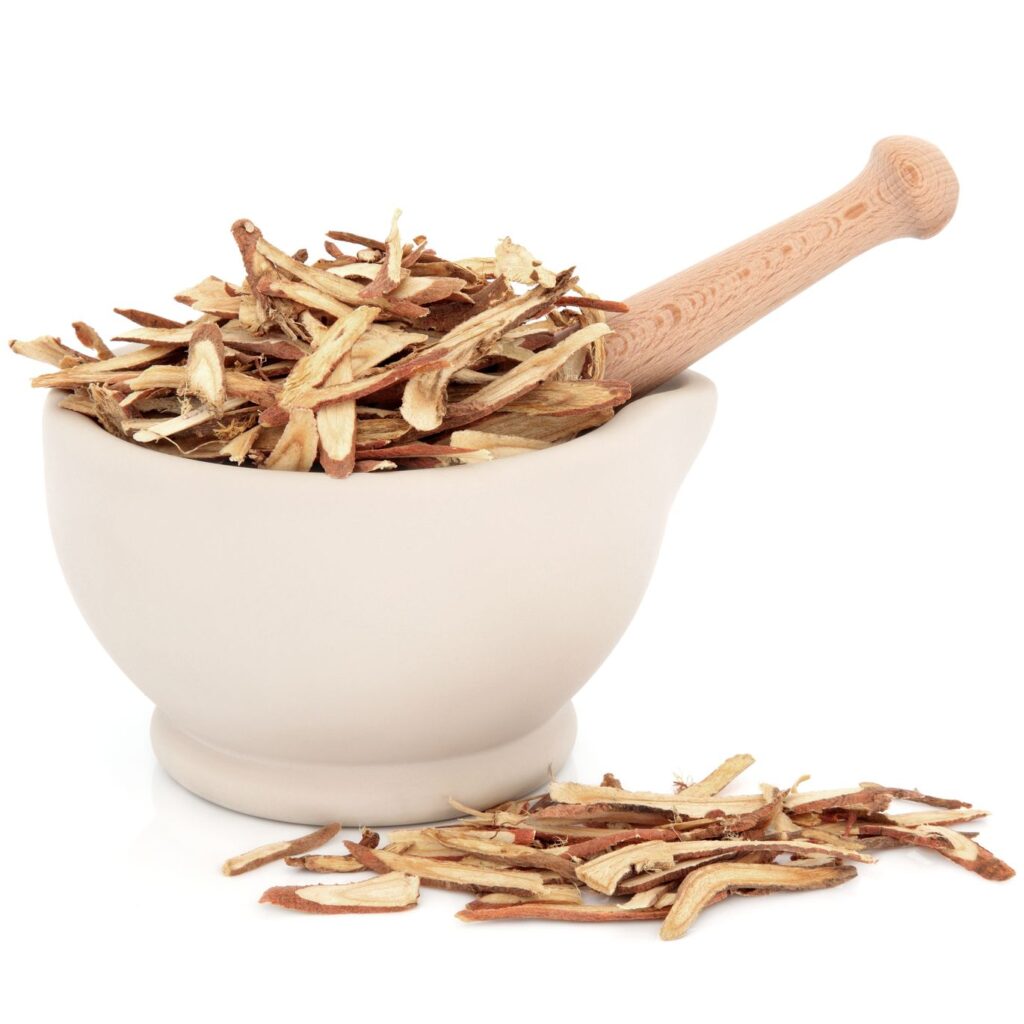 Licorice (Glycyrrhiza glabra)
In my last post on proton pump inhibitors, I wrote about the many benefits of licorice root (in particular, deglycyrrhizinated licorice root extract, or DGL). I consider licorice to be one of the foundational herbs for gastrointestinal health. In addition to the many benefits for the gastrointestinal system that I discussed in my previous post, licorice is helpful for maintaining oral health.
Optimizes oral health
DGL has beneficial effects on the pathogens and the host immune response involved in common oral diseases such as dental caries, periodontitis, candidiasis, and recurrent aphthous ulcers.1, 2 In studies, licorice extract has demonstrated antibacterial activity against six different types of bacteria, including S. mutans, the bacteria that causes dental caries. These results suggest that DGL can be used in developing oral hygiene products, such as gargling solution and dentifrice to prevent cavities. 3
Chamomile (Matricaria recutita or Chamomilla recutita)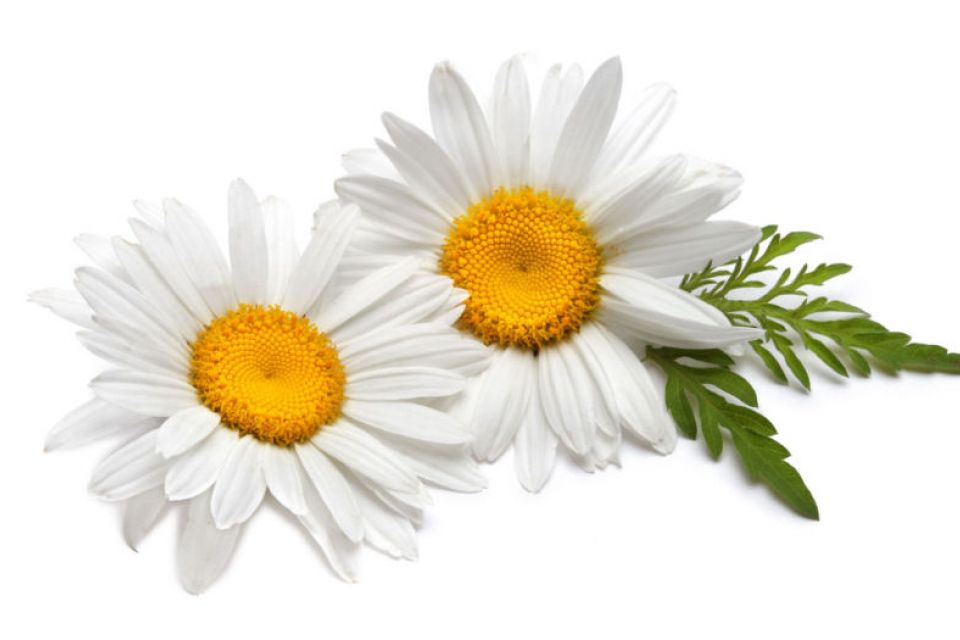 Chamomile has been valued for centuries for its digestive and calming effects. The pharmacological properties include anti-inflammatory, antiseptic, carminative, healing, sedative, and spasmolytic activity. Among many other uses, chamomile preparations are commonly used for inflammation, muscle spasms, insomnia, ulcers, wounds, and gastrointestinal disorders.
Stress reducing & anti-anxiety effects
Chamomile in the form of an aqueous extract is frequently used as a mild sedative to calm nerves and reduce anxiety. One clinical trial suggests that the calming and anxiolytic benefits of chamomile extract are the result of cortisol inhibition. 4, 5
GI gastric protective
Inflammation is associated with many gastrointestinal disorder complaints, including esophageal reflux, diverticular disease, and inflammatory disease. Chamomile helps to reduce smooth muscle spasms associated with various gastrointestinal inflammatory disorders.
Studies in preclinical models suggest that chamomile inhibits Helicobacter pylori, the bacteria that contribute to stomach ulcers.In one study, oral administration of the aqueous extract of chamomile flowers at a dose of 400 mg/kg prevented gastric ulceration in mice. 6, 7
Lemon Balm (Melissa officinalis)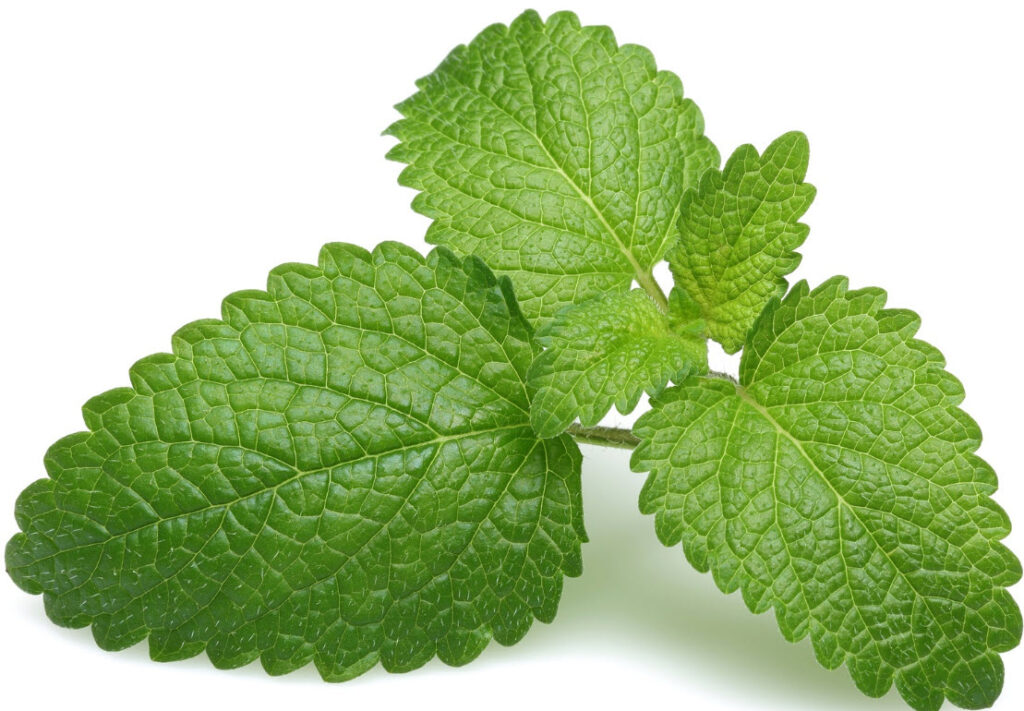 Lemon balm, a member of the mint family, reduces stress and anxiety, improves appetite, and eases pain and discomfort from indigestion. It is also used to treat oral herpes.
Antispasmodic for better digestion
Lemon balm acts as a mild relaxing antispasmodic and has been traditionally used for colic, flatulence, heartburn, irritable bowel disease and gastritis. Rosmarinic acid, identified as the primary active compound in lemon balm, has redox/anti-oxidant and anti-inflammatory benefits, reduces smooth muscle spasms, and may help ease intestinal cramps. Among several plant extracts tested, rosmarinic acid appears to be the most stable in lemon balm.8
Researchers studying the efficacy of an herbal preparation containing several extracts including lemon balm, chamomile, and licorice root found that in patients taking the extract for 8 weeks, 43 percent reported complete relief from symptoms of functional dyspepsia, compared to only 3 percent of those taking a placebo.9
Anti-stress & relaxing effects
Both clinical and animal studies demonstrate that lemon balm extract alone or in combination with other herbs reduce anxiety and restlessness.
In a double-blind, placebo-controlled study, volunteers received two separate single doses of a standardized lemon balm extract (300 mg and 600 mg) or placebo for 7 days. The 600 mg dose of lemon balm increased mood and significantly increased calmness and alertness.10
Interesting research also indicates that lemon balm has neuro-protective effects and may inhibit or delay dementia and Alzheimer's disease.In one study, lemon balm extract led to dose-specific increases in calmness, and dose-dependent decrements in timed memory task performance. The most notable cognitive and mood enhancing effects were improved memory performance and increased calmness for the highest (1600 mg) dose. 11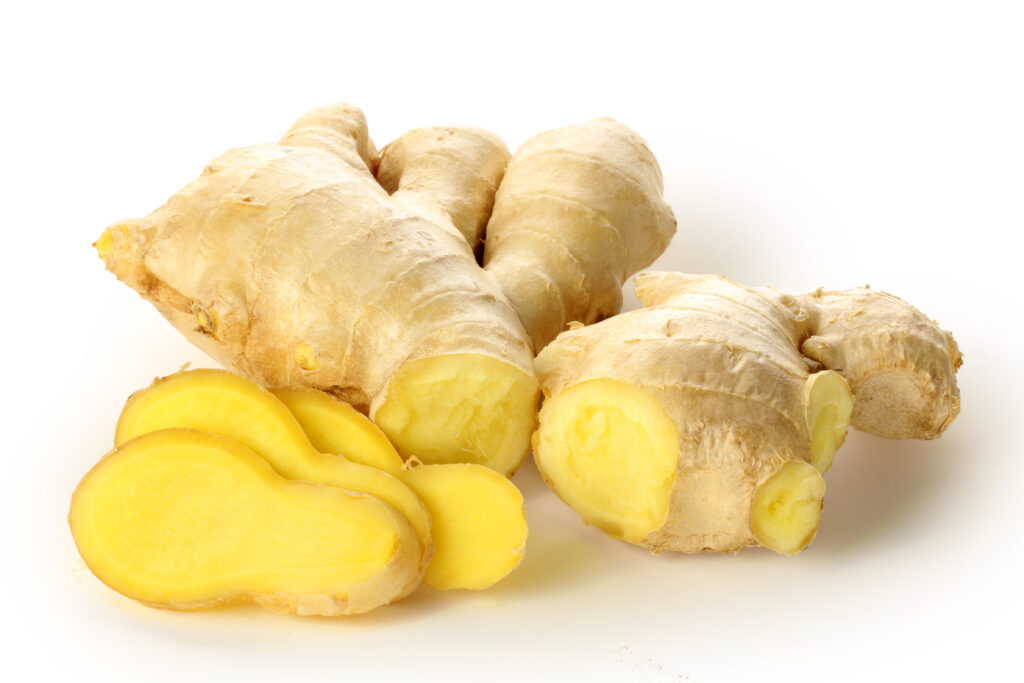 Ginger (Zingiber officinalis)
Perhaps best known as a cooking spice, ginger is used worldwide as an herbal remedy to enhance digestion and reduce intestinal gas. The Eclectic physicians used ginger as a stimulating tonic, carminative, and antispasmodic and prescribed it for nausea, gastrointestinal cramping, and loss of appetite.
Promotes healthy digestion
Ginger possesses aromatic and pungent compounds that enhance digestion, including triggering the secretion of saliva, digestive fluids, and bile.
Eases irritable bowel syndrome
Ginger produces marked improvement in stress induced irritable bowel syndrome, which could be attributed to the powerful antioxidant nature, direct effect on the intestinal smooth muscle and adaptogenic nature.
The mechanisms by which ginger improves IBS include reducing neutrophil infiltration and lipid peroxide formation, while significantly enhancing levels of superoxide dismutase and glutathione and decreasing corticosterone. 12
Anti-ulcer effects
Research shows that ginger root extract helps to protect against ulcers. In studies, ginger protects the gastric mucosa from stress-induced mucosal lesions and inhibits gastric acid secretion, probably by blocking H+, K+-ATPase action, inhibiting growth of Helicobacter pylori, and offering antioxidant protection against oxidative stress-induced gastric damage.13
Additional research shows that ginger prevents oxidative damage of the gastric mucosa by blocking lipid peroxidation, decreasing superoxide dismutase, and increasing catalase activity. Gingerols are thought to be the main constituents responsible for the protective effects.14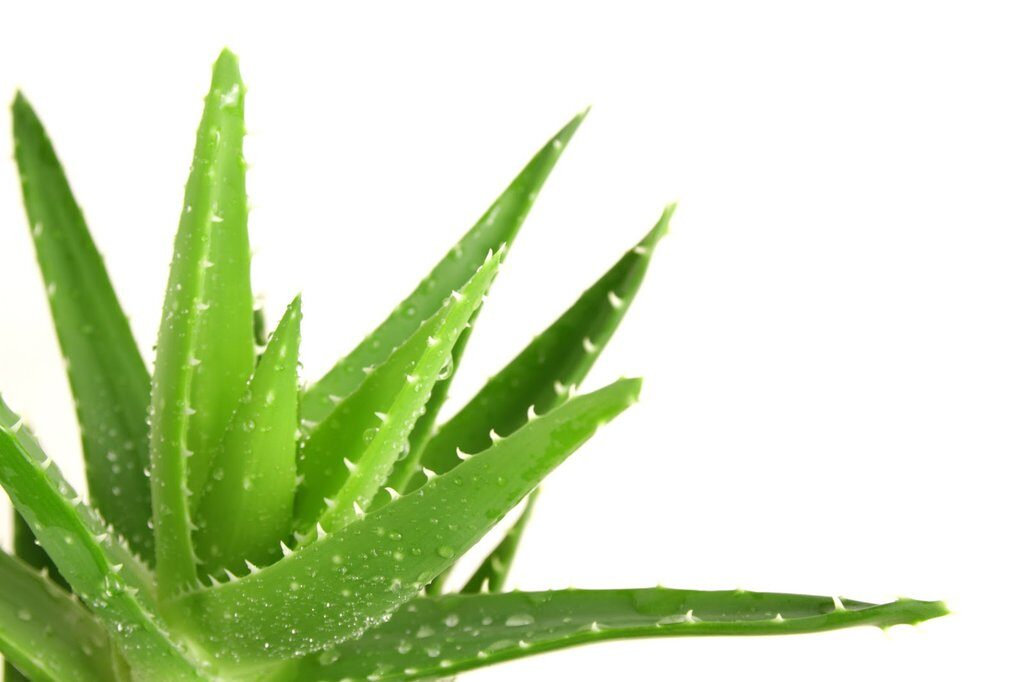 Aloe (Aloe barbadensis)
The slippery gel found in the aloe leaf contains compounds with proven antibacterial, antiviral, antifungal, antioxidant, anti-inflammatory, anti-diabetic, immunomodulatory, and wound healing properties. Acemannan has been identified as the primary polysaccharide within the inner leaf and is responsible for enhancing humoral immune response and cellular immunity.15
Aloe vera has shown free radical scavenging, antiproliferative, and immunostimulatory properties. The anticancer attributes of various components contained in plants of the Aloe genus have been extensively researched, including aloe-emodin as source of novel chemotherapeutic drugs for the treatment of human gastric carcinoma; or the anticancer attributes of the polysaccharides (acemannan and mannan) isolated from the gel of aloe plants.16, 17
Alleviates symptoms of GERD
Properly processed organic aloe vera inner leaf gel powder raises stomach pH to eliminate discomfort and facilitate healing of the gastrointestinal tract. Aloe vera also functions as a probiotic to promote the growth of healthy flora to optimize digestive and immune health. 18
In a study evaluating treatments for GERD, subjects were given aloe vera syrup (standardized to 5.0 mg polysaccharide per mL of syrup) at a dose of 10 mL/d, omeprazole capsule (20 g/d), or ranitidine tablet (150 mg twice daily) for 4 weeks. The eight main symptoms of GERD (heartburn, food regurgitation, flatulence, belching, dysphagia, nausea, vomiting and acid regurgitation) were assessed at weeks 2 and 4 of the trial. Aloe vera was well tolerated and reduced the frequencies of all GERD symptoms, with no adverse effects.19
Effective against gastric ulcers
In research, aloe vera gel extract was found to be effective in both acute and chronic gastric ulcers. Pretreatment with aloe vera gel extract (150 mg/kg) prevented the formation of lesions induced by two models (indomethacin and ethanol-induced gastric lesions). In addition, treatment with the extract for 15 days significantly reduced the ulcer index, ulcerated surface and significantly elevated the level of glycoprotein content in gastric juice in the treatment of chronic ulcers.20
Oral health benefits
Aloe vera gel offers numerous benefits for oral health. In one study, aloe vera demonstrated anti-bacterial effects comparable to standard antibiotics against A. actinomycetemcomitans, C. bacilli, S. mutans and Staph. aureus. 21 Research also indicates that the wound healing and anti-inflammatory properties of an aloe vera mouthwash may prevent radiation-induced mucositis and that the antifungal and immunomodulatory properties also may reduce oral candidiasis of patients undergoing head and neck radiotherapy. 22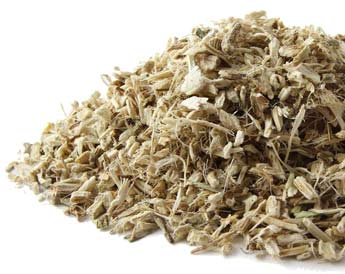 Marshmallow root (Althaea officinalis)
Research shows that the mucilage and flavonoids contained in marshmallow soothe and protect gastric mucosa. Marshmallow root has significant anti-inflammatory properties that calm both acute and chronic inflammation.
Protects against gastrointestinal ulcers
In a study conducted to investigate the protective effects of ginger and marshmallow extracts on indomethacin-induced gastric ulcer in rats, animals were divided into five groups; a normal control group, an ulcer control group, and three treatment groups receiving famotidine, ginger, and marshmallow. Treatments were given orally for 14 days prior to a single intra-peritoneal administration of indomethacin, which resulted in significant elevations in ulcer number, ulcer index, and blood superoxide dismutase activity accompanied by significant decreases in gastric mucosal nitric oxide and glutathione levels and increases in gastric mucosal lipid peroxides and histamine. Pretreatment with famotidine, ginger or marshmallow significantly corrected macroscopic and biochemical findings.
These results demonstrate that administration of either ginger or marshmallow extract could protect against indomethacin-induced peptic ulcer in rats presumably via their antioxidant properties and inhibition of histamine release.23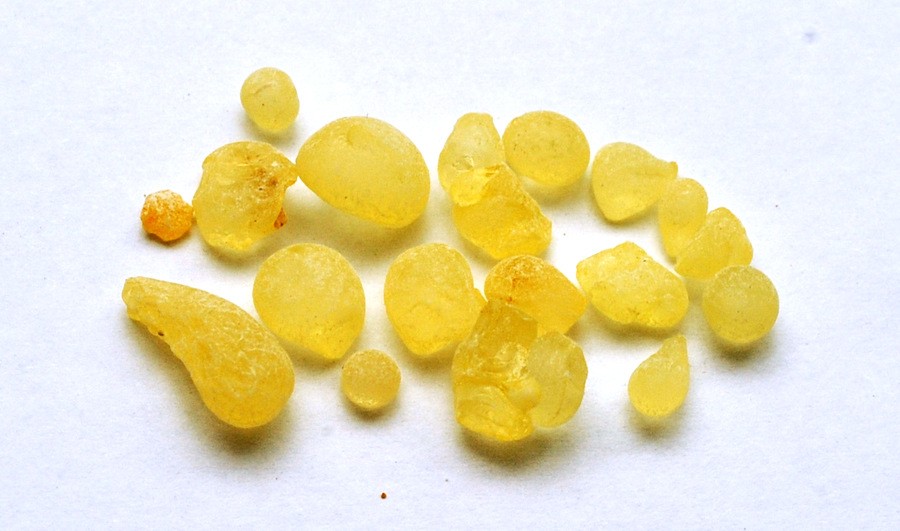 Mastic gum (Pistachia lentiscus)
Mastic gum is exuded by the bark of the mastic tree, which grows primarily on the Greek island of Chios. Historically, the people of Chios and throughout the Mediterranean have used mastic as a medicine for gastrointestinal ailments for several thousand years.
Anti-ulcer effects
Research shows that mastic has antibacterial activity against a number of different species of bacteria, most notably H pylori. 24 Research also indicates mastic to be effective against duodenal ulcers in clinical trials.25
Improves oral health
Using oral mastic products such as mouthwash, toothpaste, and chewing gum can help prevent tooth decay and diseases such as periodontitis and gingivitis by reducing levels of oral bacteria. Eradicating H. pylori bacteria in the mouth also helps prevent infection of the stomach.
In a study comparing mastic extract to hydrogen peroxide on pathogenic oral bacteria, researchers found that mastic demonstrated inhibition of periodontal pathogens, as well as beneficial effects on cell viability, and suggested that mastic extract could be considered as an alternative antibacterial agent in the prevention of periodontal disease.26
Papaya leaf (Carica papaya)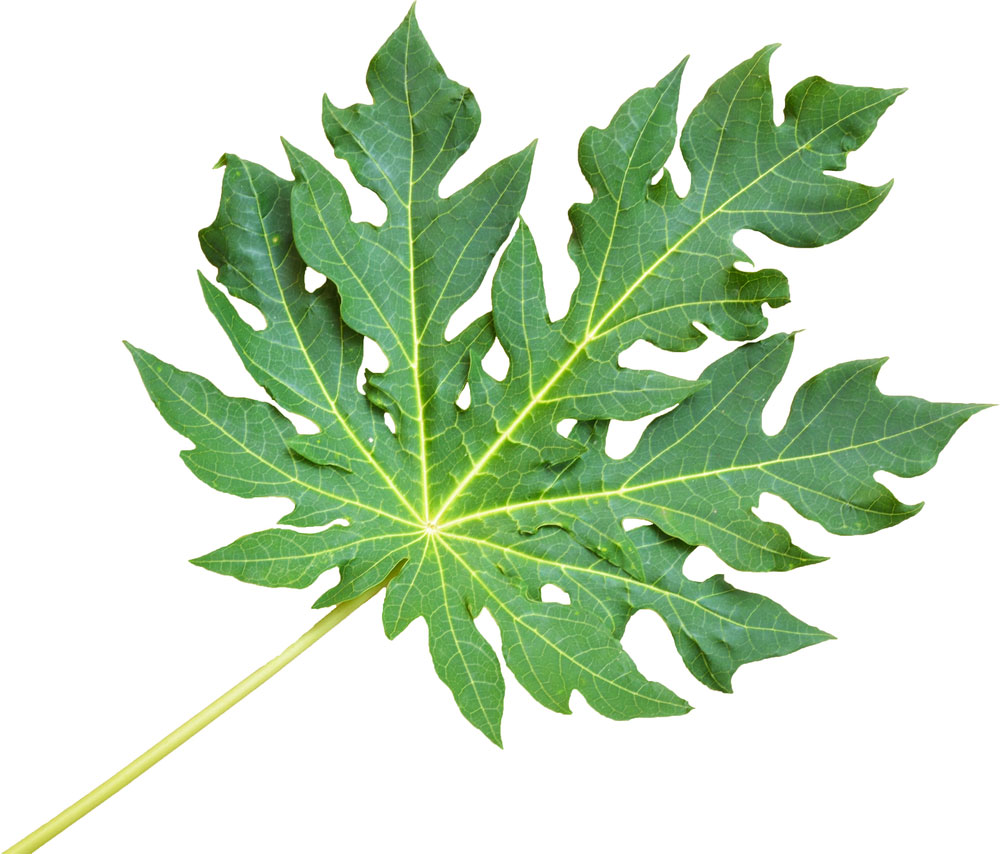 Papaya contains an enzyme known as papain, which is present in the bark, leaves and fruit. It contains many biological active compounds including chymopapain and papain, which aid digestion and alleviate inflammation.
Improves digestion & protects against ulcers
Traditional Western herbal medicine prescribes papaya leaf to treat indigestion, with characteristic symptoms of bloating, nausea, and flatulence. It is also traditionally used as a medicine for dyspepsia, hyperacidity, dysentery and constipation.
In studies, papaya leaf extract has demonstrated potent antioxidant effects and has been shown to reduce the severity of ulcers. Additional benefits include decreasing oxidized lipids and increasing antioxidant activity within red blood cells. Research suggests that papaya leaf tea shows potential for the treatment of gastric ulcer and oxidative stress on the stomach.27
Immune modulating & cancer suppressing effects
Carica papaya leaf extracts have been employed as an aboriginal remedy for cancer and infectious diseases, according to a study published in the February 2010 issue of the Journal of Ethnopharmacology. In a tissue culture study reported in the journal, papaya leaf tea reduced inflammation and activated immune system anti-cancer factors, inhibited tumor cell growth and stimulated genes that modulate the immune system's anti-tumor effects.28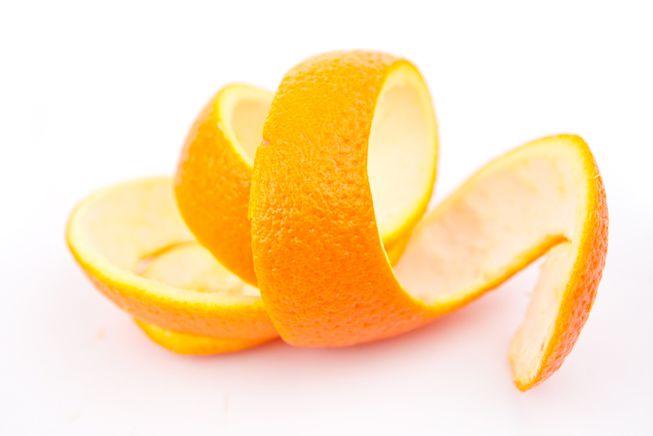 Orange Peel (D-Limonene)
D-limonene is a major constituent in several citrus oils (orange, lemon, mandarin, lime, and grapefruit). A natural solvent, d-limonene has been clinically used to dissolve cholesterol-containing gallstones, and because it helps to neutralize gastric acid and supports healthy peristalsis, d-limonene is used to relieve heartburn. Limonene also has well-established chemopreventive activity against many types of cancers. 29
Relieves heartburn & GERD
In a clinical setting, adults suffering from chronic heartburn or GERD were invited to try limonene to relieve their symptoms. Participants were asked to discontinue current treatments (OTC and/or prescription medications), take one capsule containing 1,000 mg limonene every day or every other day, and rate symptoms daily. On the second day of taking d-limonene, 32 percent of participants experienced a significant relief of symptoms; this relief rate improved gradually during the regimen. By day 14, 89 percent of participants achieved complete relief of symptoms.30
In a double-blind, placebo-controlled study, participants suffering from mild/moderate to severe heartburn/GERD were randomized to limonene or placebo. By day 14, 86 percent of participants achieved complete relief of symptoms, compared to 29 percent of participants in the placebo group.
Results from these two studies suggest the beneficial effects of d-limonene appear to develop over time. In vitro study suggests that d-limonene may neutralize the effect of gastric acid by coating the stomach wall and protecting the mucosal lining from gastric acid exposure.31
Potassium Bicarbonate
Potassium is an electrolyte, a substance that conducts electrical impulses in the body. It is crucial for healthy muscular, cardiovascular, and digestive function. Potassium bicarbonate is superior to sodium bicarbonate, and equal to or significantly better than traditional antacids for relieving heartburn symptoms.
Alkalizing creates an unfavorable microenvironment for cancer
The acidic pH of the tumor microenvironment represents a "niche engineering" strategy that promotes local invasion and subsequent in vivo growth of malignant tumors. These observations support the "acid-mediated invasion hypothesis" which suggests tumor acidity as a component of tumor cell invasion and extracellular matrix (ECM) degradation of the cellular tissue encapsulating primary tumors.32
Oral administration of bicarbonate can raise the extracellular pH of tumors, an effect associated with inhibition of metastasis and improved responsiveness to certain cytotoxic agents. Bicarbonate has the highest buffering capacity of any substance. Recent research with laboratory mice shows that oral intake of bicarbonate increased the pH of cancer tumors, and significantly reduced the spread of metastatic tumors.33, 34
Improves bone health
A low level of metabolic acidosis and positive acid balance (the production of more acid than is excreted) correlate with the amount of endogenous acid produced by protein-rich diets. Bone loss may therefore be attributable, at least in part, to the life-long mobilization of skeletal salts to balance the endogenous acid generated from foods that are acid producing. 35, 36
In postmenopausal women, the oral administration of potassium bicarbonate at a dose sufficient to neutralize endogenous acid improves calcium and phosphorus balance, reduces bone resorption, and increases the rate of bone formation.37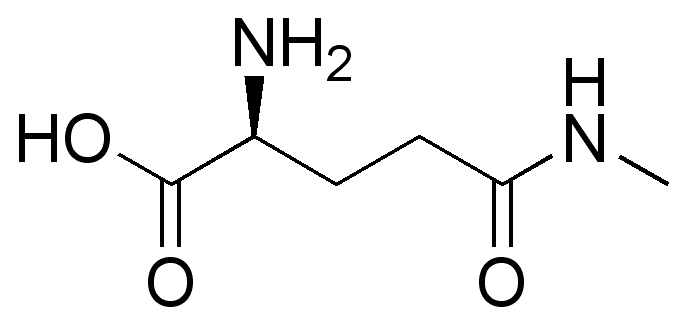 Glutamine (as Magnesium Glycyl Glutamine chelate)
The amino acid glutamine is a building block for protein and is used by every cell in the body. Magnesium glycyl glutamine (MGG) is a patented, chelated form of glutamine. This bioavailable form is a key agent for energy production involved in over 300 enzymatic reactions in the body.
The 2015 Dietary Guidelines Advisory Committee indicated that almost half of Americans consume less than the recommended amount of magnesium, and some age groups consume substantially less.Proton pump inhibitors (PPI's) contribute to the problem in that they reduce magnesium absorption.
Regulates intestinal permeability
Glutamine is the most abundant amino acid in plasma and plays an essential role in maintaining the integrity of the intestinal barrier. Dysfunction of the mucosal barrier is associated with increased gut permeability and the development of multiple gastrointestinal diseases.
Recent studies show that glutamine plays a critical role in activating the mTOR (mammalian target of rapamycin) cell signaling in enterocytes. In addition, glutamine enhances intestinal and whole-body growth, promotes enterocyte proliferation and survival, and regulates intestinal barrier function in injury, infection, and other catabolic conditions.
Growing evidence indicates that glutamine holds great promise in protecting the gut from atrophy and injury under stressful conditions and can improve gut barrier function. 38, 39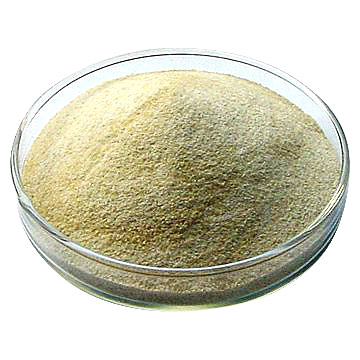 Sodium Alginate
Alginates are natural long-chain carbohydrate molecules derived from brown seaweed. On contact with liquid and acid in the stomach, alginate forms a thick gel. This produces a temporary physical barrier that blocks stomach contents from backing up into the esophagus. As the alginate mixture expands in the stomach, it mops up excess acid and forms a pH-neutral barrier that reduces reflux episodes.
Symptom relief for heartburn
Alginate-based raft-forming formulations are used for the symptomatic treatment of heartburn and esophagitis. These formulations usually contain bicarbonate (potassium or sodium); in the presence of gastric acid, the bicarbonate is converted to carbon dioxide, which becomes trapped within the gel precipitate, converting into foam that floats on the surface of the gastric contents.
Raft formation occurs rapidly, often within a few seconds of dosing. Because the raft can be retained in the stomach for several hours, alginate-based raft-forming formulations provide longer-lasting relief than that of traditional antacids. Their unique non-systemic mechanism of action provides rapid and long-duration relief of heartburn and acid reflux symptoms.40
A sodium alginate based floating drug delivery system has also been shown to contribute to the eradication of Helicobacter pylori.41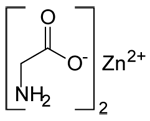 Zinc carnosine
Zinc is an essential trace element and is required for metabolic health, immune response, reproductive health, and numerous biochemical functions. It exerts significant anti-inflammatory and antioxidant influence and is cytoprotective. Oxidative stress and chronic inflammation have been implicated in all chronic diseases including the development and progression of most cancers.
Zinc supplementation, mostly as zinc carnosine, has been used for treating gastric ulcer. Zinc carnosine has demonstrated a protective action on the mucosal cells against noxious stimuli, including gastric mucosal protective effects against H pylori.42, 43
Helicobacter pylori infection is a cause of gastritis, peptic ulcers and even gastric cancer, while serum zinc level is an indicator of protection of gastric membranes against damage.44
Helps heal gastric ulcers
A double-blind trial of zinc sulphate given by mouth (220 mg, three times a day) and placebo was undertaken in patients with benign gastric ulcers. The drug was given for a three-week period and ulcer healing was estimated from barium-meal X-rays taken immediately before and after this period.
The two groups of patients were comparable in all respects, including initial ulcer size. Patients taking zinc sulphate had an ulcer healing rate three times that of patients treated with placebo. In addition, complete healing of ulcers occurred more frequently in the patients taking zinc sulphate than in patients treated with placebo. No side effects from zinc sulphate were noted. Interestingly, there was no evidence of zinc deficiency in any of the patients.45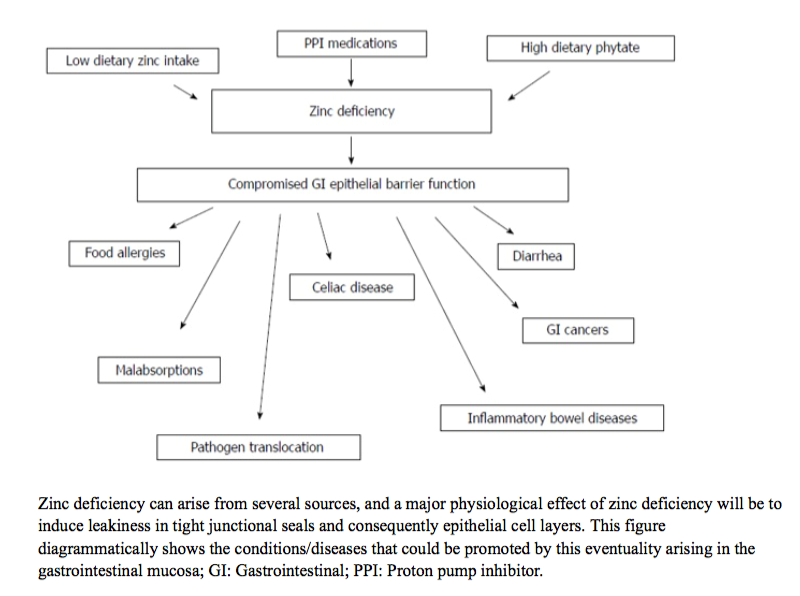 Propolis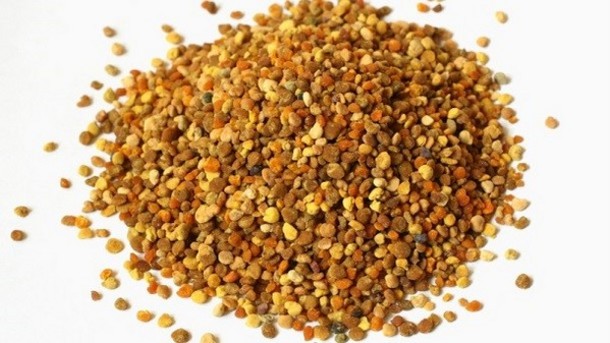 A glue-like substance used by bees for building and protecting their hives, propolis has been used for centuries for a variety of disorders. Hippocrates is said to have used propolis to cure wounds and ulcers, both external and internal.
Bees create propolis by combining resins from the buds and leaves of plants and trees with beeswax, volatile oils, and a small amount of pollen. Research shows that propolis has antioxidant and anti-inflammatory properties, and is rich in flavanones, flavones, phenolic acid, and other compounds that effectively fight bacteria, viruses, and fungi.
Inhibits bacteria that cause ulcers
Propolis is a powerful inhibitor of H. pylori, the causative agent of gastric and duodenal ulcers and gastritis and it has been used alone or in combination with antibiotics for preventing and treating gastric ulcers. The anti-inflammatory and immune stimulating activity of propolis plays an important role in the pathophysiology of H. pylori infection.46, 47
Improves oral health
The oral use of propolis-based preparations is effective in periodontal treatment. Local application of propolis helps to heal wounds through speeding up the creation of granulation tissue after oral surgery, reduces inflammation and has an analgesic effect. 48
In a study of patients undergoing chemotherapy, a propolis mouthwash was shown to reduce chemotherapy induced oral mucositis (OM). There were significant differences in OM, wound and erythema in the propolis group compared to placebo, but no significant difference in eating and drinking ability. However, 65% of patients in the propolis group were completely healed at day 7 of the trial. The researchers recommended propolis mouth rinse for the oral care of patients undergoing chemotherapy.49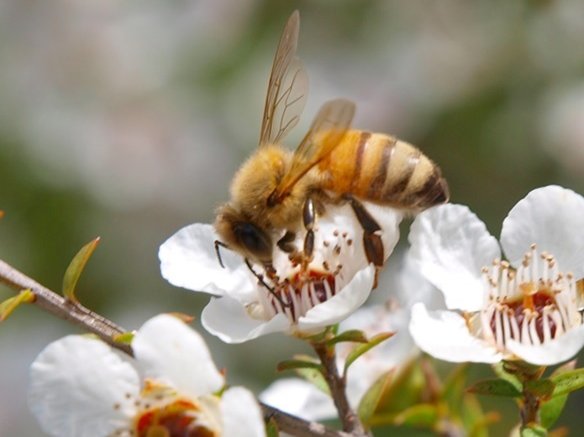 Manuka Honey
Manuka honey is derived from the manuka tree, Leptospermum scoparium. Although all honey has healing properties, manuka honey has attracted attention as an antimicrobial agent, antioxidant, and for its role in wound healing.50
Manuka honey is especially rich in flavonoids. Flavonoids occur naturally in the plant kingdom and possess numerous pharmacological activities. In the gastrointestinal system, flavonoids have anti-inflammatory, antimicrobial and gastroprotective effects and prevent gastric ulcer formation through several mechanisms, including antisecretory and antioxidant mechanisms.51
Compared to other honey types, manuka honey contains the highest amount of phenolic and flavonoid compounds (pinobanksin, pinocembrin, and chrysin) that have been identified with potent ROS scavenging activity.
Natural anti-inflammatory agent
Manuka honey is rich in methylglyoxal (MGO), an antibacterial compound naturally formed in the nectar of the manuka flower. Methylglyoxal is transferred into the honey, where it remains stable and is resistant to heat, light and enzymatic activity in body fluids. This phenomenon makes MGO-rich manuka honey superior to other types of honey.
Studies show that pretreatment with the molecule methylglyoxal prevented gastric damage in rats that were administered caustic agents.52 Manuka honey has shown anti-microbial effects against a wide range of organisms and even against antibiotic resistant strains.53
Immune boosting & anti-cancer properties
Honey has been shown to have anticancer properties in cell cultures and in animal models. It is a natural immune booster, anti-inflammatory agent, antimicrobial agent, promotes healing of chronic ulcers and wounds and scavenges toxic free radicals.54
Honey is highly cytotoxic against tumor or cancer cells while it is non-cytotoxic to normal cells. Research indicates that honey can inhibit carcinogenesis by modulating the molecular processes of initiation, promotion, and progression.55
In conclusion, there are a number of botanical and nutritional compounds that provide relief for heartburn, acid indigestion, bloating, GERD, and upset stomach. At the same time, these natural agents support healing of the gastrointestinal tract.
As I noted in my previous post, PPIs are one of the most commonly prescribed drugs. But while PPIs may provide temporary symptom relief, they come with a risk of serious disease—including gastric cancer, pneumonia, c. difficile infections, and osteoporosis. The risk just isn't worth it. With so many safe and effective alternatives available, I see no reason to consider using PPIs.
References
Messier C, Epifano F, Genovese S, Grenier D. Licorice and its potential beneficial effects in common oro-dental diseases. Oral Dis. 2012;18(1):32-9.
Sedighinia F, Safipour Afshar A, Soleimanpour S, Zarif R, Asili J, Ghazvini K. Antibacterial activity of Glycyrrhiza glabra against oral pathogens: an in vitro study. Avicenna J Phytomed. 2012 Summer;2(3):118-24.
Reitz J, Licorice extract a sweet way to control decay, Pa Dent J (Harrisb). 2012 Jan-Feb;79(1):40-1.
Amsterdam JD, Li Y, Soeller I, Rockwell K, Mao JJ, Shults J. A randomized, double-blind, placebo-controlled trial of oral Matricaria recutita (chamomile) extract therapy for generalized anxiety disorder. J Clin Psychopharmacol. 2009 Aug;29(4):378-82. doi: 10.1097/JCP.0b013e3181ac935c.
Mao JJ, Xie SX, Keefe JR, Soeller I, Li QS, Amsterdam JD. Long-term chamomile (Matricaria chamomilla L.) treatment for generalized anxiety disorder: A randomized clinical trial. Phytomedicine. 2016 Dec 15;23(14):1735-1742. doi: 10.1016/j.phymed.2016.10.012.
Karbalay-Doust, S., Noorafshan, A., 2009. Antiulcerogenic effects of matricaria chamomilla extract in experimental gastric ulcer in mice. J. Med. Sci. 34 (3), 198–203.
Jabri MA, Aissani N, Tounsi H, Sakly M, Marzouki L, Sebai H. Protective effect of chamomile (Matricaria recutita L.) decoction extract gainst alcohol-induced injury in rat gastric mucosa. Pathophysiology. 2016 Dec 21. pii: S0928-4680(16)30047-5. doi: 10.1016/j.pathophys.2016.11.001.
Zorić Z, Markić J, Pedisić S, Bučević-Popović V, Generalić-Mekinić I, Grebenar K, Kulišić-Bilušić T. Stability of Rosmarinic Acid in Aqueous Extracts from Different Lamiaceae Species after in vitro Digestion with Human Gastrointestinal Enzymes. Food Technol Biotechnol. 2016 Mar;54(1):97-102.
Madisch A, Holtmann G, Mayr G, Vinson B, Hotz J. Treatment of functional dyspepsia with a herbal preparation. A double-blind, randomized, placebo-controlled, multicenter trial. Digestion. 2004;69(1):45-52.
Kennedy DO, Scholey AB, Tildesley NT, Perry EK, Wesnes KA. Attenuation of laboratory-induced stress in humans after acute administration of Melissa officinalis (Lemon Balm). Psychosom Med. 2004 Jul-Aug;66(4):607-13.
Kennedy DO, Wake G, Savelev S, et al., Modulation of mood and cognitive performance following acute administration of single doses of Melissa officinalis (Lemon balm) with human CNS nicotinic and muscarinic receptor-binding properties. Neuropsychopharmacology. 2003;28(10):1871-81.
Banji D, Banji OJ, Pavani B, Kranthi Kumar Ch, Annamalai AR. Zingerone regulates intestinal transit, attenuates behavioral and oxidative perturbations in irritable bowel disorder in rats. Phytomedicine. 2014 Mar 15;21(4):423-9. doi: 10.1016/j.phymed.2013.10.007
Siddaraju MN, Annaiah HN, Shylaja MD. Gastroprotective Effect of Ginger Rhizome (Zingiber officinale) Extract: Role of Gallic Acid and Cinnamic Acid in H+, K+-ATPase/H.pylori Inhibition and Anti-oxidative Mechanism. Evid Based Complement Alternat Med. 2009;6:1–13.
Kumar Arun, Rao ChV, Vijayakumar M, Ahmad Ayaz, Shahzad Naiyer, Khan M Irfan. Anti-ulcerogenic and ulcer healing effects of Zingiber officinale (L.) On experimental ulcer models: Possible mechanism for the inhibition of acid formation. Int J Pharm Res. 2010;1:75–85.
Im SA, Oh ST, Song S, et al. Identification of optimal molecular size of modified Aloe polysaccharides with maximum immunomodulatory activity. International Immunopharmacology. 2005;5(2):271-279.
Niciforovic A, Adzic M, Zabric B, Radojcic MB. Adjuvant antiproliferative and cytotoxic effect of aloin in irradiated HeLaS3 cells (/ejournals/linkout/10.1055/s-0031-1298453/id/RW0084-16). Biophys Chem 2007; 81: 1463-1466.
Niciforovic A, Adzic M, Zabric B, Radojcic MB. Adjuvant antiproliferative and cytotoxic effect of aloin in irradiated HeLaS3 cells (/ejournals/linkout/10.1055/s-0031-1298453/id/RW0084-16). Biophys Chem 2007; 81: 1463-1466
Robert A. Sinnott et.al. Utilization of Arabinogalactan, Aloe vera Gel Polysaccharides, and a Mixed Saccharide Dietary Supplement by Human Colonic Bacteria In Vitro. INTERNATIONAL JOURNAL OF PROBIOTICS AND PREBIOTICS, Volume 2, Number 2/3, pp. 97-104 (2007)
Panahi Y, Khedmat H, Valizadegan G, Mohtashami R, Sahebkar A. Efficacy and safety of Aloe vera syrup for the treatment of gastroesophageal reflux disease: a pilot randomized positive-controlled trial. J Tradit Chin Med. 2015 Dec;35(6):632-6.
Subramanian, S., Kumar, D.S., Arulselvan, P., Senthilkumar, G.P., Rao, U.S.M., 2007. Evaluation of anti-ulcerogenic potential of Aloe vera leaf gel extract studied in experimental rats. J. Pharmacol. Toxicol. 2, 85–97.
Jain S, Rathod N, Nagi R, Sur J, Laheji A, Gupta N, Agrawal P, Prasad S. Antibacterial Effect of Aloe Vera Gel against Oral Pathogens: An In-vitro Study. J Clin Diagn Res. 2016 Nov;10(11):ZC41-ZC44. doi: 10.7860/JCDR/2016/21450.8890.
Nair GR., Naidu GS, Jain S., Nagi R., Makkad RS., Jha, AE., Clinical Effectiveness of Aloe Vera in the Management of Oral Mucosal Diseases A Systematic Review, J Clin Diagn Res. 2016 Aug;10(8):ZE017. doi: 10.7860/JCDR/2016/18142.8222. Epub 2016 Aug 1.
Zaghlool SS, Shehata BA, Abo-Seif AA, Abd El-Latif HA, Protective effects of ginger and marshmallow extracts on indomethacin-induced peptic ulcer in rats, J Nat Sci Biol Med. 2015 Jul-Dec;6(2):421-8. doi: 10.4103/0976-9668.160026.
Dabos KJ, Sfika E, Vlatta LJ, Giannikopoulos G. The effect of mastic gum on Helicobacter pylori: a randomized pilot study. Phytomedicine. 2010 Mar;17(3-4):296-9. doi: 10.1016/j.phymed.2009.09.010.
Al-Said, M.S.; Ageel, A.M.; Parmer, N.S.; Tariq, M. Evaluation of Mastic, a Crude Drug obtained from Pistachio lentiscus for Gastric and Duodenal Anti-Ulcer Activity. J. Ethnopharmacol.1986k, 15, 271-278.
Koychev S, Dommisch H, Chen H, Pischon N. Antimicrobial Effects of Mastic Extract Against Oral and Periodontal Pathogens. J Periodontol. 2017 Jan 8:1-11. doi: 10.1902/jop.2017.150691.
Indran M, Mahmood AA, Kuppusamy UR. Protective effect of Carica papaya L leaf extract against alcohol induced acute gastric damage and blood oxidative stress in rats, West Indian Med J. 2008 Sep;57(4):323-6.
Otsuki N, Dang NH, Kumagai E, Kondo A, Iwata S, Morimoto C. Aqueous extract of Carica papaya leaves exhibits anti-tumor activity and immunomodulatory effects, J Ethnopharmacol. 2010 Feb 17;127(3):760-7. doi: 10.1016/j.jep.2009.11.024. Epub 2009 Dec 2.
Lu XG, Zhan LB, Feng BA, Qu MY, Yu LH, Xie JH. Inhibition of growth and metastasis of human gastric cancer implanted in nude mice by d-limonene, World J Gastroenterol. 2004 Jul 15;10(14):2140-4.
Wilkins J Jr. Method for treating gastrointestinal disorder. U.S. Patent (642045). 2002.
Lis-Balchin M, Ochocka RJ, Deans SG, et al. Bioactivity of the enantiomers of limonene. Med Sci Res 1996;24:309-310.
Veronica Estrella, Tingan Chen, Mark Lloyd, et al; Acidity generated by the tumor microenvironment drives local Invasion; Cancer Res. Published Online First January 3, 2013; doi:10.1158/0008-5472.CAN-12-2796.
Ribeiro MD1, Silva AS2, Bailey KM3, Kumar NB4, Sellers TA4, Gatenby RA5, Ibrahim-Hashim A2, Gillies RJ6. Buffer Therapy for Cancer, J Nutr Food Sci. 2012 Aug 15;2:6.
Schieszer, John, Neutralizing Intratumoral pH May Improve Responses to Immunotherapy, Published (5/2016) on OncoTherapy Network (http://www.oncotherapynetwork.com)
Bushinsky DA. Acid-base imbalance and the skeleton. In: Nutritional Aspects of Osteoporosis '97 (3rd International Symposium on Nutritional Aspects of Osteoporosis, Switzerland, 1997). In: Burckhardt P, Dawson-Hughes B, Heaney RP, eds. Challenges of Modern Medicine. Rome, Italy: Ares-Serono Symposia Publications; 1998:208-217.
Frassetto L, Todd K, Morris C Jr, Sebastian A. Estimation of net endogenous noncarbonic acid production in humans from dietary protein and potassium contents. Am J Clin Nutr. 1998;68:576-583
Lambert H, Frassetto L, Moore JB, Torgerson D, Gannon R, Burckhardt P, Lanham-New S. The effect of supplementation with alkaline potassium salts on bone metabolism: a meta-analysis. Osteoporos Int. 2015 Apr;26(4):1311-8. doi: 10.1007/s00198-014-3006-9. Epub 2015 Jan 9.
Achamrah N, Déchelotte P, Coëffier M. Glutamine and the regulation of intestinal permeability: from bench to bedside. Curr Opin Clin Nutr Metab Care. 2017 Jan;20(1):86-91.
Wang B, Wu G, Zhou Z, Dai Z, Sun Y, Ji Y, Li W, Wang W, Liu C, Han F, Wu Z. Glutamine and intestinal barrier function. Amino Acids. 2015 Oct;47(10):2143-54. doi: 10.1007/s00726-014-1773-4. Review.
Mandel KG, Daggy BP, Brodie DA, Jacoby HI. Review article: alginate-raft formulations in the treatment of heartburn and acid reflux. Aliment Pharmacol Ther. 2000 Jun;14(6):669-90.
Adebisi AO, Laity PR, Conway BR. Formulation and evaluation of floating mucoadhesive alginate beads for targeting Helicobacter pylori. J Pharm Pharmacol. 2015 Apr;67(4):511-24. doi: 10.1111/jphp.12345.
Hill TL, Blikslager AT. Effect of a zinc L-carnosine compound on acid-induced injury in canine gastric mucosa ex vivo. Am J Vet Res. 2012;73(5):659–63.
Ishihara R, Iishi H, Sakai N, Yano H, Uedo N, Narahara H, Iseki K, Mikuni T, Ishiguro S, Tatsuta M. Polaprezinc attenuates Helicobacter pylori-associated gastritis in Mongolian gerbils. Helicobacter. 2002 Dec;7(6):384-9.
Wen-Hua Zhang et al., Serum Zinc Status and Helicobacter Pylori Infection in Gastric Disease Patients, Asian Pacific Journal of Cancer Prevention, VOLUME 13, 2012 Issue Number 10 , 5043-5046
Frommer DJ. The healing of gastric ulcers by zinc sulphate, Med J Aust. 1975 Nov 22;2(21):793-6.
Baltas N, Karaoglu SA, Tarakci C, Kolayli S. Effect of propolis in gastric disorders: inhibition studies on the growth of Helicobacter pylori and production of its urease. J Enzyme Inhib Med Chem. 2016;31(sup2):46-50.
Kunqiang Cui a,1, Weiqiang Lu a,1, Lili Zhu a,1, Xu Shen a,b, Jin Huang, Caffeic acid phenethyl ester (CAPE), an active component of propolis, inhibits Helicobacter pylori peptide deformylase activity, Biochemical and Biophysical Research Communications 435 (2013) 289–294
Więckiewicz W, Miernik M, Więckiewicz M, Morawiec T. Does propolis help to maintain oral health? Evid Based Complement Alternat Med. 2013;2013:351062. doi: 10.1155/2013/351062.
AkhavanKarbassi MH, Yazdi MF, Ahadian H, SadrAbad MJ. Randomized DoubleBlind PlaceboControlled Trial of Propolis for Oral Mucositis in Patients Receiving Chemotherapy for Head and Neck Cancer. Asian Pac J Cancer Prev. 2016;17(7):3611-4.
Kato Y., Umeda N., Maeda A., Matsumoto D., Kitamoto N., Kikuzaki H. Identification of a novel glycoside, leptosin, as a chemical marker of manuka honey. Journal of Agricultural and Food Chemistry. 2012;60(13):3418–3423. doi: 10.1021/jf300068w.
Mota K. S., Dias G. E. N., Pinto M. E. F., et al. Flavonoids with gastroprotective activity. Molecules. 2009;14(3):979–1012. doi: 10.3390/molecules14030979.
Almasaudi SB, El-Shitany NA, Abbas AT, Abdel-dayem UA, Ali SS, Al Jaouni SK, Harakeh S. Antioxidant, Anti-inflammatory, and Antiulcer Potential of Manuka Honey against Gastric Ulcer in Rats. Oxid Med Cell Longev. 2016;2016:3643824. doi: 10.1155/2016/3643824.
Hillitt KL, Jenkins RE, B, Spiller O, Beeton ML, Antimicrobial activity of Manuka honey against antibiotic resistant strains of the cell wall free bacteria Ureaplasma parvum and Ureaplasma urealyticum, Lett Appl Microbiol. 2016 Dec 19. doi: 10.1111/lam.12707.
Omotayo O. Erejuwa, Siti A. Sulaiman and Mohd S. Ab Wahab Effects of Honey and Its Mechanisms of Action on the Development and Progression of Cancer, Molecules 2014, 19, 2497-2522; doi:10.3390/molecules19022497
Ahmed S, Othman NH. Honey as a potential natural anticancer agent: a review of its mechanisms, Evid Based Complement Alternat Med. 2013;2013:829070. doi: 10.1155/2013/829070. Epub 2013 Dec 2.