The Anti-Infectious Medicinal Properties of Propolis
If I had to choose a favorite natural medicine for healing, it would be propolis. I was first introduced to propolis and other bee products like honey, royal jelly, and bee pollen in 1976 while working at my first job at a natural food store in Connecticut. There, I was fortunate to meet Ed Weiss, a wonderful beekeeper and producer of bee products who was known as the "Bee Man." Ed began his love affair with bees in 1974, and devoted more than four decades to educating people about bees, protecting them, and producing Wilton Gold, an excellent honey. Ed wrote a beekeeper's handbook called "The Queen and I," a comprehensive and charming classic now in its third printing. The book describes his love for the bees, opening with "I have been having an affair," and provides practical information for building a hive and caring for these unique and beneficial creatures. In my four decades of clinical practice, I've witnessed the beneficial healing effects of propolis for a wide variety of health conditions—including viral respiratory illnesses.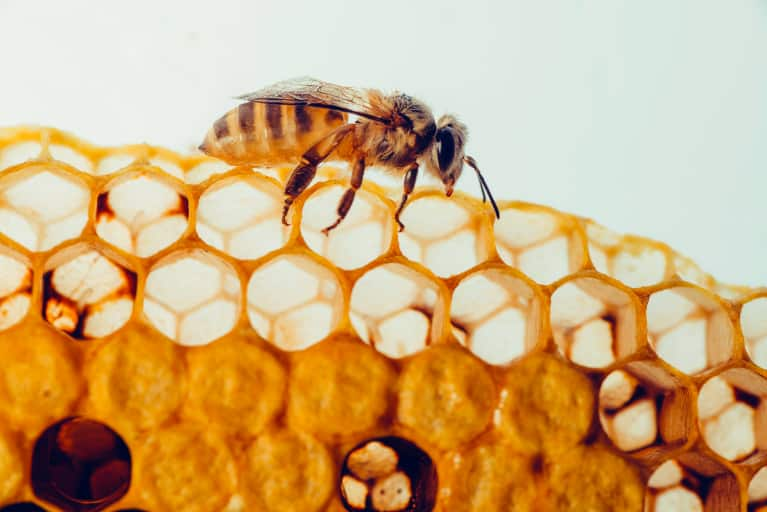 What is Propolis?
A resinous material produced by honeybees from plant exudates, propolis is valued in traditional herbal medicine for its immune modulating and anti-microbial effects. The word "propolis" is rooted in the Greek language and means 'defense for' (pro) 'the community' (polis), which refers to the beehive.
Bees use propolis to construct and restore their hives. Propolis forms a smooth inner surface, maintains the internal temperature of the hive, and prevents weathering and pest invasion. In addition, propolis hardens the cell wall and creates an aseptic environment.[1]
Propolis contains a rich concentration of chemical constituents, including phenolic acids, phenolic acid esters, flavonoids, terpenoids, artepillin C, caffeic acid, chrysin, galangin, quercetin, apigenin, kaempferol, pinobanksin 5-methyl ether, pinobanksin, pinocembrin, and pinobanksin 3-acetate. These compounds are responsible for the biological activities attributed to propolis.[2]
Propolis has been used as a traditional medicine as far back as 300 BC. The healing properties of propolis were identified by Roman and Greek doctors as well as other scientists, such as Dioscorides, Galen, and Aristoteles.[3],[4]
Biomedical Application of Propolis
Because of its diverse biological activity, propolis is highly effective as an anti-microbial agent against fungi, bacteria and viruses. Its many uses include anti-inflammatory, anesthetic, antioxidant, and in cancer, it is anti-carcinogenic, in addition to possessing cytotoxic activity.[5] Because propolis exhibits antiviral activity against the influenza virus and ameliorates influenza symptoms in mice, this suggests that propolis may be a possible candidate for use as an anti-influenza dietary supplement in humans.[6]
Why We Need More Than a Vaccine to Combat COVID-19
While the acceleration of COVID-19 vaccine development and distribution appears to be having an impact on slowing down the transmission of the virus, the aggressive pursuit to develop vaccines that are effective against new variants will likely continue for years to come. I am a big proponent of a multifaceted approach to infectious organisms, given their propensity to rapidly evolve and mutate. One of the most recent strains identified in Southern California, the CAL.20C variant, is of high concern because unlike the clade 20G, currently the largest reported clade in North America, this strain is defined by 3 mutations in the S-protein, characterizing it as a subclade of 20C. "The S protein L452R mutation is within a known receptor binding domain that has been found to be resistant to certain spike (S) protein monoclonal antibodies."[7],[8] With numerous COVID-19 variants continuing to appear, a comprehensive long-term strategy that incorporates natural agents with an array of diverse compounds, may offer the best protection.
Propolis May Be Effective Against COVID-19
Phenolics and flavonoids found in propolis show promise as natural agents that may be effective against the COVID-19 virus. In studies, quercetin, chrysin and kaempferol were found to inhibit virus replication in vitro and to inhibit the SARS‐CoV‐1 and MERS‐CoV main protease in vitro.[9]
In addition, a recent study in Indonesia found that five compounds (glyasperin A, broussoflavonol F, sulabiroins A, (2S)-5,7-dihydroxy-4′-methoxy-8-prenylflavanone and isorhamnetin) in Sulawesi propolis inhibited the binding of angiotensin-converting activity enzyme-2 (ACE-2), a receptor of SARS-CoV-2 in the human body, demonstrating significant docking suppression capability.[10]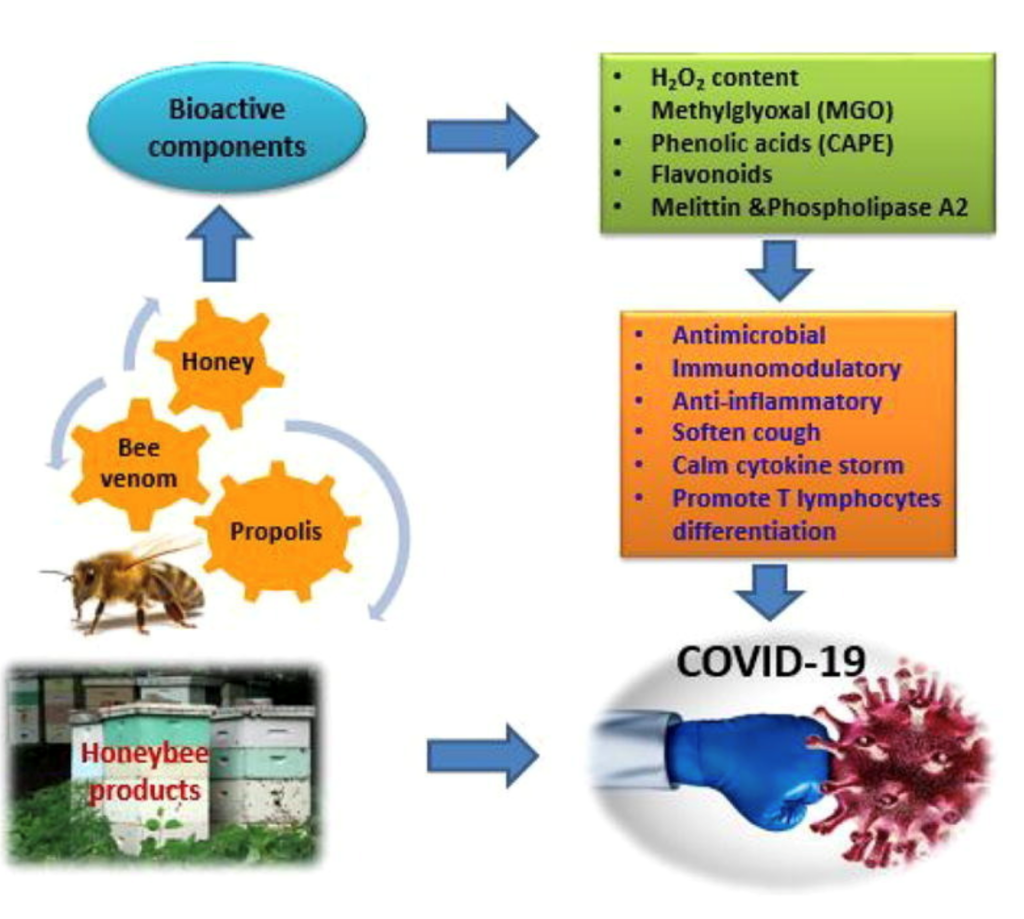 Preventing a Cytokine Storm
Preclinical studies have shown that propolis promotes the immunoregulation of pro-inflammatory cytokines, including the reduction of IL-6, IL-1 beta and TNF-α. This reduces the risk of cytokine storm syndrome, which is a significant mortality factor in advanced COVID-19.[12]
According to a recent study, compounds in propolis have inhibitory effects on the ACE2, TMPRSS2 and PAK1 signaling pathways. In addition, antiviral activity has been proven in vitro and in vivo. In pre-clinical studies, propolis was shown to promote immunoregulation of pro-inflammatory cytokines, including reduction in IL-6, IL-1 beta and TNF-α. This immunoregulation involves monocytes and macrophages, as well as Jak2/STAT3, NF-kB, and inflammasome pathways.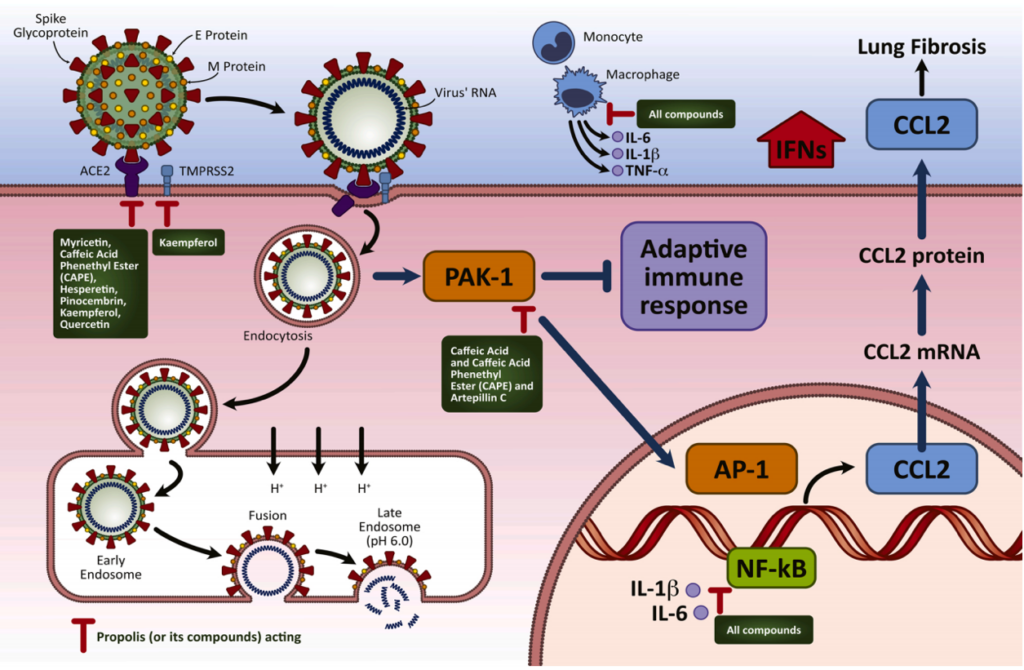 Major pathways through which propolis can interfere with SARS-CoV-2 attachment to the host cell, viral replication, and pathophysiological consequences. SARS-CoV-2 entry into target cells requires spike protein binding to ACE2 and activation by TMPRSS2.
Even more interesting, the researchers concluded that propolis has also shown promise as an aid in the treatment of the comorbidities that are particularly dangerous in COVID-19 patients, including respiratory diseases, hypertension, diabetes, and cancer.[13]
Based on recent and previous findings regarding the immunomodulatory and antiviral activities of propolis, it makes sense to consider propolis as an adjuvant therapy in COVID-19. The protective effects of propolis phenolics and flavonoids are broadly applicable for COVID-19, including controlling severe inflammatory reactions like the cytokine storm associated with COVID-19 infections.[14]
A Case Report on the Antiviral Activity of Propolis Against SARS-CoV-2
In a recent study, researchers evaluated a patient with COVID-19 who received Brazilian green propolis extract. On June 13, 2020, a 52-year-old woman was admitted with a 2-day history of headache, sore throat, and malaise. She had a blood pressure of 120/70 mmHg, pulse rate of 72 beats per min, respiratory rate of 18 rpm, body temperature of 36.7oC, and arterial oxygen saturation of 97% at room air. The patient was alert and coherent, and physical examination did not reveal wheezing on chest auscultation.
The patient had no past history of chronic diseases, including kidney disease, hypertension, endocrine disorders, or neurological and musculoskeletal diseases. She reported smoking but no alcohol intake. Her routine blood test results were within the normal reference range at hospital admission. However, the reverse transcription-polymerase chain reaction (RT-PCR) assay for SARS-CoV-2 of a nasopharyngeal swab sample yielded a positive result. The patient was advised by the medical team to stay at home. At home, the patient maintained a healthy diet and adequate hydration. She also reported that she had started consuming a non-alcoholic preparation of Brazilian green propolis at a dose of 45 drops three times a day for 14 days. After 12 days of treatment, the patient's general clinical condition improved significantly, and she recovered with a negative RT-PCR test result.[15]
A clinical trial of Brazilian green propolis extract for the treatment of patients with COVID-19 was recently started in Brazil.[16]
Propolis as a Therapeutic Option
Among natural medicines, propolis has been widely studied and is extensively consumed in many countries.[17],[18] It's important to note that while modern conventional pharmaceuticals normally have only one or just a few active components, natural products generally contain many active compounds. Propolis, for example, has hundreds of components, most of which have been shown to have health benefits.[19]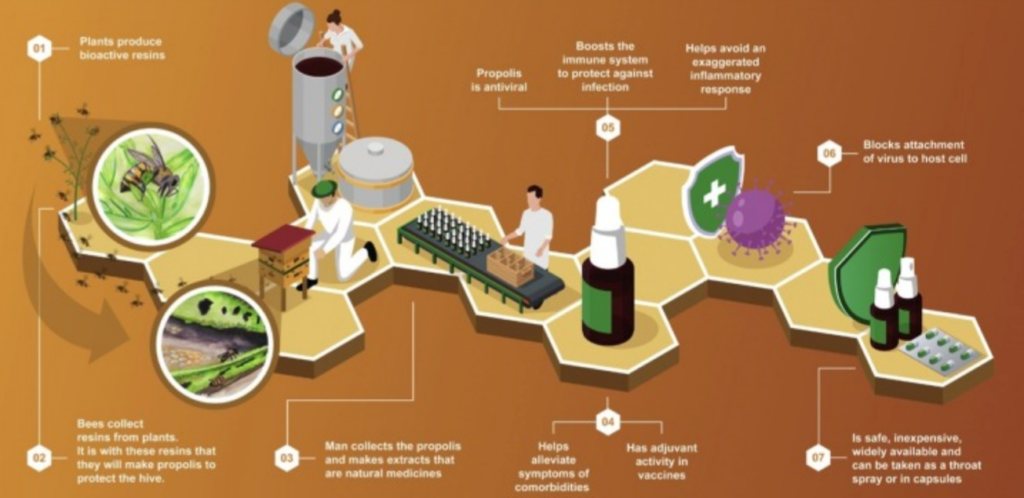 Given the current emergency caused by the COVID-19 pandemic, I believe that propolis, as well as other specific botanicals and nutritional compounds, are promising and relevant therapeutic options. Not only are these natural compounds safe, they are easy to obtain, can be administrated orally, and are readily available.
---
[1] Cornara, L., Biagi, M., Xiao, J., Burlando, B., Gardens, R.B., Università, S., 2017. Therapeutic Properties of Bioactive Compounds from Different Honeybee Products 8, 1–20. doi:10.3389/fphar.2017.00412
[2] Huang S, Zhang CP, Wang K, Li GQ, Hu FL. Recent advances in the chemical composition of propolis. Molecules. 2014;19(12):19610–32. doi: 10.3390/molecules191219610.
[3] Machado, T.N. Pulcino, A.L. Silva, D. Tadeu, R.G.S. Melo, I.G. Mendonça, Propolis as an alternative in prevention and control of dental cavity, Immunity, 19 (2017), p. 24
[4]Y.A. Elnakady, A.I. Rushdi, R. Franke, N. Abutaha, H. Ebaid, M. Baabbad, M.O. Omar, A.A. Al Ghamdi, Characteristics, chemical compositions and biological activities of propolis from Al-Bahah, Saudi Arabia, Sci. Rep., 7 (2017)
[5] Syed Ishtiaq Anjum, Amjad Ullah, Khalid Ali Khan, Mohammad Attaullah, Hikmatullah Khan, Hussain Ali, Muhammad Amjad Bashir, Muhammad Tahir, Mohammad Javed Ansari, Hamed A. Ghramh, Nuru Adgaba, Chandra Kanta Dash, Composition and functional properties of propolis (bee glue): A review, Saudi Journal of Biological Sciences,Volume 26, Issue 7, 2019, Pages 1695-1703, ISSN 1319-562X, https://doi.org/10.1016/j.sjbs.2018.08.013.
[6] Bachevski D, Damevska K, Simeonovski V, Dimova M. Back to the basics: Propolis and COVID-19. Dermatol Ther. 2020 Jul;33(4):e13780. doi: 10.1111/dth.13780. Epub 2020 Jul 3. PMID: 32506775; PMCID: PMC7300491.
[7] Zhang W, Davis BD, Chen SS, Sincuir Martinez JM, Plummer JT, Vail E. Emergence of a Novel SARS-CoV-2 Variant in Southern California. JAMA. Published online February 11, 2021. doi:10.1001/jama.2021.1612
[8] Li Q, Wu J, Nie J, et al. The impact of mutations in SARS-CoV-2 spike on viral infectivity and antigenicity.  Cell. 2020;182(5):1284-1294.e9. doi:10.1016/j.cell.2020.07.012
[9] Hashem H. IN Silico Approach of Some Selected Honey Constituents as SARS-CoV-2 Main Protease (COVID-19) Inhibitors. EJMO. 2020;4(3):196–200. doi: 10.26434/chemrxiv.12115359
[10] Khayrani , AC, et. al., Evaluating the potency of Sulawesi propolis compounds as ACE-2 inhibitors through molecular docking for COVID-19 drug discovery preliminary study, J King Saud Univ Sci. 2021 Mar;33(2):101297.doi: 10.1016/j.jksus.2020.101297. Epub 2020 Dec 30. PMID: 33519145, PMCID: PMC7834134DOI: 10.1016/j.jksus.2020.101297
[11] Al Naggar Y, Giesy JP, Abdel-Daim MM, Javed Ansari M, Al-Kahtani SN, Yahya G. Fighting against the second wave of COVID-19: Can honeybee products help protect against the pandemic? Saudi J Biol Sci. 2020 Dec 22. doi: 10.1016/j.sjbs.2020.12.031. Epub ahead of print. PMID: 33519274; PMCID: PMC7832137.
[12] Lobo-Galo N, Gálvez-Ruíz JC, Balderrama-Carmona AP, Silva-Beltrán NP, Ruiz-Bustos E. Recent biotechnological advances as potential intervention strategies against COVID-19. 3 Biotech. 2021 Feb;11(2):41. doi: 10.1007/s13205-020-02619-1. Epub 2021 Jan 9. PMID: 33457170; PMCID: PMC7796695.
[13] Berretta AA, Silveira MAD, Cóndor Capcha JM, De Jong D. Propolis and its potential against SARS-CoV-2 infection mechanisms and COVID-19 disease: Running title: Propolis against SARS-CoV-2 infection and COVID-19 [published online ahead of print, 2020 Aug 17]. Biomed Pharmacother. 2020;131:110622. doi:10.1016/j.biopha.2020.110622
[14] Al Naggar Y, Giesy JP, Abdel-Daim MM, Javed Ansari M, Al-Kahtani SN, Yahya G. Fighting against the second wave of COVID-19: Can honeybee products help protect against the pandemic? [published online ahead of print, 2020 Dec 22]. Saudi J Biol Sci. 2020;doi:10.1016/j.sjbs.2020.12.031
[15] Fiorini AC, Scorza CA, de Almeida AG, et al. Antiviral activity of Brazilian Green Propolis extract against SARS-CoV-2 (Severe Acute Respiratory Syndrome – Coronavirus 2) infection: case report and review. Clinics (Sao Paulo). 2021;76:e2357. Published 2021 Jan 22. doi:10.6061/clinics/2021/e2357
[16] Berretta AA, Silveira MAD, Cóndor Capcha JM, De Jong D. Propolis and its potential against SARS-CoV-2 infection mechanisms and COVID-19 disease: Running title: Propolis against SARS-CoV-2 infection and COVID-19. Biomed Pharmacother. 2020 Nov;131:110622. doi: 10.1016/j.biopha.2020.110622. Epub 2020 Aug 17. PMID: 32890967; PMCID: PMC7430291.
[17] Kuropatnicki A.K., Szliszka E., Krol W. Historical Aspects of Propolis Research in Modern Times. Evid Based Complement Alternat Med. 2013;2013:964149. doi: 10.1155/2013/964149.
[18] Silva-Carvalho R., Baltazar F., Almeida-Aguiar C. Propolis: A Complex Natural Product with a Plethora of Biological Activities That Can Be Explored for Drug Development. Evid Based Complement Alternat Med. 2015;2015:206439. doi: 10.1155/2015/206439.
[19] Lotfy M. Biological activity of bee propolis in health and disease. Asian Pac J Cancer Prev. 2006;7(1):22–31
[20] Berretta AA, Silveira MAD, Cóndor Capcha JM, De Jong D. Propolis and its potential against SARS-CoV-2 infection mechanisms and COVID-19 disease: Running title: Propolis against SARS-CoV-2 infection and COVID-19. Biomed Pharmacother. 2020;131:110622. doi:10.1016/j.biopha.2020.110622