This healthy fruit dessert is a favorite in our home. Bursting with naturally sweet peaches, there's little sweetener required—just a touch of pure maple syrup is all that's needed.
The cake-like bottom layer is made with a combination of gluten-free grains, and tangy buttermilk makes it tender and light. A crumbly layer of shredded coconut and rolled oats creates a slightly sweet and crunchy topping. Just before serving the warm cake, I drizzle lightly sweetened heavy cream over each portion. Because I'm always looking for ways to boost the nutrient profile of recipes, I add a bit of powdered whey to the cream to provide immune enhancing nutrients.

We buy fresh, ripe organic peaches at our local farmer's market, and in season, pick peaches at a local organic orchard. Our children love this recipe (Stella enjoys helping me make it), and I feel good about serving it to them. I hope you enjoy it as much as we do! 
Step 1:  Bottom Layer
2 eggs
½ cup buttermilk
½ cup maple syrup
½ cup sunflower oil
1 tsp vanilla
½ cup quinoa flour
½ cup rolled oats
½ cup Pamela's baking mix
2 tsp baking powder
1 tsp cinnamon
Pinch salt
Mix all ingredients together.
Set aside 2 tbsp to use for top layer. 
Spoon remaining batter into a 9×13-inch baking dish.
Step 2: Peach Layer
6 cups peaches
2 tsp lemon juice
1 tbsp arrowroot
1/4 tsp cinnamon
Slice peaches and toss with lemon juice, arrowroot, and cinnamon.
Layer peaches evenly over the batter.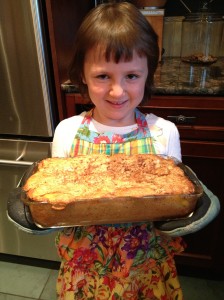 Step 3: Top Crust
¼ cup shredded coconut
¼ cup rolled oats
1 tbsp maple syrup
1 tsp coconut oil
Pinch cinnamon
Combine coconut, oats, maple syrup, and coconut oil with the 2 tbsp batter reserved from Step 1.
Spread over peaches and sprinkle with cinnamon.
Bake at 350 degrees in convection oven for 40-45 minutes.
Step 4:  Topping
1 tbsp maple syrup
1 tsp vanilla
½ tsp. coconut extract
1 tbsp coconut powder
1 tbsp milk powder
2 tbsp Beyond Whey
6 oz. heavy whipping cream
Whisk ingredients together just until blended.
Spoon a small amount over each portion of warm buckle immediately before serving.