Today, October 4th is the feast day of St. Francis of Assisi. As a former Franciscan monk, I have always felt a special affinity for St. Francis. On this day, I take time to reflect on his life and his words of wisdom and compassion.
In The Canticle of Exhortation to St. Clare, St. Francis advised, " Live always in truth, do not look at the life outside for that of the Spirit is better. Those of you who are weighed down by sickness and the others who are wearied because of them, all of you: bear in peace for each one of you will be crowned in heaven."

To become whole and to live in peace, we must strive to become closer to God, while reflecting that spiritual love to the world. I believe that we can—and must—change, continuing to grow until we take our very last breath. To stay on the path, we must always reflect on our "being" rather than on our "doing." In this way, we place our focus on understanding our true nature, and allow our doing to become a reflection of our being.
Each day offers many opportunities to live more consciously and deliberately. Taking the time to pray and meditate reminds us of what is most valuable in this precious gift of life. When we take time out for reflection, we may find that life in the modern world is not nourishing our spirit, and that we are not living in accordance with what is truly most important to us. This allows us the opportunity to re-dedicate our efforts to staying present with what really matters. The simplest daily rounds of life all deserve our awareness and love—including preparing and eating food, maintaining our personal surroundings, the work we do, and our interactions with family and friends.
Strive for peace with everyone and for that holiness, without which no one will see the Lord.
– Hebrews 12:14
St. Francis found in all of creation—human, animal, and the plant kingdom—a reflection of the Divine, and his love embraced even the most humble of creatures. He even felt a strong kinship with the elements of the earth, which he regarded as his brothers and sisters. He called the moon his "sister" and the sun, his "brother."
In our modern electronic "virtual" world, we often forget how beautiful and healing the real world is. When we spend time in natural surroundings, we are rewarded with food for the soul, as Nature connects us to the web of life and restores us to wholeness.
The Bishop of Assisi once said to Francis, "I think your life is too hard, too rough. You don't possess anything in this world." And Francis replied, "If we had possessions, we would need weapons to defend them. They are frequently a source of quarrels and lawsuits. Possessions usually prove to be an obstacle in one's search for God. That is why we do not desire temporal goods."
For what will it profit a man to gain the whole world, and lose his own soul?
– Matthew 16:26
I offer here some of my favorite quotes of St. Francis that have helped to mold my spirituality and life path: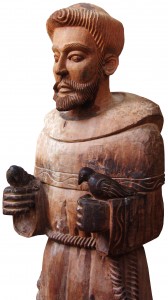 "If God can work through me, he can work through anyone."
"Start by doing what's necessary; then do what's possible; and suddenly you are doing the impossible."
"Lord, make me an instrument of thy peace. Where there is hatred, let me sow love." (Not actually a direct quote of St. Francis, but it is associated with Francis and beautiful nonetheless).
Francis regarded his sufferings as a way of purification, and always spoke of them as such. He composed the beautiful and triumphant poem, "Canticle of the Sun," a hymn of praise to God, toward the end of his life, when he was blind and undergoing intense and unrelenting physical pain.
"We praise You, Lord, for those who forgive for the sake of Your love and endure infirmity and tribulation. Blessed are those who endure in peace, because by You, Most High, they will be crowned."

When Francis was dying, a large number of larks perched on the roof of his cell and began singing. The lark had always been Francis' favorite bird. Although it was evening, when the larks characteristically do not come out, they were all there, making their voices heard. The city watchman who guarded the area and a number of other witnesses were astonished at this occurrence.
"All praise be Yours, my Lord, for our Sister Bodily Death, from whom no living person can escape. Woe to those who die in mortal sin. Blessed are those whom death will find in Your most holy will, for the second death shall do them no harm."
- St. Francis of Assisi