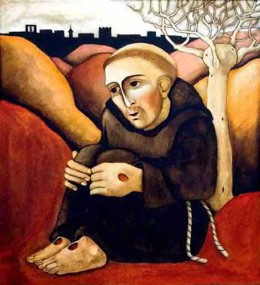 St. Francis has been a major influence in my life since I was in my early twenties and searching for Truth. I studied a bit of theology in school, and being brought up as an Italian Roman Catholic, had more questions than answers. I thought, "Either there is a God, our faith should be our guiding force in our lives, and we should serve and love God and others, or we should stop pretending." It seemed so simple, and so clear.
I looked for Truth in other faiths, but Francis pointed me back to Catholicism. I recall one day thinking, "If St. Francis could live with such clarity, compassion, and generosity of spirit and never stray from his faith, nor even question it, who am I to think I need to?" When I discovered Eastern Christianity from an Eastern Rite Franciscan monastery, I found my home. I joined the Order of St. Francis as a Secular (3rd Order) Franciscan, took vows, and spent close to three years living in a Byzantine Eastern Catholic Rite Franciscan Order in New Canaan, Connecticut.
I find the teachings of St. Francis to be as relevant today as they were back in the 13th century. Consider this letter that he wrote to all leaders of his day, reflect on the world we live in now, and contemplate how we each can do our part to create 'heaven on earth.'
Letter to the Rulers of the People, by St. Francis of Assisi
"Keep a clear eye toward life's end. Do not forget your purpose and destiny as God's creature. What you are in His sight is what you are and nothing more. Do not let worldly cares and anxieties or the pressures of office blot out the divine life within you or the voice of God's spirit guiding in your great task of leading humanity to wholeness. If you open yourself to God and His plan printed deeply in your heart, God will open himself to you.
Remember that when you leave this earth, you can take with you nothing that you have received – fading symbols of honor, trappings of power – but only what you have given: a full heart enriched by honest service, love, sacrifice and courage.
Embrace the God of us all and His Word wherever it surfaces. Imitate His preference for the poor and powerless. Enter into His plan of liberating all peoples from everything that oppresses them and obstructs their development as human beings. Do not grow tired of working for peace among all people.
Help remove unjust social structures and patterns of exploitation. Uphold the rights and dignity of the human person. Foster the creation of a society where human life is cherished and where all peoples of the planet can enjoy its gifts, which God created for all in a spirit of love and justice and equality."
The Eastern approach to theology, just as in medicine, is open to the mystery of life. Although there were many things in Buddhism that resonated with my being, there was a central piece missing for me. My faith is rooted in Christianity, and centered in the teachings of Christ and the message that God humbled Himself and loved us enough to become one of us, only to be crucified, and then to forgive and love us still. This great gift from God enlivens my faith and awakens my desire to serve my fellow human beings, animals and Nature.
Although I am devoted to my faith and the theology of Eastern Christianity, I am drawn to learn from other faiths as well. I recently joined a Mussar group to further my theological studies, to find practical ways to use all of my being for good, and to better the world in which we live. The Mussar movement is a Jewish ethical, educational and cultural movement that developed in the 19th century in Lithuania, particularly among Orthodox Lithuanian Jews. The Hebrew term "Mussar" is from the book of Proverbs 1:2 and means moral conduct, instruction or discipline. It espouses expressing your faith through living action, practicing loving kindness, and caring for all in need, but especially the poor and oppressed. Mussar is essentially the practice of loving your neighbor as yourself.
I am fortunate in many ways that all of my work is my ministry. I believe as Pope Francis states, "Before there was God there was Love, and God came from Love." We must remember this and live accordingly, recognizing that we are all part of one family.
In celebration of the feast day of St. Francis, I'd like to share with you a bit about St. Francis:
• More books have been written about St. Francis than any other saint.
• His "Canticle of Brother Sun, Sister Moon" was the first major poem written in Italian.
• Franciscans established the first college in the New World in Mexico City in 1536.
• The City of San Francisco is named after him.
• New Mexico's second Spanish governor founded a new city at the foot of the Sangre de Cristo Mountains in 1607, which he called La Villa Real de la Santa Fe de San Francisco de Asís (the Royal Town of the Holy Faith of Saint Francis of Assisi).
• Arizona's highest mountains are called the San Francisco Peaks.
• In Arkansas both a river and town bear the name St. Francis.
• One of the precepts of St. Francis states that followers cannot bear weapons or kill. Thus, St. Francis and his followers were partially responsible for the downfall of the feudal system. Serfs were freed and the number of petty wars was reduced.
• Our present Pope is the first Pope in history to take the name Francis in honor of St. Francis; and he is a Jesuit.
• St. Francis is the patron saint of peace, of ecology, of Italy, and of animals.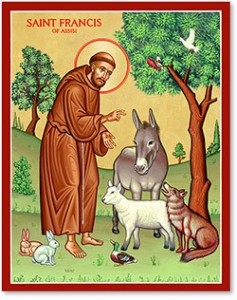 Saint Francis had great love and respect for the sanctity of all life, seeing all creation as his brothers and sisters in the Lord. On one occasion he came upon a merchant carrying two small lambs to market. Moved by the plaintive bleating of the lambs, he caressed them and asked the peasant, "Why do you torment my brothers, the lambs?" When he learned that the man intended to sell them for slaughter, he declared, "That will not happen!" and bought them. At Portiuncula for many years he had a tame lamb that followed him everywhere, even into the church, where the lamb's bleating mingled with the chants of the brethren.
I leave you with this prayer for the Blessing of Pets, which commonly take place on Saint Francis' feast day, October 4th:
Blessed are you, Lord God, maker of all living creatures. You called forth fish in the sea, birds in the air and animals on the land. You inspired Saint Francis to call all of them his brothers and sisters. We ask you to bless this pet. By the power of your love, enable it to live according to your plan. May we always praise you for all your beauty in creation. Blessed are you, Lord our God, in all your creatures! Amen.