By Donald Yance
Vaccines against COVID-19 hold out the promise of a return to normal, pre-pandemic life. But with the race to create and distribute the vaccines, we need to consider that the mRNA vaccines, which consist of a new and revolutionary technology, have not been previously tested widely on humans.
Most of the vaccines that have been developed for COVID and other candidates in the portfolio of the COVID-19 Vaccine Global Access Facility (COVAX) are based on next-generation technologies that can be developed more quickly than previous conventional vaccines.[1] The speedy development and distribution of the COVID vaccines is helping to stem the pandemic. But it's important to recognize that all vaccines come with the risk of side effects, and there is much we have to learn about COVID vaccines and potential side effects.
Vaccine side effects fall into two categories: Mild, short-term effects that fade within a few days (sore arms, flu-like symptoms), and potentially severe side effects, including life-threatening allergic responses and the triggering of autoimmune diseases.
Questioning the Safety of Vaccines for Patients with Autoimmune Diseases
There is a lot of uncertainty among patients with autoimmune inflammatory diseases (AIIDs) and clinicians about the effectiveness and safety of the new vaccines. AIIDs represents a heterogeneous group of over eighty inflammatory disorders with an aberrant immune response to self.[2] Because autoimmune diseases occur in the absence of vaccines, it is not reasonable to assume that vaccines alone cause autoimmunity. But this question has not been definitively answered.[3] Only high-quality clinical trials would clarify the underlying immunological mechanisms of the newly implemented vaccines in patients living with AIIDs.[4]
There are a variety of vaccine approaches towards building a protective immunity against SARS-CoV-2. The primary approaches can be categorized as one of the following: 1) whole virus (inactivated or weakened), 2) viral vector (replicating and non-replicating), 3) nucleic acid (RNA, DNA), and 4) protein-based (protein subunit, virus-like particle).[5] All vaccines attempt to introduce viral antigens to the immune system to trigger effective immune responses that will eliminate or block the virus from entering the cells and cause illness.
The CDC and FDA just issued a "pause" in the use of Johnson & Johnson DNA COVID-19 vaccine. "Out of an abundance of caution", while the agencies are reviewing data involving six reported cases out of more than 6.8 million doses given, all woman under the age of 48 of a rare and severe type of blood clot in individuals after receiving the vaccine in the US.[6] A few weeks back the European countries suspend use of Oxford-AstraZeneca vaccine after reports of blood clots as well.[7]
Cost difference
I would like to think money has nothing to do with it, but truth be told, Pfizer and Moderna could earn $32 billion in Covid-19 vaccine sales in 2021 alone. To put this in perspective, Pfizer's revenue in 2021 would surpass their best-selling pneumonia vaccine that generated $5.8 billion in sales. Meanwhile, Moderna's Covid-19 vaccine candidate has already transformed a virtually unknown company into a $62 billion powerhouse.
Cost of each vaccine:
Moderna, a two-dose vaccine, goes for around $32 to $37.
The Pfizer vaccine, also given in two doses, is expected to cost $19.50 a dose.
Each dose for Johnson & Johnson's vaccine will cost an estimated $10, and AstraZeneca's vaccine could be the cheapest at just $3 to $4 a dose.[8]
The drug-makers British-Swedish AstraZeneca and the US pharmaceutical company Johnson & Johnson have pledged to provide their vaccines on a not-for-profit basis until the pandemic comes to an end.[9],[10]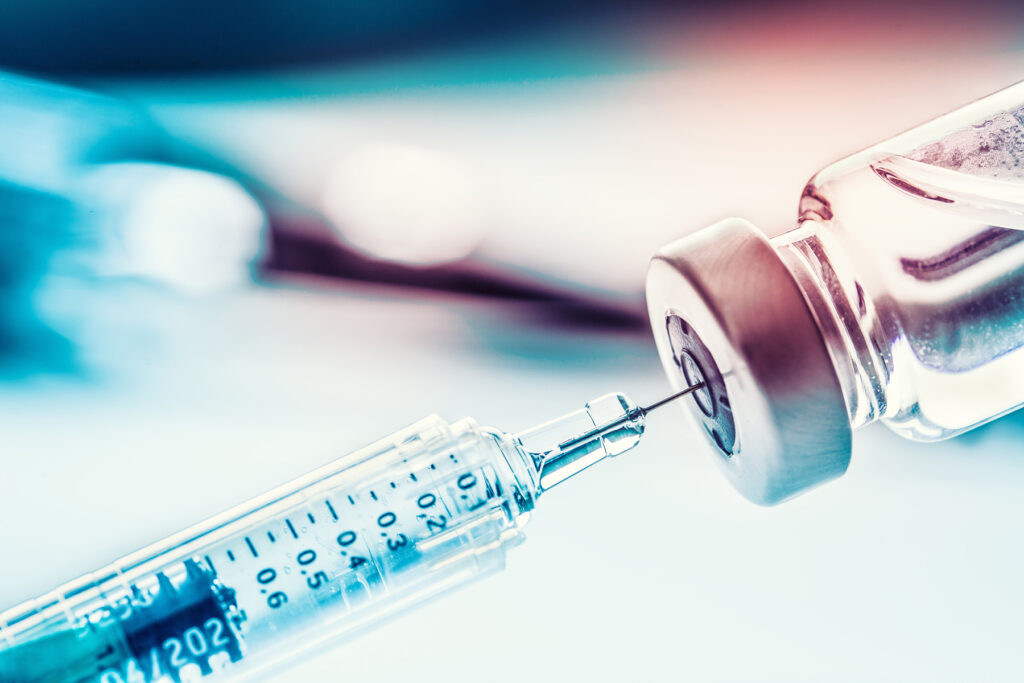 Moderna and Pfizer COVID-19 Vaccine Safety Monitoring
The Food and Drug Administration (FDA) issued Emergency Use Authorization for the Pfizer-BioNTech COVID-19 vaccine on December 11, 2020, and for the Moderna COVID-19 vaccine on December 18, 2020. Each is administered as a 2-dose series. The Advisory Committee on Immunization Practices issued interim recommendations for Pfizer-BioNTech and Moderna COVID-19 vaccines on December 12, 2020 and December 19, 2020, respectively; initial doses were recommended for health care personnel and long-term care facility (LTCF) residents.
Safety monitoring for these vaccines has been the most intense and comprehensive in U.S. history, using the Vaccine Adverse Event Reporting System (VAERS), a spontaneous reporting system, and v-safe,* an active surveillance system, during the initial implementation phases of the COVID-19 national vaccination program. The CDC conducted descriptive analyses of safety data from the first month of vaccination (December 14, 2020-January 13, 2021). During this period, 13,794,904 vaccine doses were administered, and VAERS received and processed 6,994 reports of adverse events after vaccination, including 6,354 (90.8%) that were classified as non-serious and 640 (9.2%) as serious.
The symptoms most frequently reported to VAERS were headache (22.4%), fatigue (16.5%), and dizziness (16.5%). A total of 113 deaths were reported to VAERS, including 78 (65%) among LTCF residents; available information from death certificates, autopsy reports, medical records, and clinical descriptions from VAERS reports and health care providers did not suggest any causal relationship between COVID-19 vaccination and death. Rare cases of anaphylaxis after receipt of both vaccines were reported (4.5 reported cases per million doses administered)."[11] Another study reported that twenty-one cases were determined to be anaphylaxis (a rate of 11.1 per million doses administered), including 17 in persons with a documented history of allergies or allergic reactions, seven of whom had a history of anaphylaxis.[12]
Some women experiencing breast lumps after getting COVID-19 Vaccine
Health officials have issued a new warning when it comes to the COVID-19 vaccine, saying some women have experienced lumps in their armpit area as a side effect of the shot. The swelling typically shows up two to four days after their shot and may continue for up to two weeks.[13]
Medium- and long-term safety data are not available. The primary concerns include uncertainties about the long-term effects of foreign mRNA on human cellular physiology and the possibility of vaccine-enhanced disease severity, which may not be unlikely with the current disease presentation of COVID-19.[14]
Some experts, such as Dr. Dolores Cahill, professor of molecular genetics, School of Medicine at University College Dublin, and chairwoman of Irish Freedom Party, are predicting latent deaths among the elderly after immunization with mRNA Vaccine.[15]
Remember, it is too soon to have long-term safety data. Before concluding that mRNA vaccines are absolutely safe, I suggest you read this blog/paper by Dr. Doug Corrigan, entitled "Breaking Study Sheds More Light on Whether an RNA Vaccine Can Permanently Alter DNA" at https://sciencewithdrdoug.com/2021/02/15/breaking-study-sheds-more-light-on-whether-an-rna-vaccine-can-permanently-alter-dna/. Dr. Dough states "a new study by MIT and Harvard scientists[16] demonstrates that segments of the RNA from the coronavirus itself are most likely becoming a permanent fixture in human DNA. Against the tides of current biological dogma, these researchers found that the genetic segments of this RNA virus are more than likely making their way into our genome."
We know that these vaccines are relatively safe in the short-term (all Covid-19 vaccines have a small increased risk of blood clots[17]) but the question still exists whether mRNA vaccines increase the risk of autoimmune diseases, or at least alter our immune system to be less than optimal, which means it will not effectively "auto-regulate" as it was designed to do. Dr. Doug goes on to state "Our immune system does make antibodies to both N and S proteins, but it is the Spike protein which is the prime target for our immune system because it exists on the outside of the virus. If our cells become permanent (rather than temporary) Spike Protein producing factories due to permanent alteration of our genomic DNA, this could lead to serious autoimmune problems. I would imagine that autoimmunity profiles arising from such a scenario would be differentiated based on order of events (i.e., whether or not someone is vaccinated before or after exposure to coronavirus)." Based on a multitude of unknowns, insights, questions, theories, and perspectives that require more science and time to explore and understand, it is not unreasonable to be hesitant about taking the vaccine.
How the DNA Vaccines Differs from RNA Vaccines
The Johnson & Johnson vaccine is based on the virus's genetic instructions for building the spike protein. But, unlike the Pfizer-BioNTech and Moderna vaccines, which store the instructions in single-stranded RNA, the Johnson & Johnson vaccine uses double-stranded DNA.
The researchers added the gene for the coronavirus spike protein to another virus called Adenovirus 26. Adenoviruses are common viruses that typically cause colds or flu-like symptoms. The Johnson & Johnson team used a modified adenovirus that can enter cells but can't replicate inside them or cause illness.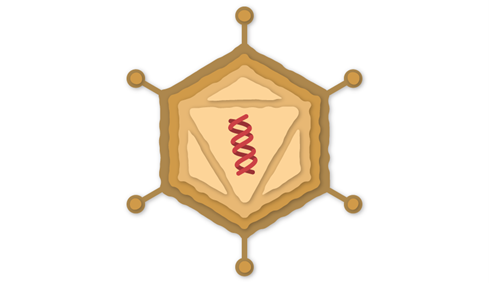 DNA inside an adenovirus
Johnson & Johnson's vaccine comes out of decades of research on adenovirus-based vaccines. In July, the first one was approved for general use—a vaccine for Ebola, also made by Johnson & Johnson, and its investigational Zika, RSV, and HIV vaccines.[18]
Adenoviral Vector Vaccines act like delivery shuttles. They use an adenovirus—which has been engineered to be incapable of replicating and causing disease—to deliver the genes for making the antigen; in this case, that's the SARS-CoV-2 spike protein. That, in turn, elicits an immune response and provides protection against the coronavirus.
Earlier experience with adenovirus vector vaccines proved advantageous when the COVID-19 pandemic struck. Because these types of vaccines had been in development for so long, all scientists needed to do was adapt them to COVID-19. For example, the platform used in the AstraZeneca/Oxford vaccine had been in clinical trials in humans for over 10 years for various other diseases. Safety data from numerous clinical trials in humans showed that they are safe and induce good immune responses.[19]
Severe COVID Cases and Immune Hyperactivation
Severe or fatal cases of COVID-19 are associated with immune hyperactivation and excessive cytokine release, leading to multiorgan failure. A broad range of mechanisms (with a final common pathway) appear to be involved. However, research indicates that molecular mimicry may contribute to this problem, with antibodies to SARS-CoV-2 spike glycoproteins cross-reacting with structurally similar host heptapeptide protein sequences (for example, in interleukin 7 and alveolar surfactant proteins), raising an acute (auto)immune response against them.[20] Autoinflammatory dysregulation in genetically susceptible individuals, and other autoimmune mechanisms such as epitope spreading and bystander activation, might also contribute to acute but also chronic autoimmunity during and after COVID-19.[21]
In the understandable socioeconomic rush towards mass vaccination without longer-term safety testing, it would seem that an essential stage in any vaccine licensing process should involve careful analysis of the human proteome against vaccine peptide sequences. This should minimize the risks both of acute autoimmune reactions to inoculation and future chronic autoimmune pathology."[22]
There is still much we have to learn about COVID-19 and the efficacy and safety of vaccines developed for the disease. For example, a two-dose regimen of the Astra-Zeneca vaccine did not show protection against mild-to-moderate COVID-19 due to the B.1.351 variant, according to a study published in The New England Journal of Medicine.[23]
I take no extreme position about vaccines, but am committed to carefully reviewing all of the data available and providing this information to you. The more time that passes, the more data we are able to accumulate and review.
References:


---
[1] Global Alliance for Vaccines and Immunizations (GAVI) (2020) The latest in the COVID-19 vaccine race. Available from: https ://www.gavi.org/vaccineswork/covid-19-vaccine-race. Accessed 14 Dec 2020
[2] Theoflopoulos AN, Kono DH, Baccala R (2017) The multiple pathways to autoimmunity. Nat Immunol 18(7):716–724
[3] Vadalà M, Poddighe D, Laurino C, Palmieri B (2017) Vaccination and autoimmune diseases: is prevention of adverse health efects on the horizon? EPMA J 8(3):295–311
[4] Velikova T, Georgiev T. SARS-CoV-2 vaccines and autoimmune diseases amidst the COVID-19 crisis. Rheumatol Int. 2021 Mar;41(3):509-518. doi: 10.1007/s00296-021-04792-9. Epub 2021 Jan 30. PMID: 33515320; PMCID: PMC7846902.
[5] Le Thanh T, Andreadakis Z, Kumar A, Gómez Román R, Tollefsen S, Saville M, Mayhew S (2020) The COVID-19 vaccine development landscape. Nat Rev Drug Discov 19(5):305–306\
[6] Joint CDC and FDA Statement on Johnson & Johnson COVID-19 Vaccine, https://www.fda.gov/news-events/press-announcements/joint-cdc-and-fda-statement-johnson-johnson-covid-19-vaccine, retrieved 04/13/2021
[7] Covid-19: European countries suspend use of Oxford-AstraZeneca vaccine after reports of blood clots BMJ 2021; 372 doi: https://doi.org/10.1136/bmj.n699 (Published 11 March 2021)Cite this as: BMJ 2021;372:n699
[8] Blood Clotting Needs to Be Watched with All COVID Vaccines, States the Association of American Physicians and Surgeons (AAPS); https://www.healthline.com/health-news/how-much-will-it-cost-to-get-a-covid-19-vaccine#Heres-what-the-government-has-spent-so-far, retrieved 3/8/2021
[9] https://www.theguardian.com/business/2021/mar/06/from-pfizer-to-moderna-whos-making-billions-from-covid-vaccines, https://www.cnn.com/2020/12/11/business/pfizer-vaccine-covid-moderna-revenue/index.html
[10] https://www.cnn.com/2020/12/11/business/pfizer-vaccine-covid-moderna-revenue/index.html, https://www.cnn.com/2020/12/11/business/pfizer-vaccine-covid-moderna-revenue/index.html
[11] Gee J, Marquez P, Su J, Calvert GM, Liu R, Myers T, Nair N, Martin S, Clark T, Markowitz L, Lindsey N, Zhang B, Licata C, Jazwa A, Sotir M, Shimabukuro T. First Month of COVID-19 Vaccine Safety Monitoring – United States, December 14, 2020-January 13, 2021. MMWR Morb Mortal Wkly Rep. 2021 Feb 26;70(8):283-288. doi: 10.15585/mmwr.mm7008e3. PMID: 33630816.
[12] CDC COVID-19 Response Team; Food and Drug Administration. Allergic Reactions Including Anaphylaxis After Receipt of the First Dose of Pfizer-BioNTech COVID-19 Vaccine – United States, December 14-23, 2020. MMWR Morb Mortal Wkly Rep. 2021 Jan 15;70(2):46-51. doi: 10.15585/mmwr.mm7002e1. PMID: 33444297; PMCID: PMC7808711.
[13] https://www.koco.com/article/some-women-experiencing-lumps-after-getting-covid-19-vaccine/35664511#, retrieved 04/08/2021
[14] Van Rostenberghe H. Primum Non Nocere. Malays J Med Sci. 2021 Feb;28(1):122-124. doi: 10.21315/mjms2021.28.1.17. Epub 2021 Feb 24. PMID: 33679230; PMCID: PMC7909343.
[16] Zhang, Liguo, Alexsia Richards, Andrew Khalil, Emile Wogram, Haiting Ma, Richard A. Young, and Rudolf Jaenisch. "SARS-CoV-2 RNA reverse-transcribed and integrated into the human genome." bioRxiv (2020).
[17] https://www.prnewswire.com/news-releases/blood-clotting-needs-to-be-watched-with-all-covid-vaccines-states-the-association-of-american-physicians-and-surgeons-aaps-301262360.html, retrieved 04/9/2021.
[18] https://www.nytimes.com/interactive/2020/health/johnson-johnson-covid-19-vaccine.html, retrieved 3/8/2021
[19] Hackethal, Veronica MD., Here's Why Viral Vector Vaccines Don't Alter DNAEnterprise & Investigative Writer, MedPage Today March 12, 2021; https://www.medpagetoday.com/special-reports/exclusives/91604
[20] Ehrenfeld M, Tincani A, Andreoli L, et al. Covid-19 and autoimmunity. Autoimmun Rev 2020;19:102597.
[21] Caso F, Costa L, Ruscitti P. Could Sars-coronavirus-2 trigger autoimmune and / or autoinflammatory mechanisms in genetically predisposed subjects? Autoimmun Rev 2020;19:102524.
[22] Mahase, Elisabeth, Covid-19: Vaccine candidate may be more than 90% effective, interim results indicate, BMJ 2020; 371 doi: https://doi.org/10.1136/bmj.m4347 (Published 09 November 2020)Cite this as: BMJ 2020;371:m4347
[23] Madhi SA, Baillie V, Cutland CL, Voysey M, Koen AL, Fairlie L, Padayachee SD, Dheda K, Barnabas SL, Bhorat QE, Briner C, Kwatra G, Ahmed K, Aley P, Bhikha S, Bhiman JN, Bhorat AE, du Plessis J, Esmail A, Groenewald M, Horne E, Hwa SH, Jose A, Lambe T, Laubscher M, Malahleha M, Masenya M, Masilela M, McKenzie S, Molapo K, Moultrie A, Oelofse S, Patel F, Pillay S, Rhead S, Rodel H, Rossouw L, Taoushanis C, Tegally H, Thombrayil A, van Eck S, Wibmer CK, Durham NM, Kelly EJ, Villafana TL, Gilbert S, Pollard AJ, de Oliveira T, Moore PL, Sigal A, Izu A; NGS-SA Group Wits–VIDA COVID Group. Efficacy of the ChAdOx1 nCoV-19 Covid-19 Vaccine against the B.1.351 Variant. N Engl J Med. 2021 Mar 16. doi: 10.1056/NEJMoa2102214. Epub ahead of print. PMID: 33725432.