My heart and prayers are with the Ukrainian people during this tragic time of war. I feel a deep bond with Ukraine stemming from my spiritual and theological roots. Although I was baptized and raised as a Roman Catholic, and taught by Polish Franciscans, I am professed as a Secular Third Order Franciscan in the Eastern Byzantine Ukrainian Catholic Rite.
Below are photos of Holy Protection, the beautiful Ukrainian Franciscan monastery where I lived. It no longer exists, but the sister monastery, Holy Dormition, is still active. I spent a lot of time at that monastery as well. In both monasteries, I was the only non-Ukrainian, and I always felt welcome.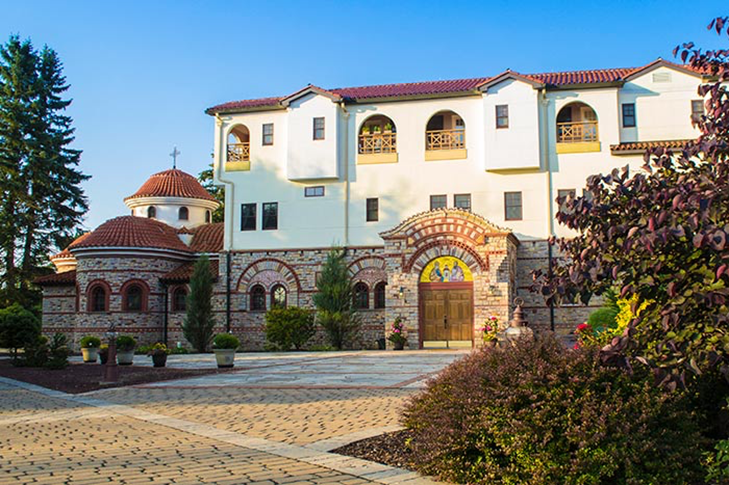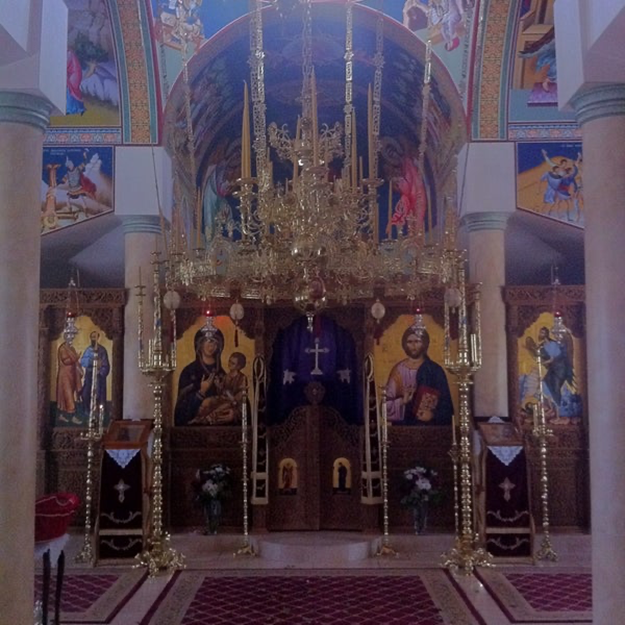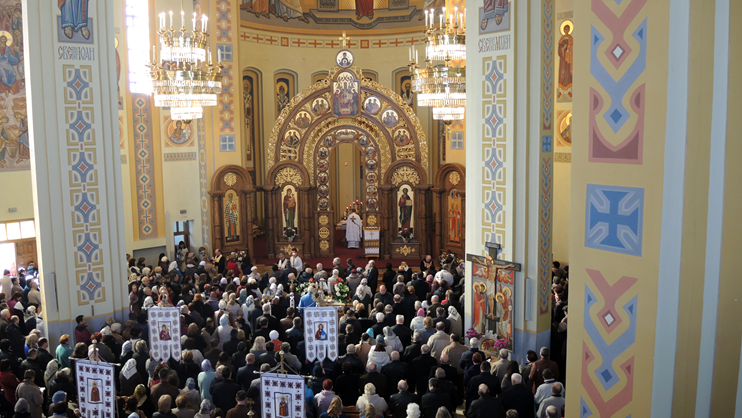 The photo above is of Sts. Volodymyr and Olha Church, in Lviv, Ukraine. It was built since the return of the church in the 1990s when Ukraine was freed from Russia.
The Ukrainian Greek Catholic Church is the largest Eastern Catholic Church in the world. While many such western churches use elaborate sculptural architectural elements, including on the icon screen, the saintly imagery of eastern Byzantine-Rite churches is represented exclusively through two-dimensional, painted icons, not through statues.
The Birth of the Eastern Byzantine Spiritual Tradition
The Eastern Byzantine liturgical, theological and spiritual tradition was born in the first six centuries AD in Constantinople, when it was the capital of the Eastern half of the Roman Empire. The rich traditions evolved from pre-Christian legacies reshaped over a millennium of Christian belief, and were influenced by its relation to the West and the Roman Church for over 400 years.
The Byzantine liturgy is a common inheritance of Eastern Orthodox and Eastern Catholic churches, including the Ukrainian Greek Catholic Church. Its beauty is said to have been the decisive factor that dazzled emissaries of the pagan Kyivan Prince Vladimir, who saw it in Constantinople and "did not know whether they were in heaven or on earth."[1]
The Divine Liturgy of Saint John Chrysostom, the most frequently celebrated form of the liturgy, provides a good introduction to Byzantine worship in the Ukrainian Greek Catholic Church.
The liturgy invokes God, "Whose power is beyond comparison, Whose glory is beyond comprehension, Whose mercy is beyond measure, and Whose love for humankind is beyond expression." "You dwell in the holies," it continues, "with three-fold cries of holy the seraphim acclaim You, the cherubim glorify You, and all the heavenly powers worship You." Even in (and perhaps through) such transcendent language, believers also see God present in their midst.[2]
Chanting/singing is integral to the liturgy. Almost the whole of it is chanted, even the Gospel reading. Liturgical music is solely dependent on a cappella singing, not on musical instruments.
"Pray for Ukraine Icon"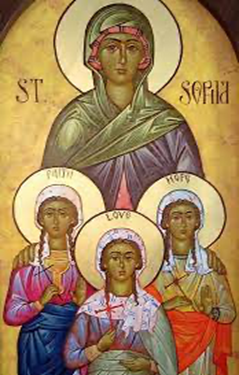 Icon of Sophia with daughters from a Ukrainian Greek Catholic Church in Ukraine
Praying For Peace
In recent days within the Ukraine, archbishop Sviatoslav Shevchuk of Kyiv-Halych, head of the Eastern-rite Ukrainian Catholic Church, traveled from Kyiv to meet with Cardinal Krajewski and with Archbishop Mieczyslaw Mokrzycki, head of the Latin-rite Archdiocese of Lviv. The three joined representatives of other Christian churches and other religions at the Latin-rite cathedral to pray for peace.
Archbishop Shevchuk turned to God, praying: "Before your eyes today we present the sorrow and pain of Ukraine. Mountains of corpses, rivers of blood and seas of tears. We pray for all those who gave up their lives for the homeland, for our army, for the sons and daughters of Ukraine, who shield lives with their own bodies in the face of the enemy."
"We pray for all those innocently killed, peaceful people of Ukraine: women, children, the elderly. We pray for the victims of Mariupol who are being buried in massive common graves without Christian burial and honor," he continued. "Receive our prayers for their eternal repose."
Ukrainian citizens in the town of Bakhmach, some 175 kilometers (109 miles) northeast of the capital of Kyiv, attempted to block Russian tanks advancing, according to video footage that circulated on social media on Saturday.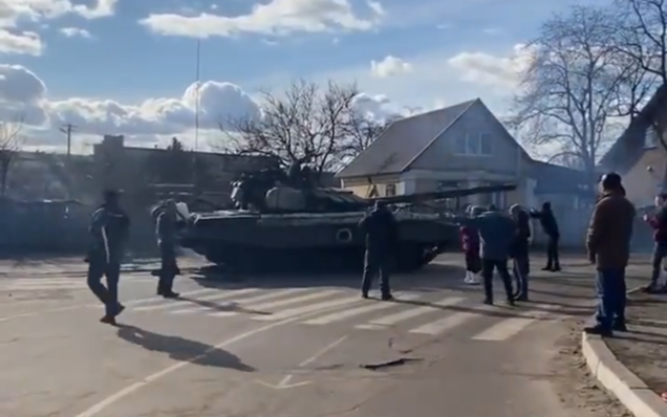 Residents of Bakhmach, Ukraine, attempt to stop Russian tanks from advancing toward the capital Kyiv, February, 26, 2022. (Screengrab/Twitter)
The "National Spiritual Anthem" of Ukraine (МОЛИТВА ЗА УКРАЇНУ). This hymn is familiar to most Ukrainians. The English lyrics are as follows:
Lord, oh the Great and Almighty,
Protect our beloved Ukraine,
Bless her with freedom and light
Of your holy rays.
With learning and knowledge enlighten
Us, your children small,
In love pure and everlasting
Let us, oh Lord, grow.
We pray, oh Lord Almighty,
Protect our beloved Ukraine,
Grant our people and country
All your kindness and grace.
Bless us with freedom, bless us with wisdom,
Guide into kind world,
Bless us, oh Lord, with good fortune
Forever and evermore.
Take time to listen to this beautiful, heartfelt prayer. It brings tears to my eyes:
The most beautiful churches in Kyiv – WHAT IS UKRAINE
---
[1] Robert F. Taft, S.J., The Byzantine Rite: A Short History (Collegeville, MN: Liturgical Press, 1992), 16-28.
[2] Ukrainian Greek Catholic liturgy envisions heaven on earth, Catholic Cultures, March, 2022,