On January 16th, 2017, MLK (Martin Luther King) day, the ten-piece band I play in, "Souliverse" (Souliverse.com), will be celebrating and performing at a mid-day event at the historic Ashland Armory in downtown Ashland, Oregon. If you're in the area, please join us for this celebration. (Souliverse just released a live DVD/CD from the Mederi Benefit Concert from this past August.)

These are tempestuous times in our country, and in our world. I hear many people speak of fear, and of their uncertainty concerning what the future may bring. At times like these, we must have faith, courage, inner power, and patience in order to live with the forces of change and to be a force for goodness and equality for all.
Two men who embodied these qualities are the great civil rights activist Martin Luther King, Jr., and the legendary jazz saxophonist John Coltrane. Both left us with a legacy that can inspire us to live fully, with passion and purpose.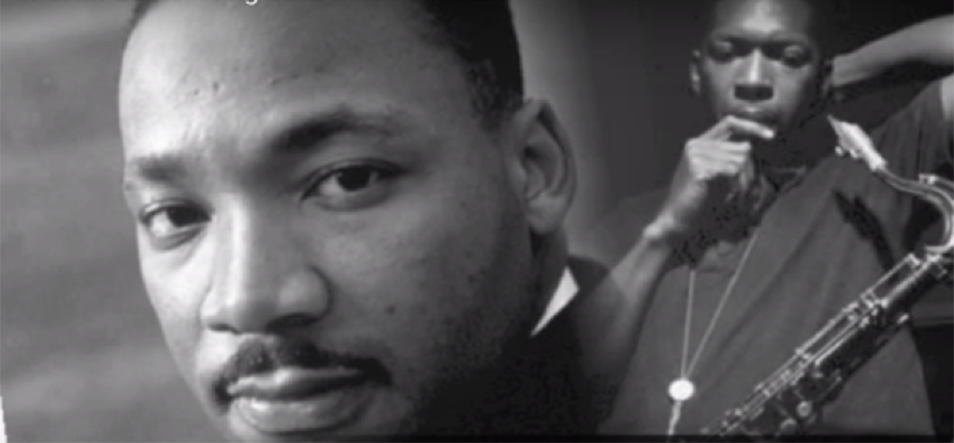 An American Baptist minister and leader in the Civil Rights Movement, Dr. King was most well known for his "I have a dream" speech. But the speech that resonates most deeply for me is his very last speech, given the day before he was tragically assassinated. "We've got some difficult days ahead," said Dr. King. "But it doesn't matter with me now. Because I've been to the mountaintop. And I don't mind. Like anybody, I would like to live a long life. Longevity has its place. But I'm not concerned about that now. I just want to do God's will. And He's allowed me to go up to the mountain. And I've looked over. And I've seen the Promised Land. I do not fear any man and my eyes have seen the glory of the coming of the Lord."
These are powerful words, spoken by someone who has seen the face of God and responds accordingly, without fear or hesitation. We are all forever blessed by the life and work of Dr. King. I know that his words inspire me to live fully, without fear, and without holding back.
In 1963, during the same turbulent time in history, the great jazz musician John Coltrane was expressing his truth through music, without fear or hesitation. Soon after the Ku Klux Klan bombed a black church in Birmingham, Alabama, Coltrane wrote "Alabama," which eulogized the four young girls who perished and the dozens of others who were injured. The song has no lyrics, and needs none; it is a haunting and beautiful meditation that sounds and feels like a prayer to the Lord.
During the prime years of John Coltrane's life, from the mid-50's to the mid 60's, jazz was a much more popular form of music than at any time since. Coltrane pushed the creative limits of the soul and mind, converging heaven and earth, and expressed what he discovered through his music. During this time, jazz stood out for the way it improvised and took musical chances. I find inspiration in this, both as a jazz musician and as a health care practitioner. Allowing improvisation and creativity to expand and harmonize the elements of integrative medicine has enabled me to create the unique healing modality of Mederi Medicine, and to continue allowing it to unfold in ways that best serve those in need.
One of my favorite stories about John Coltrane took place on a night that he performed "A Love Supreme," one of his most famous pieces. That evening, as he played, every last ounce of his skill and musicianship came together in a transcendent performance. Everything about that performance was sublime, and when he'd finished, as he walked offstage, his drummer heard him breathe two words: "Luke 2:22-29." It was a unique moment of glory and Coltrane himself recognized that somehow, he had touched heaven. And he knew that he had fulfilled his purpose on Earth.
The glory of God is revealed in those magic moments when we are touched by something beyond human achievement, when we see the presence of God break into the ordinary, and there is a sense that life has been fulfilled.
Recently, during my daily practice of quiet contemplation, I wrote this prayer. I humbly offer it to you as a gift to help sustain you through challenging times:
Dear Lord, 
When we are silent, whisper in our ear and fill us with your Divine presence.
Let us live your simple Wisdom – reflecting loving-kindness and use words only if we have to.
Anything at all that gets in our way, melt it away, so we can love unceasingly.
May Your Beauty, reflected in all of Nature, nourish and lift our hearts to You, and only you.