Once referred to as "the staff of life," wheat has become a controversial food. Although people have been consuming wheat in various forms for thousands of years, increasing numbers of health conscious individuals are turning their backs on what was once regarded as a satisfying, nourishing staple.
In some cases, avoiding wheat is essential for health. Those with celiac disease—a serious inflammatory condition caused by an abnormal immune response to gluten—should never eat wheat or any other gluten containing grains. But while only 1% of people have celiac disease, millions more have adopted a gluten free diet—in particular, shunning wheat.

I certainly don't recommend eating refined, highly processed, non-organic wheat products. But modern strains of wheat are not the same as the wheat that was consumed thousands of years ago—or even 60 years ago. The wheat that was consumed for centuries—ancient varieties such as Kamut and Einkorn—are very different from the modern wheat that is now almost universally consumed.
Almost all of the wheat grown today is a strain developed in the early 1960's. This modern, high-yield dwarf wheat is easier to harvest and has a much greater yield, making it cheaper to produce. The downside is that modern wheat is less nutritious than the ancient varieties—nutrient comparisons show lower concentrations of essential minerals (copper, iron, magnesium, selenium, and zinc).
Even more problematic is that modern wheat is higher in some gluten proteins that cause problems for celiac patients. Because older wheat varieties contain less of the most problematic gluten proteins, they offer a possible alternative for those with non-celiac gluten sensitivity. (I never suggest, however, that anyone with celiac disease eat any form of wheat or other gluten containing grains.)
Recently, there has been a great deal of research focusing on ancient wheat grain varieties. These heirloom grains are proving to be a rich source of health-promoting substances. Among the heirloom grain varieties, Kamut (Khorasan wheat) has emerged as one of the most important for several reasons: It's a highly nutritious grain with a delicious, nutty flavor; and can easily be used as an alternative to conventional wheat in baking.
Some of the recent research on bread made from Kamut has shown that it:
Promotes the growth of probiotic strains in the gastrointestinal tract.1
Protects rats from oxidative stress to a greater extent than that afforded by whole-grain durum wheat.2 Other studies confirmed it possesses significant protection against oxidative stress.3,4,5
Reduces metabolic risk factors, markers of both oxidative stress and inflammatory status.3,5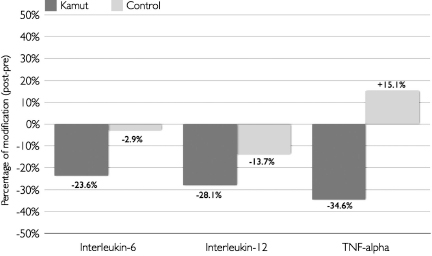 In one recent study, researchers examined the effects of a diet substituting organic Khorasan wheat for all other cereal grains on lipid, oxidative and inflammatory risk factors in patients with Acute Coronary Syndromes (ACS) compared to a diet using products made from organic modern wheat.
In the randomized double-blinded crossover trial, the patients were assigned to consume products (bread, pasta, biscuits and crackers) made either from organic semi-whole Khorasan wheat or organic semi-whole wheat for eight weeks. Consumption of products made with Khorasan wheat improved total cholesterol (-6.8%), low-density lipoprotein cholesterol (LDL-C) (-8.1%) glucose (-8%) and insulin (-24.6%) from baseline levels, independently of age, sex, traditional risk factors, medication, and diet quality. Moreover, there was a significant reduction in reactive oxygen species (ROS), lipoperoxidation of circulating monocytes and lymphocytes, as well as in the levels of Tumor Necrosis Factor-alpha.
The researchers concluded that a diet with cereal products made from organic Khorasan wheat provides additional protection in patients with ACS. Circulating cardiovascular risk factors, including lipid parameters, and markers of both oxidative stress and inflammatory status were reduced, irrespective of the number and combination of medicinal therapies with proven efficacy in secondary prevention."5
Our family enjoys Kamut for its rich, buttery flavor and the moistness it imparts to baked goods. I especially appreciate the additional health benefits that Kamut offers. For these reasons, Kamut has become a staple in our kitchen. (If you missed my recipe for homemade pizza—using freshly ground Kamut flour—please refer to last week's post.)
References:
Marotti I, Bregola V, Aloisio I, Di Gioia D, Bosi S, Di Silvestro R et al. Prebiotic effect of soluble fibers from modern and old durum-type wheat varieties on Lactobacillus and Bifidobcaterium strains. J Sci Food Agric 2012; 92: 2133–2140.
Benedetti S, Primiterra M, Tagliamonte MC, Carnevali A, Gianotti A, Bordoni A et al. Counteraction of oxidative damage in the rat liver by an ancient grain (Kamut brand khorasan wheat). Nutrition 2012; 28: 436–441.
Sofi F., et al , Kamut and cardiovascular risk factors, European Journal of Clinical Nutrition (2013) 67, 190–195; doi:10.1038/ejcn.2012.206; published online 9 January 2013
Santangelo C, Varı` R, Scazzocchio B, Di Benedetto R, Filesi C, Masella R. Polyphenols intracellular signalling and inflammation. Ann Ist Sup Sanita 2007; 43: 394–405.
Whittaker A1, Sofi F2,3,4, Luisi ML5, Rafanelli E6, Fiorillo C7, Becatti M8, Abbate R9, Casini A10, Gensini GF11, Benedettelli S An organic khorasan wheat-based replacement diet improves risk profile of patients with acute coronary syndrome: a randomized crossover trial, Nutrients. 2015 May 11;7(5):3401-15. doi: 10.3390/nu7053401.