The tradition of baking and sharing holiday cookies is one that my family enjoys. Of course, I like to make our treats as healthy as possible. I have special memories of the delicious cookies that my mother made at Christmas, and I've updated her recipe, making it with healthy ingredients. It's our favorite holiday cookie recipe, and I'd like to share it with you.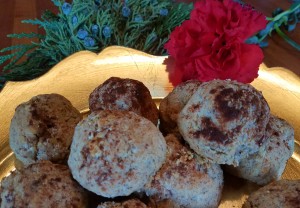 Ingredients:
2 cups ground pecans: I use a wooden rolling pin to crush the pecans
2 cups flour: I use a combination of 1 cup organic oat flour (freshly ground from organic whole oat groats), ½ cup coconut flour, and ½ cup sprouted spelt flour. (If you prefer a less crumbly cookie, substitute kamut flour for the oat flour.)
¼ tsp. sea salt
½ cup dried maple syrup powder
½ cup organic salt-free butter
½ cup coconut oil
2 tsp. high quality vanilla extract
For sprinkling on cookies:
1 teaspoon dried maple syrup powder
1 tsp. coconut milk powder (optional)
1 tsp. cinnamon
Instructions:
Soften butter and mix with coconut oil and vanilla.
Sift dry ingredients (flour, salt, and ½ cup of maple syrup powder) and add to wet ingredients.
Fold in the crushed pecans.
Chill for at least 30 minutes, but longer is better.
Preheat oven to 375 degrees F.
Roll the dough into little balls and arrange on a lightly greased cookie sheet.
Cook for 5 minutes, remove from oven and sprinkle with a mix of 1 tsp. of maple sugar, 1 tsp. coconut milk powder (optional) and 1 tsp. cinnamon.
Lower oven to 350 degrees F and bake another 5-7 minutes until golden.
We hope you enjoy these scrumptious, healthy cookies as much as we do. Happy Holidays from our family to yours!
— Donnie