In 1964, John Coltrane, often referred to as just "Trane," revealed to the world his concept of spirituality in the form of what would soon be a world-renowned recording, "A Love Supreme." Coltrane's unique concept fused music and theology; he looked deep within himself, around himself, and to the heavens and the mystery of faith and religion.
Coltrane was on an unyielding quest for a closer relationship with God, and the manifestation of his quest was music virtually indescribable by the written word. I came across this essay, which speaks to the power of his music: "John Coltrane may be the only musician ever whose recordings would later be assigned the power of divination usually attributed to proto-jazz hymns and old time healers whose primal energy conjured spirits and laid souls bare." (KARASLAMB, Revivalist Exclusive: Remembering John Coltrane On His 87th Birthday.)

The continuous fluidity of sound Coltrane produced, for example his frequent use of triplets in his solos, was a kind of chanting with a theme of Unity and a reflection of the Trinity, and was reminiscent of an endless search for God and His ocean of pure Love. Sometimes Coltrane would attempt to play what he heard in a dream, but was unsuccessful due to technical difficulty or the limitations of musical instruments. He was seeking a greater relationship with God through music that had no end—it was his pilgrimage. If you listen to "A Love Supreme," Coltrane's tone on his horn sounds like a minister anointed by the spirit of God to relay a heaven-sent message. Coltrane's new and ever developing sound and music composition was all for God. When he would solo, he spoke about the goodness of God, and how God helped him to turn his life around. He rededicated his life to spirit, and all he wanted was to become closer to God through the exploration of his music—nothing else mattered.
Coltrane's spirituality expressed through his music has influenced me and countless other musicians, as well as non-musicians, to challenge themselves to re-think and rededicate their spirituality, to reconsider the effects of religion or spirituality in their lives, and finally, to encourage all to give praise to God. Coltrane's music was truly "innovative," and many to this day do not understand it. Jazz music in general is difficult for most people to comprehend, and Coltrane is even more challenging to follow than most. Many people describe his music as "weird" or "angry," which it is not. I have forever been affected in a profound and positive way by his music, and for this I am grateful. When I listen to Coltrane, what I hear is a depth of closeness to our creator and a love beyond human understanding. Music was the only way to meaningfully express the inner awareness of a dynamic relationship between himself, the world, and the cosmos.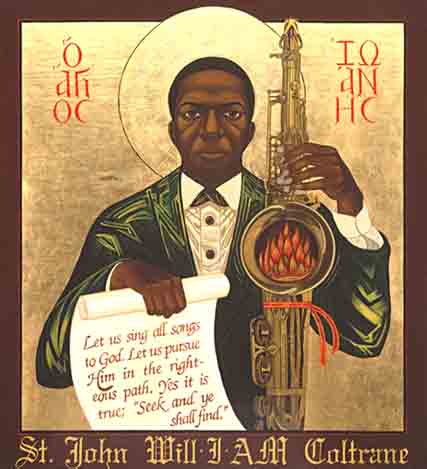 In Coltrane's words, "All a musician can do is to get closer to the sources of Nature, and to feel as though he or she is in communion with the natural laws. Then feel that he or she is interpreting them to the best of his or her ability, and try to convey that to others."
Coltrane was a healer to healers and he believed that sensitivity was an essential part of spirituality; "his own mental, moral, and spiritual development as an unavoidable byproduct of the same process; moreover, he must above all be sufficiently sensitized, so that he can hear and register – clearly and accurately – the silent communications of the 'spirit communications of the master.'" (From John Coltrane, by Bill Cole, 1993, Da Capo Press.)
Following Coltrane's death, the Saint John Coltrane African Orthodox Church in San Francisco was established. The church and his music remains a place of meditation and catharsis for many.
Happy Birthday, John Coltrane. I thank you and I thank God for what you brought to me through your music and spirituality. I am inspired each and everyday because of you to explore and develop more what I can do to help others. In the same way that you developed the complexity of your music through your communion with God and Nature, I am inspired to refine and deepen in the practice of the integrative model of healing that is my life's work, the Eclectic Triphasic Medical System. I regard each day as another opportunity for spiritual awakening to improve in all that I do, including helping those who are suffering.