Spices, herbal medicines, essential oils, and distilled natural products provide a rich source of compounds for the discovery and production of novel antiviral drugs. The determination of the antiviral mechanisms of these natural products has revealed how they interfere with the viral life cycle, i.e., during viral entry, replication, assembly, or discharge, as well as virus-specific host targets.[1]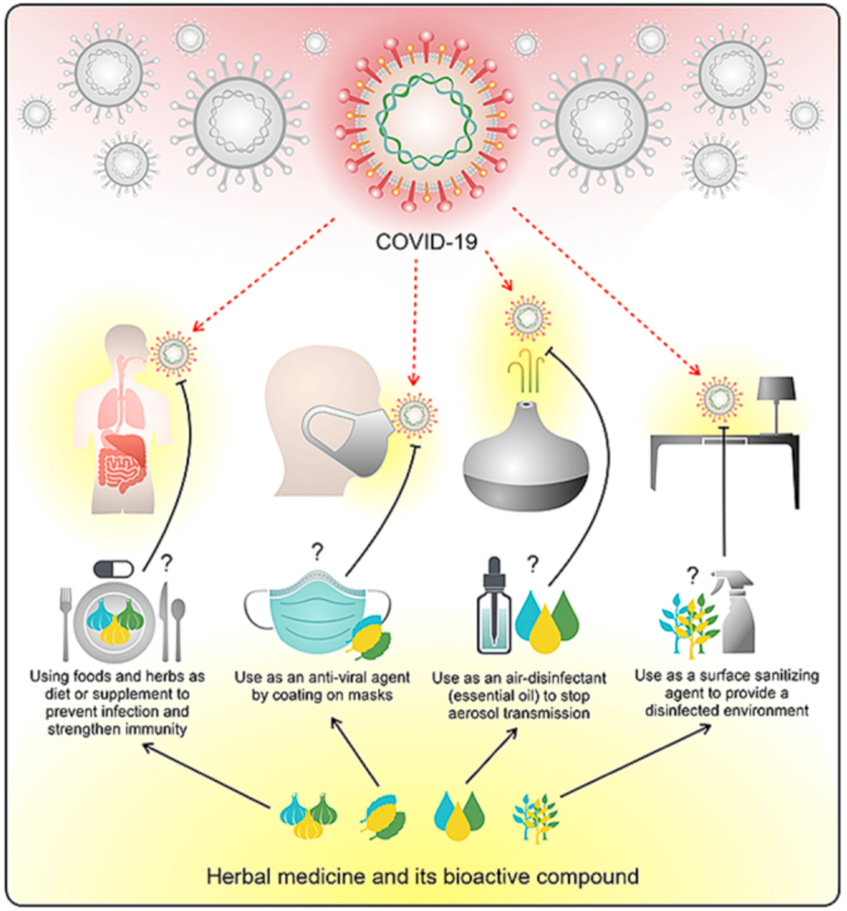 A number of essential oils exhibit anti-viral and anti-influenza activities. These include Cinnamomum zeylanicum leaf oil (cinnamon), Citrus bergamia (bergamot), Cymbopogon flexuosus (lemongrass) and Thymus vulgaris (Red Thyme).[3] In studies, a blend of essential oils has been proven to inhibit the infectivity of influenza virus via inactivating viral binding ability and viral protein translation.[4]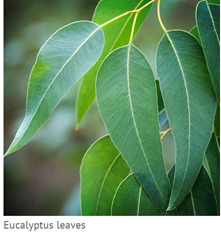 Eucalyptus essential oil has been shown to improve the innate cell-mediated immune response and can be used as an immunoregulatory agent against infectious diseases.[5],[6] Tea tree oil and eucalyptus oil are capable of inactivating influenza virus A.[7] Geranium and lemon essential oils downregulate ACE2, a SARS-CoV-2 spike receptor-binding domain in epithelial cells, and are valuable natural anti-viral agents that may contribute to the prevention of the invasion of SARS-CoV-2 into the human body.[8]
Tea tree essential oil inhibits influenza during the early stages by preventing intracellular processing of the viral particle. When introduced into cell culture media, tea tree oil prevented viral uncoating by interfering with the acidification of the endosomes and membrane fusion. The ability to prevent endosome acidification was ascribed to the tea treeessential oil constituents terpinen-4-ol, α-terpineol and terpinolene. Tea treeessential oil, when actively diffused with a nebulizer for two seconds, cleared nearly all airborne influenza viruses at 10 minutes, and showed zero virus at 15 minutes post nebulizer treatment. Eucalyptus essential oil showed zero virus at 15 minutes following a 15 second period of active diffusion with a nebulizer.[9]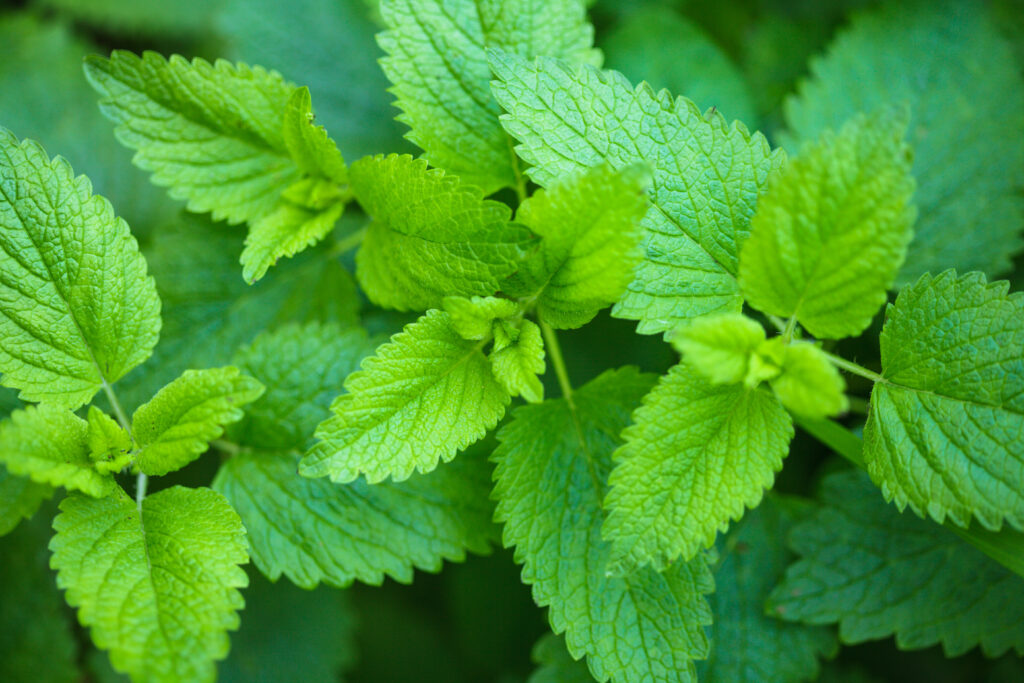 Lemon balm (Melissa officinalis) essential oil has been used extensively to prevent HSV infection and to inhibit influenza viruses. Lemon balm essential oil has been shown to prevent attachment of the virus to host cell surface cell receptors.[10] Studies show that viral induced autophagy was effectively inhibited by clove bud (Eugenia caryophyllata) essential oil and eugenol in cells infected with 8 separate flu viruses. And a blend of clove bud and sweet orange (Citrus sinensis) essential oils has been shown to inhibit viral protein production.[11]
Essential oils are complex mixtures of compounds and several essential oil components may act synergistically to inhibit the virus.[12] For example, a study evaluated the in vitro antiviral effect against influenza type A (H1N1) of commercial essential oils that included cinnamon (Cinnamomum zeylanicum), bergamot (Citrus bergamia), lemongrass (Cymbopogon flexuosus), thyme (Thymus vulgaris), and lavender (Lavandula angustifolia). The oils were tested in the liquid phase at a concentration of 0.3% and in the vapor phase. The oils of cinnamon, bergamot, thyme, and lemongrass displayed 100% inhibition of H1N1 in the liquid phase, while the inhibition for lavender essential oil was 85%. However, in the vapor phase, 100% inhibition was observed only for cinnamon leaf essential oil after 30 min of exposure. The bergamot, lemongrass, thyme, and lavender essential oils displayed inhibition rates of 95%, 90%, 70%, and 80%, respectively.[13]
Limonene is a terpene compound found in many citrus oils. It may be a possible agent or adjuvant against infection, immunity, and inflammation in COVID-19.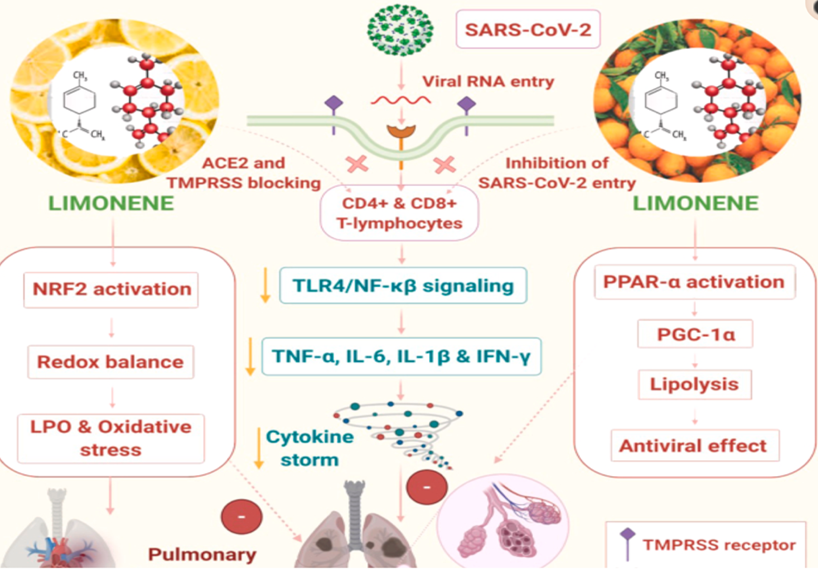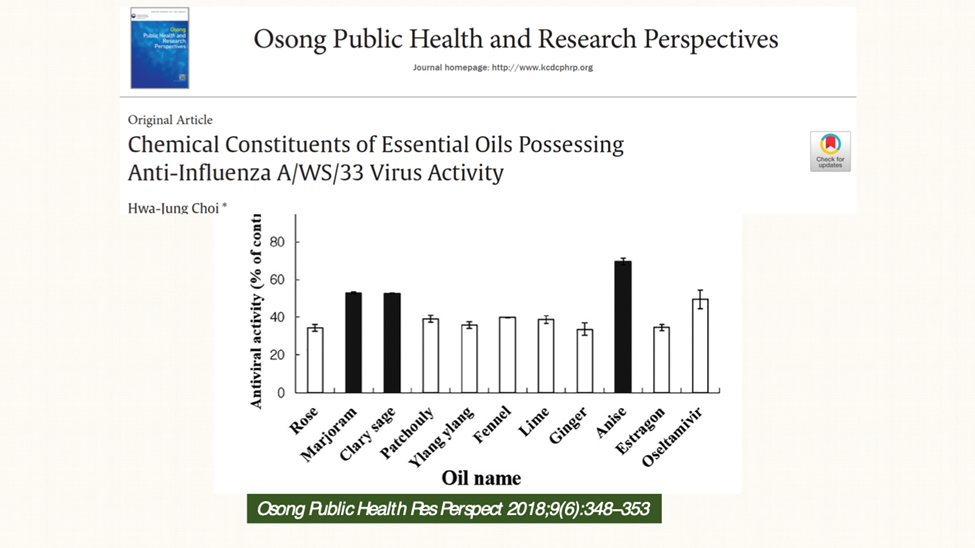 How to Use Essential Oils
There are a variety of ways to use essential oils. For optimal results, I recommend using a blend of oils. To use essential oils therapeutically:
Treat face masks by sprinkling a few drops onto the outer surface;
As an aerosol disinfectant or a surface sanitizing agent, combine 5% essential oil blend, 60% alcohol and 35% distilled water in a spray bottle;
Add essential oil to a diffuser;
Mix with a carrier oil and rub on hands and neck area. Use 5% EO blend to carrier oil (a blend of coconut and almond oil is very nice);
Add to a bath with Epsom salts and mustard powder (I like Dr. Singha's Mustard Bath with essential oils). Use 1-2 cups of Epsom salts, 1 tablespoon mustard powder, 1 tablespoon of baking soda and 10-20 drops of essential oil blend. Taking this bath before bedtime with a diaphoretic tea blend is wonderful for helping with fevers, chills, and body aches.
Inhalation steam: Add 3-5 drops to a bowl of hot water, lean your head over the bowl, put a towel over your head and bowl, and breathe in the vapor.
Surgical masks are helpful for preventing virus spread into the air and transmission to humans. However, after mask removal, the virus remains on the mask and is probably re-aerosolized, increasing the risk of human infection. Coating the mask with a few drops of essential oil, or spraying the mask with an aerosol spray of essential oil blend as described above, may be helpful.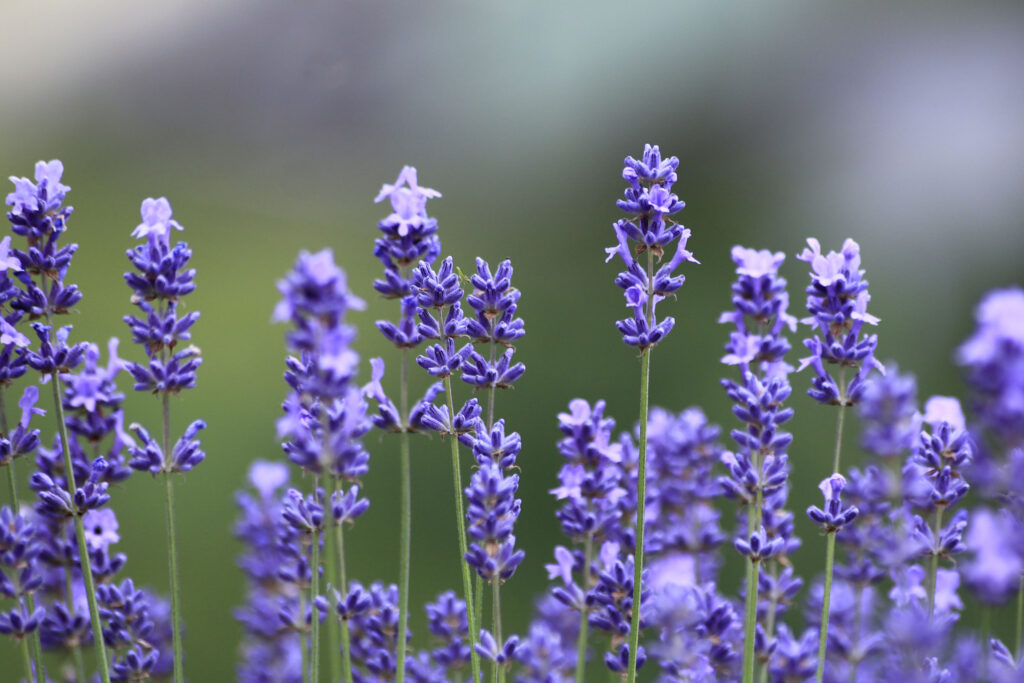 Along with antiviral activity, there may be some relief of symptoms of COVID-19 provided by essential oils including relaxation and mood enhancement. For example, a systematic review and meta-analysis (65 RTCs) review paper on the effects of lavender essential oil found lavender to be very effective at reducing anxiety.[15]
There are nondrug therapeutic strategies targeting inflammatory and immunological processes that may be useful for reducing COVID-19-induced complications and improving patient outcome. For example, vagal nerve stimulation has a wide field of therapeutic benefit for patients and could easily be combined with the best current medical strategies. Vagus nerve stimulation attenuates inflammation both in experimental models and preliminary data in people. The development of non-invasive vagal nerve stimulation, a non-pharmacological adjuvant, may help reduce the burden of COVID-19 and could be investigated more thoroughly.[16] Continuous vagal tone monitoring in patients with COVID-19 could be used as a predictive marker of COVID-19 illness, as well as a predictive marker of response to COVID-19 treatment such as VNS or others.[17]
Activation of your vagus nerve counteracts your sympathetic nervous system. Stimulating the vagus nerve is a quick and easy way to relieve anxiety and is the "yin" activator that can reduce heart rate and blood pressure and stimulate digestion.
The vagus nerve functions in the service of awakening (sub or super) consciousness and in immortality – the connection to Spirit. This system is described in the Tibetan Inner Fire meditations as well as in the Taoist, "shen" breathing practices.[18]
When you stimulate your vagus nerve, it releases an array of anti-stress enzymes and hormones such as acetylcholine, prolactin, vasopressin, and oxytocin. Vagus nerve stimulation is associated with benefits such as improved memory, immune function, sleep, and higher levels of growth hormone. It can also help to regulate immune function – buffering inflammation, allergic responses, and even tension headaches. Increased positive social connections are also beneficial for your overall wellbeing. Positive emotions, positive social connections, and physical health influence one another in a self-sustaining upward-spiral dynamic.[19]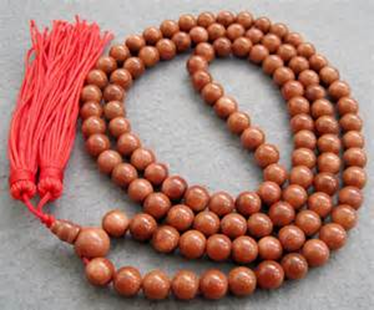 Repetitive meditation or prayer, often with beads or knotted ropes, and controlled deep breathing are other relaxation technique that can have health benefits.
In these challenging times, when we're constantly confronted with uncertainty, one of the most beneficial things we can do for our emotional and physical wellbeing is to practice being present, calm, and grateful. I recommend preparing a relaxing candlelight bath with lavender essential oil and reading and reflecting on something you find spiritually nourishing to relieve stress and lift the spirits.
---
[1] Panyod S, Ho CT, Sheen LY. Dietary therapy and herbal medicine for COVID-19 prevention: A review and perspective. J Tradit Complement Med. 2020 May 30;10(4):420-427. doi: 10.1016/j.jtcme.2020.05.004. PMID: 32691006; PMCID: PMC7260602.
[2] Boukhatem MN, Setzer WN. Aromatic Herbs, Medicinal Plant-Derived Essential Oils, and Phytochemical Extracts as Potential Therapies for Coronaviruses: Future Perspectives. Plants (Basel). 2020 Jun 26;9(6):800. doi: 10.3390/plants9060800. PMID: 32604842; PMCID: PMC7356962.
[3] Vimalanathan S., Hudson J. Anti-influenza virus activity of essential oils and vapors. Amer J Essential Oil Nat Prod. 2014;2(1):47–53.
[4] Wu S.H., Patel K.B., Booth L.J., Metcalf J.P., Lin H.K., Wu W.X. Protective essential oil attenuates influenza virus infection: an in vitro study in mdck cells. BMC Compl Alternative Med. 2010;10:69.
[5] Serafino A., Vallebona P.S., Andreola F. Stimulatory effect of eucalyptus essential oil on innate cell- mediated immune response. BMC Immunol. 2008;9:17. [PMCID: PMC2374764] [PubMed: 18423004]
[6] Sadlon A.E., Lamson D.W. Immune-modifying and antimicrobial effects of eucalyptus oil and simple inhalation devices. Alternative Med Rev. 2010;15(1):33–42.
[7] Pyankov O.V., Usachev E.V., Pyankova O., Agranovski I.E. Inactivation of airborne influenza virus by tea tree and eucalyptus oils. Aerosol Sci Tech. 2012;46(12):1295–1302.
[8] Senthil Kumar KJ, Gokila Vani M, Wang CS, et al. Geranium and Lemon Essential Oils and Their Active Compounds Downregulate Angiotensin-Converting Enzyme 2 (ACE2), a SARS-CoV-2 Spike Receptor-Binding Domain, in Epithelial Cells. Plants (Basel). 2020;9(6):E770. Published 2020 Jun 19. doi:10.3390/plants9060770
[9] Letters in Applied Microbiology, vol. 49, 2009, pp. 806-808. doi:10.1111/j.1472-765X.2009.02740.x; Antiviral Research, vol. 89, 2011, pp. 83-88. doi:10.1016/j.antiviral.2010.11.010; Journal of Aerosol Science, vol. 59, 2013, pp. 22-30. doi:10.1016/j.jaerosci.2013.01.004
[10] Pourghanbari, Gholamhosein, et al. "Antiviral activity of the oseltamivir and Melissa officinalis L. essential oil against avian influenza A virus (H9N2)." Indian Journal of Virology, vol. 27, no. 2, 2016, pp. 170-178. doi:10.1007/s13337-016-0321-0
[11] Ramos A, Santos C, Mateiu L, et al. Frequency and pattern of heteroplasmy in the complete human mitochondrial genome. PLoS One. 2013;8(10):e74636. Published 2013 Oct 2. doi:10.1371/journal.pone.0074636
[12] Silva JKRD, Figueiredo PLB, Byler KG, Setzer WN. Essential Oils as Antiviral Agents. Potential of Essential Oils to Treat SARS-CoV-2 Infection: An In-Silico Investigation. Int J Mol Sci. 2020 May 12;21(10):3426. doi: 10.3390/ijms21103426. PMID: 32408699; PMCID: PMC7279430.
[13] Vimalanathan S., Hudson J. Anti-influenza virus activity of essential oils and vapors. Am. J. Essent. Oils Nat. Prod. 2014;2:47–53
[14] Nagoor Meeran MF, Seenipandi A, Javed H, Sharma C, Hashiesh HM, Goyal SN, Jha NK, Ojha S. Can limonene be a possible candidate for evaluation as an agent or adjuvant against infection, immunity, and inflammation in COVID-19? Heliyon. 2020 Dec 11;7(1):e05703. doi: 10.1016/j.heliyon.2020.e05703
[15] Donelli D, Antonelli M, Bellinazzi C, Gensini GF, Firenzuoli F. Effects of lavender on anxiety: A systematic review and meta-analysis. Phytomedicine. 2019 Dec;65:153099. doi: 10.1016/j.phymed.2019.153099. Epub 2019 Sep 26. PMID: 31655395.
[16] Azabou E, Bao G, Bounab R, Heming N, Annane D. Vagus Nerve Stimulation: A Potential Adjunct Therapy for COVID-19. Front Med (Lausanne). 2021 May 7;8:625836. doi: 10.3389/fmed.2021.625836. PMID: 34026778; PMCID: PMC8137825.
[17] Bonaz B, Sinniger V, Pellissier S. Targeting the cholinergic anti-inflammatory pathway with vagus nerve stimulation in patients with Covid-19? Bioelectron Med. 2020 Jul 29;6:15. doi: 10.1186/s42234-020-00051-7. PMID: 32743022; PMCID: PMC7387121.
[18] Brown D., The energy body and its functions: immunosurveillance, longevity, and regeneration, Ann N Y Acad Sci. 2009 Aug;1172:312-37. doi: 10.1196/annals.1393.019.
[19] Kok BE, Coffey KA, Cohn MA, Catalino LI, Vacharkulksemsuk T, Algoe SB, Brantley M, Fredrickson BL. How positive emotions build physical health: perceived positive social connections account for the upward spiral between positive emotions and vagal tone. Psychol Sci. 2013 Jul 1;24(7):1123-32. doi: 10.1177/0956797612470827.