"People should think less about what they ought to do and more about what they ought to be. If only their being were good, the works would shine forth brightly." ~Meister Johannes Eckhart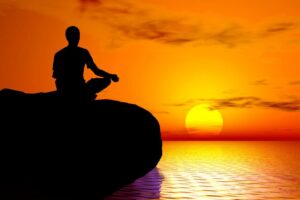 In times of great social unrest or personal distress, it's not unusual to ponder existential questions, such as "Who am I?" and "What is the meaning of my life?" I believe that these are valuable questions to ask oneself. But without spiritual and emotional support, this type of deep inquiry can lead to uncertainty, hopelessness, and depression.
I just read a study published in August 2021 that found U.S. adolescents, particularly girls, screened positive for depression and suicide risk during the COVID-19 pandemic.[1] Researchers in several other studies have reported a high prevalence of mental health concerns among children and adolescents during the pandemic.[2]'[3]
The pandemic has placed numerous stresses on adolescents caused by school closures, disruption of routines, social isolation, and concerns about family illness and economic impacts. Consequences of these stressors among children from racial and ethnic minorities and low-income communities may be especially acute.[4] If people feel that they do not belong in the way that they perceive as "normal," they might develop a deep sense of insecurity and fear. How do we instill hope, and help create a healing environment for the restoration of robust health and happiness?
Creating True Emotional and Physical Health
Robust health cannot be attained by striving for personal physical perfection. Of course, eating organic super foods and engaging in regular exercise is important for good health. But true health goes far beyond merely the physical realm. Spiritual health has nothing to do with food or exercise, or even the absence of disease.
Focusing merely on physical health will not, in itself, lead to success and happiness. In the Sermon on the Mount, Jesus says that we are to act on his words and live the teachings, instead of only believing things about God; and that the poor are blessed, the hungry are filled, the grieving are filled with joy, and enemies are loved, for we are to be peacemakers.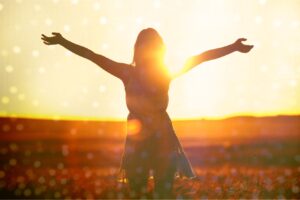 We need to live here on earth as if the Reign of God has already begun (Luke 17:21). We are all called to participate in goodness, love and peace as stated in the St. Francis of Assisi peace prayer, "Make me an instrument (channel) of thy peace."
Healing, Hope and Humility in Daily Life
The spiritual terms 'healing' and 'hope' are not terms that many of us apply to our daily home and work life. However, I believe they can help us build real optimism and resilience. Healing and hope can transform and strengthen the human condition, leading us on a pilgrimage of health and inner joy. Everyone is looking for ways to improve their health. What if we were to choose to be hopeful, and even humble? This requires honest self-awareness.
We must be open to addressing issues and needs with compassion and sensitivity, and we must view situations through the lens of humility. Humility is a word we do not always think about in the context of health and happiness. It may take a change of thinking for us to be open and to allow the Light in, for "Everything exposed to light itself becomes light" (Ephesians 5:14). As the Dalai Lama says so insightfully, "A change of heart is always a change of mind."
Humility is essential because it strengthens self-honesty, builds relationships, and engenders trust.[5] Peter Devenish-Meares calls it the 'multiplier effect of self-honesty' or put another way, the 'unexpected blessings of a new kind of humility.'[6]
Fulfilling Our Potential
What did Socrates mean when he said 'the unexamined life is not worth living'? For me, it is fulfilling the potential of something as it relates to life itself. Have you ever wondered why, throughout history, so much philosophical thought has centered around the processes and the meaning of life? Everything that has ever been created has a potential, or excellence, which was the purpose for its being/doing in the first place.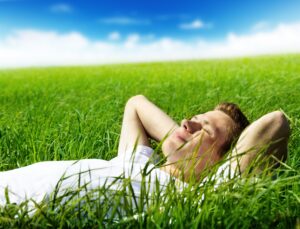 'Being' is just as important as 'doing' in life, and it is a fine art to balance the two. Resting, looking up at the stars, and pondering may not seem important, but it can be. Some monks spend most of their time being still in silent prayer. We may not understand this, but that is because we don't see with our true eyes—we are only seeing through the filter of a society that tells us that checking things off of our 'to-do' list is the key to success and happiness.
A life worth living is one in which we are continually examining our progress toward our purpose, making sure that we are ever advancing toward becoming what we were created to become; the embodiment of our highest God-self.[7]
The word "health" originates in the Old English word "hal," which is also the root word for "whole" and "holy."
To be healthy is to be whole and holy. This awareness provides us with endless possibilities.
Cultivating Uniqueness
God is mindful of the individual, and that includes everything created by God. In nature, no two things are exactly the same—no two animals, no two trees, not even the leaves on a tree are identical. Yet, unless you are an artist of some kind, much of what we as humans create is one and the same. We have been taught to value sameness to the extent that we make machines to make things more precise and identical, with a focus on speeding up production and producing mass quantities of items to sell cheaply. This, of course, has nothing to do with quality, or the satisfaction involved in creating something unique.
In this world where we are confronted with so much negativity, we can become depressed, hopeless, and lose our sense of belonging, which is essential for robust health and happiness. Recognizing that each one of us matters as a unique individual, while also understanding that we are connected to everyone and everything, offers a path of ease, and helps in dealing with fear as a disease.
Humility as a Guide to Balancing Our 'Being' and 'Doing' Selves
Humility is about seeing ourselves (our truthful shadow self), our current situation, and our past. Using truth and insight, we are guided toward what we need to do more of, what we need to do less of, and how we can align our reflective spiritual 'being' with our active 'doing' self. To be successful in life and achieve robust health and happiness, we must succeed at balancing the dualistic nature of being and doing.
We must begin by honestly facing ourselves in the mirror in our raw, unvarnished, and uncivilized state. This is where we come to realize that 'our shadow self is who we are,' as Richard Rohr puts it. This is the shadowland where we are led by our own stupidity, our own sin, our own selfishness, by living out of our false self.[8] There, we surrender and meet unconditional love, which is meeting God.
With humility comes grace, which then allows us to be loved even though in our shadow self we are unworthy. "For in the shadowlands, you learn to live with contradiction, with ambiguity." This is true self-critical thinking [9] and it is good for our healing and for our health. I love Richard Rohr's definition of humility as "having the eyes to see things as they really are and not as we would wish them to be."[10]
The Franciscan Way of Living
"Here is one of the best means to acquire humility; fix well in mind this maxim: One is as much as he is in the sight of God, and no more."
~St. Francis of Assisi
The Franciscan way of living teaches that all living beings are brothers and sisters, including animals and plants.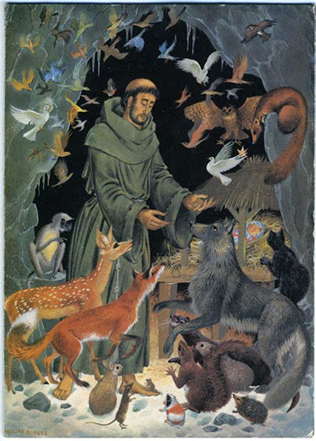 Once humility sets in and we become fully aware of being a child of God, believe it, and act on it, this can stabilize the ego and result in a new sense of courage, fearlessness, power, healing, and hope. This creates the foundation for true, lasting, robust health and happiness. With humility comes compassion, which according to the dictionary, is defined as "sympathetic consciousness of others' distress together with a desire to alleviate it."
However, the Hebrew word hesed provides us with a deeper understanding of compassion. It is a word so laden with meaning that translators struggle to find an English equivalent, often rendering it as "loving kindness" or "steadfast love." It is a word most frequently used in reference to God's unwavering compassion. God's hesed love is "from everlasting to everlasting," declared the Psalmist (Psalm 103:17). It is a "steadfast love" that "endures forever" (Psalm 106:1).
To cultivate the tenderness of compassion, we deliberately turn our attention to all those in need, and specifically, those who are suffering. When we extend our arms to help others, we too benefit, and this this is at the root of what it means to be healthy. Health is not just about "me" – it's about "we".
This is the compassionate, steadfast love that inspired the song, "Compassionate One," on my CD "Heaven Awaits." Humility, when combined with compassion, integrity, clear strategic intent, fearlessness, and spiritual power, is a force that leads us to the path of bringing love and goodness to our world. When you are on this path, you are on the path to true lasting health and happiness –health and happiness that goes with you, even when you leave this world.
I hope this will inspire you to look at what can happen when you get out of your own way and say "yes" to participating as God's instrument in the world.
---
[1] Stephanie L. Mayne, Chloe Hannan, Molly Davis, Jami F. Young, Mary Kate Kelly, Maura Powell, George Dalembert, Katie E. McPeak, Brian P. Jenssen and Alexander G. Fiks, COVID-19 and Adolescent Depression and Suicide Risk Screening Outcomes, Pediatrics August 2021, e2021051507; DOI: https://doi.org/10.1542/peds.2021-051507
[2] Patrick SW, Henkhaus LE, Zickafoose JS, et al. Well-being of parents and children during the COVID-19 pandemic: a national survey. Pediatrics. 2020;146(4):e2020016824
[3] Zhou SJ, Zhang LG, Wang LL, et al. Prevalence and socio-demographic correlates of psychological health problems in Chinese adolescents during the outbreak of COVID-19. Eur Child Adolesc Psychiatry. 2020;29(6):749–758
[4] Rothe EM, Fortuna LR, Tobon AL, Postlethwaite A, Sanchez-Lacay JA, Anglero YL. Structural inequities and the impact of COVID-19 on Latinx children: implications for child and adolescent mental health practice. J Am Acad Child Adolesc Psychiatry. 2021;60(6):669–671
[5] Argandona, A. (2015). Humility in management. Journal of Business Ethics, 132(1), 63-71.
[6] Devenish-Meares, P. (2021). Humility at work: a dynamic personal and leadership choice and strategic multiplier!. Academia Letters, Article 1553. https://doi.org/10.20935/AL1553.
[7] Verity, David blog post The Unexamined Life Is Not Worth Living: What Does It Mean? Life / By admin / March 29, 2017, https://davidverity.com/unexamined-life-not-worth-living-mean/, retrieved 08/04/2021
[8] Rohr, Rohr, (June 17, 2021) Learning in the Shadows
[9] Rohr, Rohr, The Art of Letting Go: Living the Wisdom of Saint Francis, disc 5 (Sounds True: 2010)
[10] Rohr, R. (2007). Holding the tension: The Power of paradox [CD)]. Albuquerque, NM: Center for Action and Contemplation (CAC).